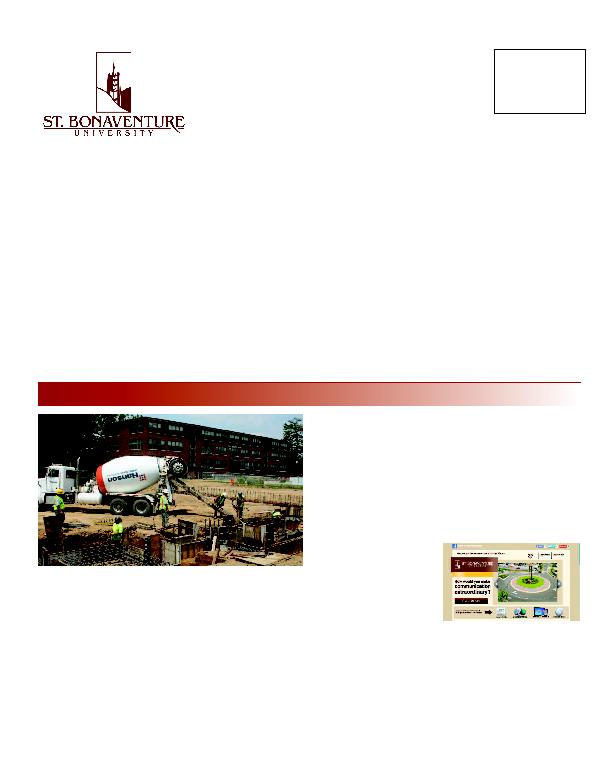 There are two ways to keep tabs on construction progress: Visit
www.sbu.edu/Bonaflickr,
Bona's flickr photo-sharing site where
photos are being added weekly, and check out the construction
scene live from rooftop cameras at
www.sbu.edu/construction.
Making Communication Extraordinary
Strategic Communication and Digital Media (SCDM) is the
newest academic program at Bona's. Building upon the success
and national reputation of the Journalism and Mass
Communication program,
the SCDM major is designed
to prepare students for
tomorrow's careers in com-
munication that will call for
maximizing the capabilities
of the latest technologies and
trends while also anticipating
and envisioning new ways to
enhance the way we send and receive information. As we launch
this program, we are inviting faculty, staff, students, alumni, friends
and future students of the university to envision with us ways to
make communication extraordinary. You can join in the brainstorm-
ing by visiting
www.sbustratcomm.net
exchange feedback on the ideas of others.
Who knows? The next social media craze could have its origins
right here at St. Bonaventure University.
For more information about the SCDM major, contact Dr.
Pauline Hoffmann, dean of the School of Journalism and Mass
Communication, at hoffmann@sbu.edu.
William E. and Ann L. Swan Business Center
construction now under way
The din of construction again fills the air on campus as work
progresses on the William E. and Ann L. Swan Business Center.
The first concrete was poured into the foundation in late June.
The two-story, 26,000-square-foot facility, which will be the new
home for the university's School of Business, is being built
between Plassmann Hall and the Reilly Center.
Construction will take approximately 14 months and the cen-
ter is expected to be open in the fall of 2013. Groundbreaking
ceremonies were held a full six months ahead of schedule,
thanks to the success of the ongoing School of Business
Campaign to raise $15 million: $10 million for construction of a
new facility, $1 million in endowment for building support, and $4
million in endowments for faculty and programmatic support.
St. Bonaventure, NY 14778
On The Web: www.sbu.edu