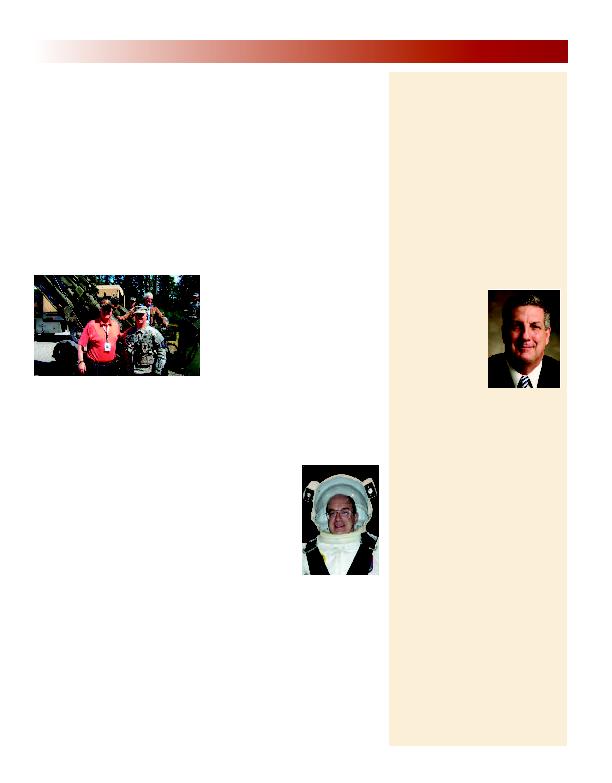 American watercolorist Charles E.
Burchfield (1893­1967) and the distin-
guished artists of Western New York. In
2008, the Burchfield Penney expanded from
its location in Rockwell Hall to a new $33
million freestanding facility in the heart of
Buffalo's Museum District. Bannon began his
career as a filmmaker and a journalist, serv-
ing as the arts editor and critic for the
Buffalo Evening News and the Buffalo News
from 1969 to 1985. Tom Brett, a 2002
ROTC Hall of Fame inductee and a former
attorney, is putting his organizational skills
to work at the University of Virginia. He is
working to attract military veterans to the
accelerated master's degree program in sys-
tem engineering. Brett knows first-hand
about the challenges of transitioning to civil-
ian life. During the war in Vietnam, Brett
served there as a captain in the Army
Artillery. An ammunition explosion brought
him back to the United States in 1969. After
he recuperated in Walter Reed Hospital, he
began law school at the University at
Buffalo on the GI Bill. He worked as a
lawyer, primarily in Syracuse, for more than
38 years. Brett welcomes calls from alumni
at 434-243-0780.
1965 -- James Kelly is a professor of kine-
siology and swimming coach at Hendrix
College in Conway, Ariz. John "Jack"
Rosati retired as director of the Monroe
County Children's Center in Rochester.
Rosati was appointed by New York Gov.
Andrew M. Cuomo as a member of the
Board of Visitors at the State School at
Industry, N.Y. He continues to work as an
assistant women's basketball coach at
Division II Roberts Wesleyan College.
1966 -- James M. Moynihan is retired
and living in St. Louis, Mo.
1969 -- Patrick Cullen, president of the
Bank of Cattaraugus, was featured on the
CBS Evening News in May in a story titled
"Small town bank puts people before prof-
its." CBS News correspondent Dean
Reynolds reported how small banks like
Cullen's play a vital role in keeping local
businesses going and home ownership an
option for many. The bank's seven other
employees include Cullen's wife, Joan
(Anderson), a member of SBU's class of
'69, and their daughter, Colleen (Cullen)
Young, '96. View the CBS story online at
http://tinyurl.com/7hcyb8m. The Cullens and
their bank's practices were also featured in a
Christmas Day New York Times article and
the family was interviewed in June by a
Russian television station.
1974 -- Robert L. Morgan is retired and
living in The Villages, Fla.
1975 -- Joseph Wild was featured in the
February edition of The Trusted Professional,
the monthly newspaper for the New York
State Society of Certified Public Account-
ants. The article was a profile of Wild's work
as a photographer outside of his job as CPA.
The link to the online article can be found at
www.thetrustedprofessional.com/stories/FEB
/profile.html.
1976 -- Jim Johnson, a science teacher at
Beacon Light Children's Center for
Treatment and Education in Bradford, Pa.,
was chosen to participate in the first cycle
of the Airborne Astronomer Ambassadors
program. As one of 26 educators from the
United States select-
ed for research flights
aboard SOFIA,
NASA's Stratospheric
Observatory for
Infrared Astronomy,
Johnson is partnering
with professional
astronomers using
SOFIA for scientific
observations in 2012
and 2013. SOFIA is a
modified Boeing 747SP jetliner equipped
with a 100-inch diameter telescope. The
observatory enables the analysis of
infrared light to study the formation of
stars and planets; chemistry of interstellar
gases; composition of comets, asteroids
and planets; and super massive black holes
at the center of galaxies. Johnson was pre-
viously selected by the Alabama Space
Grant Consortium to participate in a med-
ical research program in protein crystal
growing in a low gravity environment in a
Soyuz mission for medical research. He is a
solar system educator with the Jet

2
BonAlumnus Updates
James F. Conneely, Ph.D., '80, was
named the first man and only second
layperson to serve as president of Notre
Dame of Maryland University. The 116-
year-old Baltimore institution was founded
by the School Sisters of Notre Dame as
America's first Catholic women's college to
award the baccalaureate degree.
At Eastern Kentucky University, where he
most recently served as associate provost
and vice president of student affairs,
Conneely was honored as a leader on
women's issues on campus and was recog-
nized for advancing
women into both
leadership and non-
traditional roles. He
focused on increasing
faculty and student
involvement in on-
campus living/learning
programs, establishing
an Office for
Community Service
and Student Engagement that was recog-
nized by USA Today, creating an Office of
Multicultural Student Affairs, increasing
student use of health and wellness pro-
grams, and successfully transitioning to a
community policing model.
Conneely has served in student life roles
at the University of Arkansas at Fayetteville,
Emory University, Villanova University and
the University of Northern Iowa.
Conneely's voice has been prominent in
student affairs nationally. He has served as
president of the Southern Association for
College Student Affairs, chaired the organi-
zation's foundation and served in leader-
ship for the National Association of
Student Personnel Administrators. He has
published extensively on student affairs
issues in relevant journals and has been a
presenter at national student affairs confer-
ences.
His community involvement includes
chairing governing boards for two Catholic
schools in the Diocese of Lexington. He has
served on the board and executive commit-
tee of the United Way of the Bluegrass, as
chair of the board of United Way of
Madison County, Ky., and on boards of the
local chapters of the Chamber of
Commerce and American Heart
Association.
James Conneely, '80,
named president at
Maryland university
Tom Brett is pictured with an Army
artilleryman at Ft. Lewis, Wash.