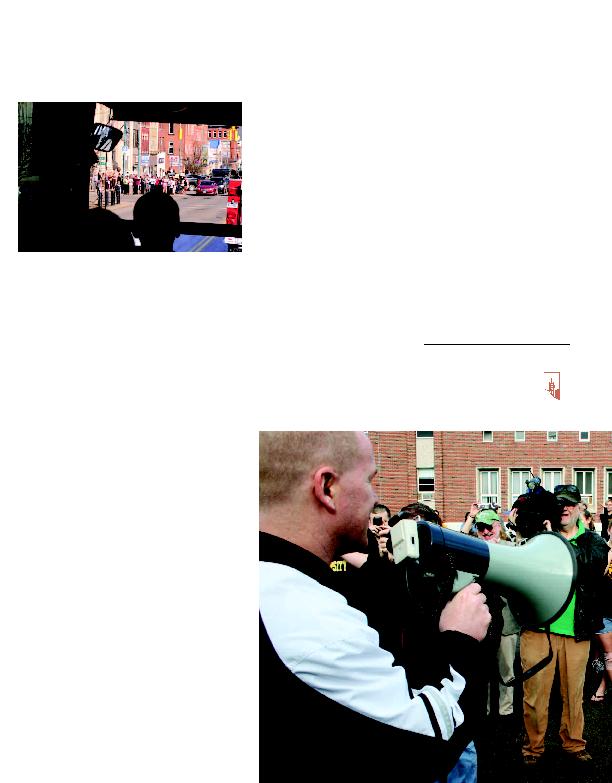 nuns had made the long walk down
the hill to the roadside.
"We were there to show we sup-
port them 100 percent," said Sr. Jean
Hayes, O.S.F., local minister for the
Motherhouse, which is home to 79
sisters, most of them living in retire-
ment or in need of assisted-living or
nursing care.
"The majority of us are alumnae of
St. Bonaventure so we follow them all
the time," said Sr. Jean. "The problem
was not walking down the hill to
wave to the buses, but coming back
up. It took some of us two days," she
said with a laugh.
Following the teams' tournament
appearances, the Motherhouse host-
ed an appreciation dinner for the
players and coaches. "It was wonder-
ful," said Sr. Jean. "It's something we
had done all the time in the past, and
it was just a marvelous time to begin
the tradition again."
The significance of this season and
what it means to players, the universi-
ty and the fans might not be realized
fully for some time, said Finan.
"I've talked with some of the play-
ers, especially the women, and they
say it's just starting to sink in," he said
in May, as the school year was draw-
ing to a close. "The men kind of sur-
prised us all by winning the A-10
Tournament, and the women were
steady all year. They captured the
hearts of everyone, and, my gosh,
made it to the Sweet 16, which is just
incredible. It's a lot to digest and it's
going to be fun digesting this over
the summer and fall in anticipation of
next season."
The season was satisfying for a lot
"First of all, after everything that
went on (related to the scandal of
2003), it was kind of this cathartic
experience. It kind of put that to rest
once and for all," he said.
"But mostly, Division I basketball is
big business and the fact that this
small school here in our community
can still compete at the highest level
without the big budget and with very
modest trappings is nothing short of
amazing. It's a tribute to the players,
the coaches, the athletic department
and the administration. It really is."
(Tom Donahue, '76, is director of
print and electronic publications at
St. Bonaventure.)
Good thing. When the women's team advanced
to the Sweet 16 and it was announced there would
be a fan bus to the game against Notre Dame in
North Carolina, Veno made sure she and her hus-
band got two of the limited tickets.
"I called him right up and said you go over to
the Reilly Center and sign us up," she said. "I told
him, `Carl, this is the opportunity of a lifetime.'"
Allegany Police Chief Dominic Papasergi had a
front-row seat for the motorcades escorting the
team buses out of town for their respective tourna-
ment appearances. He said coaches Schmidt and
Crowley weren't the only ones wiping their eyes.
"It was unbelievable and it did bring tears to
your eyes," he said. "You could just feel it as you
drove down the street. It was just awesome. It
meant so much to us. I can't imagine what it
meant to the players."
Papasergi remembers as a kid going into Gary's
Sub Shop, a business long removed from Main
Street, to gaze at a pair of giant sneakers hanging
on the wall ­ a memento donated by a regular cus-
tomer, big Bob Lanier.
"Bonaventure has always been a big part of our
community, and I think for the older generation this
year brought back a lot of excitement and remem-
brance," he said.
hen Lynda Burton Dunn of Citizen
Printing made a huge "Go Bonnies"
sign for a fellow Main Street merchant,
everyone, it seemed, wanted one. Before long she
was filling orders from up and down the street, and
from shop owners in neighboring communities as
well.
"I think it helped get everyone fired up about
something other than being ticked off about gov-
ernment, gas prices and everything else," she said.
deeply Bonamania penetrated
the region may have come on
one of the send-offs when the
team bus rolled past the
Franciscan Sisters of Allegany's
St. Elizabeth Motherhouse on
West State Road. A number of
When it comes
to Bonnies' fans,
"I'm one of the
biggest," says
Olean resident
Sharon Veno,
pictured at right.