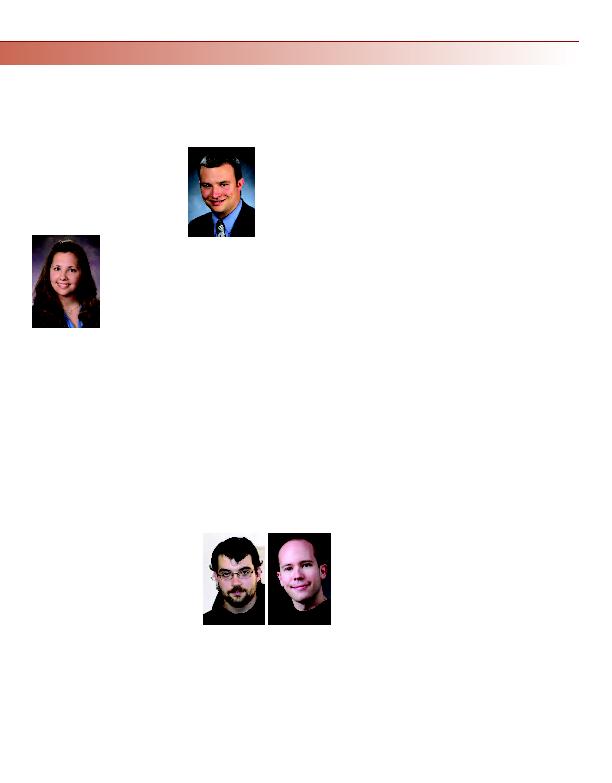 Stephen DeWitt, O.F.M., '04, (left)
and Daniel Horan, O.F.M., '05, were
ordained priests May 19 at a Mass at St.
Camillus Church outside Washington,
D.C. Cardinal Theodore McCarrick, arch-
bishop emeritus of Washington, celebrat-
ed the Rite of Presbyteral Ordination.
Both men are Franciscan friars of Holy
Name Province and received their master's
of divinity degrees from Washington
Theological Union on May 4.
Prior to professing their solemn vows in
September 2011, the two spent a year of
formation interning at Holy Name
Province ministries. DeWitt was based in
South America, strengthening his knowl-
edge of the Spanish language and serving
at St. Anne's Parish in Lima, Peru. Horan
taught several courses at Siena College,
Loudonville, N.Y., while writing his recent-
Stephen DeWitt, Daniel Horan ordained priests
Leadership New York West Seminar,
receiving the Volunteer of the Year
award. She attended HOBY as an
ambassador with her high school in
2003. She now serves as the director
of junior staff and media relations and
is looking forward to her 10th year.
Founded in 1958 by veteran actor
Hugh O'Brian (best known for his role
as Wyatt Earp), HOBY's mission is to
inspire and develop our global com-
munity of youth and volunteers to a
life dedicated to leadership, service
and innovation.
Ashlie M.
(Steffenhagen)
Flanigan, a sen-
ior accountant at
Buffamante
Whipple
Buttafaro, P.C.,
became licensed
to practice as a
Certified Public Accountant in the
state of New York. Flanigan, who
joined the firm in 2008, is a member
of the New York State Society of
Certified Public Accountants and Beta
Gamma Sigma (National Business
Honor Society).
2009 --Kyle C.
Burch was pro-
moted to senior
accountant at
Buffamante
Whipple Butta-
faro, P.C. Burch
recently became
licensed to prac-
tice as a Certified Public Accountant
in New York. He joined the firm in
2009 as a staff accountant.
2010 -- Peter A. Bucci, who
worked as a broadcast intern with
the Detroit Tigers for the 2011 sea-
son, is now employed as a ticket
sales and service representative with
the Tigers organization.

2
Kristopher William to
Kathleen (Gilsenan), '93,
and Karl Bostroem
Raegan Elizabeth Lebron to
Crystal Anne and
Christopher Monelt, '94
Claire Elizabeth to Lisa and
Michael Donlon, '95
Rocco to Andrea and Michael
Minardi, '95
Karina Nicolette to Stefanie
(Litschi), '97, and Anthony
Clark
Zachary Ryan to Amanda
Lloyd, '98, and Don Henry
Fionnegan Thomas to Erin
(Guditus), '98, and Andy
McElwee, '00
Ryder Thomas to Rebecca
(Arnold), '98, and Kirby Moul
Daniel Xavier to Kimberly
(Spiegel), '98, and Michael
Stehlik
Theodore Charles to Colleen
(McKenna), '98, and Michael
Wernau
Delaney Madyson to Danielle
(Raab), '99, and Craig
Colasante
Elizabeth Grace to Darlene
(Filighera), '99, and Brent
Ford
Nathan Charles to Holli
(Millerd), '99, and Ryan
Henning, '99
Hannah Lyn to Staci
(Noecker), '02, and Paul
Cramer, '99, '00
Parker Wellington to Tiffany
and Philip Ditzel, '00
Owen Anthony to Jennifer
(Carley), '00, and Rory Keane
Reid Thomas to Rhiana
(Lippold), '00, and Matt
Leavitt
Brennan Theodore to Janele
and Shawn Marek, '00
Kate Celeste to Deirdre
(Lynch), '00, and Jeffrey
Stupp, '00
Kendall Elizabeth to Dawn
Grove and Michael
Bellapianta, '01, '02
Dominic James to Janelle
(Tandle), '01, and Joe
DiMartino, '01
Jack Edward to Courtney and
Brian Freeman, '01
Harper Reese to Kelli
(Bennett), '01, and Sean
Kelty, '01
Mara Marguerite and Chase
Alexander to Megan
(Allaire), '01, and Edwin
Twiss
Tyler Richard to Christina
(Illig), '07, and Richard
Campbell, '02
Aoife Joy to Jenny and Mike
Cummings, '02
Maggie Alexandra to Melissa
(Keilholz), '02, and Luke
LePage, '02
Michaela Elizabeth to Sara
(Graham), '02, and Michael
Richardson
Lyla Grace to Elizabeth
(Years), '02, '03, and
Matthew Stevens, '02, '03
Matthew John to Catherine
(Chappell), '03, and Martin
DeBock, '02
Reed Andrew to Jaclyn
(Baco), '99, '03, and Mark
Starosielec
Ashley Rose to Christy
(Russell), '03, '04, and
Andrew Maxwell
Madison Ann to Kathleen
(Christy), '04, and Eric
Miller, '04
Hannah to Marissa (Minier),
'04, and Patrick Olles
Jane Katherine to Ellen and
Tim Shaffer, '04
Devlin Clark to Lindsay
(Folsom), '05, and Jason
Croteau
Aurelia Sophia to Sarah
(Macchiano), '05, and
Andrew Kneller, '05
Lyric Elizabeth to Jennifer
(Marron), '06, and Matthew
Roy
Phineas Caden to Andrea
(Cohoon), '06, '07, and Kyle
Smith, '08
Jace Daniel to Katherine
(Urquhart), '05, '07, and
Daniel Freeland, '07
Alexa Camryn to Shelby
(Pilato), '07, and Luke Cutlip
BonAlumnus Births/Adoptions
Welcome, Baby Bonnies!
ly released book, "Dating God:
Live and Love in the Way of St.
Francis" (St. Anthony Messenger
Press, 2012).
For their first assignments as
priests, DeWitt will serve as
parochial vicar at St. Bonaventure
Parish in Paterson, N.J., and Horan
will pursue a doctorate in theology
from Boston College.
Five alumni from the School of Journalism and Mass Communication were
inducted into the WSBU-FM Hall of Fame Jan. 28.
The inductees were: Mark Scott, '77, retired news director with WBFO-
FM Radio of Buffalo and a member of the Buffalo Broadcasters Association
Board of Directors; Joe Russo, '92, brand manager at Townsquare Media in
Buffalo; Marilyn (Harloff) Werner, '83, who was WSBU's first female sta-
tion manager in the early 1980s; Ray Collins, '85, owner of Ray Collins
Media in Sarasota, Fla.; and Elmer Ploetz, '81, who spent 28 years in the
newspaper business and now is an assistant professor at SUNY Fredonia.
Campus radio station inducts 5 into Hall of Fame