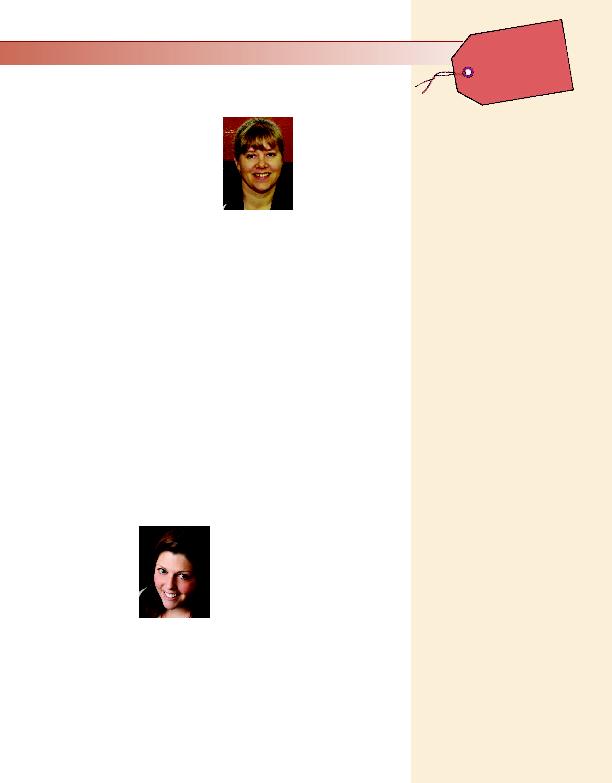 Prue is a senior account manager at Latorra,
Paul and McCann Advertising, an integrated
marketing agency in Syracuse, N.Y. He serves
on SBU's National Alumni Association Board,
in addition to supporting several local chari-
ties. Jaclyn (Baco) Starosielec is a third-
grade teacher at Eggert Elementary School in
Orchard Park.
2000 -- Shawn Marek is head cross country,
indoor and outdoor track & field coach at
Washington & Jefferson College. During his first
season at the helm, he qualified two individuals
for the 2011 NCAA Division III National Cross
Country Championships, the first time in school
history that a W&J runner participated in the
event. Mark Nickerson piloted one of 20
World War II B-25 bombers flown in to the
National Museum of the U.S. Air Force
Museum in Dayton, Ohio, celebrating the
Doolittle Tokyo Raiders and commemorating
the 70th anniversary of the raid on Japan. On
April 18, 1942, 80 men achieved the unimagin-
able when they took off from an aircraft carrier
on a top-secret mission to bomb Japan. These
men, led by Lt. Col. James H. "Jimmy"
Doolittle, came to be known as the Doolittle
Tokyo Raiders. The daring bombing raid is
credited with giving Americans a big morale
boost in the Pearl Harbor aftermath. Nickerson
is a Collings Foundation Air Crew Living
Historian. The foundation, based in Stow,
Mass., organizes living history events that
enable Americans to learn more about their
heritage through direct participation, including
aviation-related events. Nickerson and his
wife, Sara, live in Warren, Pa.
2001 -- Maureen (Langton) Henderson was
awarded the U.S. Small Business Administration
Women in Business
Champion of the Year for
the Buffalo district. She
received the award at a
luncheon during Small
Business Week in May. In
April, Henderson received
the Newfane Business
Association Small Business
Person of the Year award
and was elected president of the organization.
She is a business adviser at the Niagara County
Community College Small Business
Development Center. Heather Maltzan
Mooney, middle school mathematics teacher
and head varsity volleyball coach at Rochester
School for the Deaf (RSD), was named Division
II Volleyball Coach of the Year by the National
Deaf Interscholastic Athletics Association.
Maltzan Mooney has coached volleyball for
seven of her 10 years with RSD. Her volleyball
teams have captured four Eastern Schools
for the Deaf Athletic Association champi-
onships (including back-to-back champi-
onships in 2010 and
2011) and produced
three All-Americans and
one Player of the Year. She
holds a graduate degree in
Secondary Education of
Students who are Deaf or
Hard of Hearing from
Rochester Institute of
Technology's National
Technical Institute for the Deaf. Former class-
mates David Rust of Buffalo and Pamela
(Say) Witter of Cuba were members of the
20th annual Business First "40 Under Forty"
class. Rust, who was just named executive
director of Say Yes to Education Buffalo, previ-
ously was the deputy commissioner of Youth
Services for the Erie County Department of
Social Services. In that post, Rust developed
and coordinated a grant partnership for
refugee students from Grover Cleveland High
School, a college prep program that has sent
more than 100 refugee students to college. He
also oversaw programs for juvenile delinquents
in Buffalo that included community service,
tutoring, homework assistance, mentoring,
recreation and hot meals. He implemented
unique performance measures for each pro-
gram for the Youth Bureau and the Erie
County Department of Social Services. Rust vol-
unteers regularly at agencies funded through
the Youth Bureau, and at the St. Vincent de
Paul Society and Compass House. He is vice
president of SBU's Buffalo Alumni Chapter.
Pamela (Say) Witter has been director of
development at Houghton College since 2008.
Under Witter's guidance, the faculty/staff giving
campaign increased both in percentage of giv-
ing and in dollar amounts during a time of
economic instability. Witter was previously
employed at St. Bonaventure, overseeing Event
Management Services. Her time as develop-
ment manager at HomeCare & Hospice devel-
oped her skills in philanthropy as she directed
the company's annual appeal, fundraising pro-
grams and memorial program. She is also a
2006 graduate of Leadership Cattaraugus.
Witter serves on the board of directors for the
Greater Allegany County Chamber of
Commerce, and has taken leadership roles in
her faith community at Cuba First Baptist
Church, including serving on the Vision Team
and Finance Committee, leading a writers circle
and teaching Sunday school. She and her hus-
band, Tom, and their daughter live in Cuba.
2002 -- Edward J. Bysiek III was a member
of The 20th annual Business First "40 Under
We've lost touch with a number
of alums and need your help! Of
the many missing alumni, our
hope is to start finding lost alumni
who will be celebrating their
reunion in 2013. If you know the
whereabouts of the following
alumni, please let us know at
www.sbu.edu/foundalumni.
Paul R. Avveduti, '53
James D. O'Neill, '53
Maurice J. Walker, '53
Thomas F. Saxton, '58
Richard Claro, '68
Richard Dietrich, '68
Arthur M. Kearney, '68
James S. Radgowski, '68
Thomas F. Staffa, '68
John R. Andersen, '73
Krista A. (Carlson) Brill, '73
Sharon K. (Forness) Browder, '73
Mary Ellen (Annunziato) Marzinelli, '73
Bernadette B. Hart, '78
Carl D. Helbig, '78
Paula E. (Reed) Nancarrow, '78
Andrew E. Scherding, '78
Theodore J. Sullivan, '78
Virginia R. (Annis) Wolbert, '78
Sean J. Cullen, '83
Barbara M. Gueth, '83
B. Marlene Johnson, '83
Sally H. (Hochrein) Kafcsak, '83
Dina L. (Penepent) Masi, '83
Philip F. Stumpf, '83
Timothy P. Butler, '88
Brian P. Florenz, '88
Erik M. Grimm, '88
Janice Herheim, '88
Courtney M. Lew, '88
Michael S. MacDonald, '88
Robert S. Salamack, '88
Christopher Beckwith, '93
James L. Dalberth, '93
Peter J. Haenn, '93
Diana (Latorre) Hawkins, '93
Karen Brennan (Brennan) Jambe, '93
Christopher D. Ryan, '93
Keith K. Tucci, '93
Elizabeth A. (Nolan) Young, '93
Luis H. Castro, '98
Cheryl L. Kisicki, '98
Matthew A. Laffey, '98
Geneviève S. Lukenda-Lund, '98
Robert J. Mavretich, '98
Michael C Petix, '03