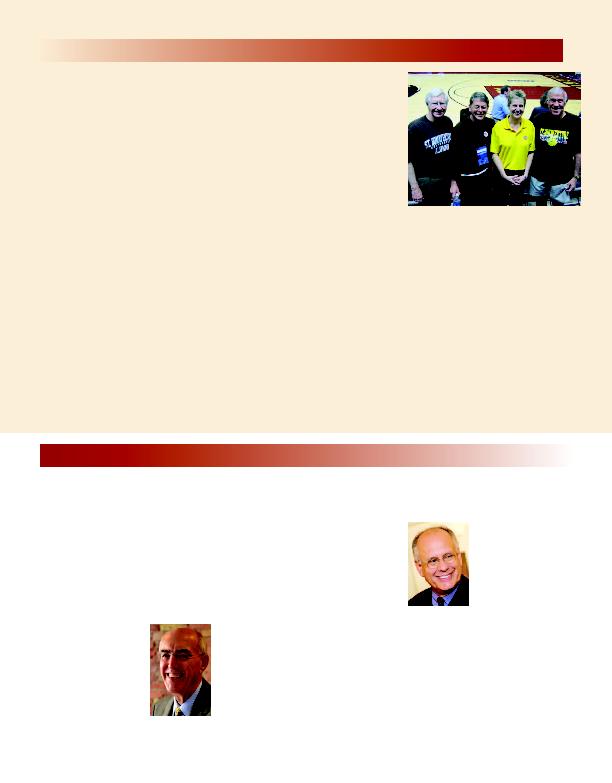 1959 -- Thomas F. Citro of Springfield,
Pa., was recognized by the alumni associa-
tion of Gloucester Catholic High School in
Gloucester City, N.J., as the recipient of the
Thomas Stewart III Award for selfless com-
mitment and extraordinary service to the
greater community.
1960 -- Edmond Collum is a retired
teacher living in East Hampton, N.Y.
Michael Iacovino is retired and living in
Tarpon Springs, Fla.
1963 -- John A. Cirando,
Esq., was reappointed as a
member of the Interest on
Lawyer Account (IOLA)
Fund of New York by Gov.
Andrew M. Cuomo. The
fund was established in
1983 to provide grants to a
statewide network of non-
profit organizations to support the civil legal
assistance they provide to low-income New
Yorkers. The fund is entirely financed by the
interest earned on nominal or short-term
deposits of client funds that New York attor-
neys hold in their IOLA escrow accounts. The
members of this fund oversee all aspects of
the fund's grant making and administration.
Cirando concentrates his practice on appellate
advocacy. Just before he turned 70 in 2011,
Peter M. Cummings completed two full
marathons: the Paris Marathon and the Outer
Banks Marathon. Cummings just began run-
ning when he retired five years ago. Joseph
M. Pastore Jr. was awarded an Honorary
Doctor of Humane Letters Degree by Siena
College at its Commencement Exercises May
13. Also receiving degrees were Derek Jeter
of the New York Yankees and Virginia Kraft
Payson, an author and "outdoor adven-
turess."Pastore is Professor Emeritus in
Residence at the Lubin School of Business at
Pace University.
1964 -- Anthony Bannon, Ph.D., is the
new director of the Burchfield Penney Art
Center at Buffalo State College. For the past
16 years, Bannon has guided George
Eastman House International Museum of
Photography and Film,
located in Rochester, to
national and international
acclaim. During his tenure
at Eastman House, Bannon
led the creation of three
postgraduate preservation
schools, alliances with
museums, universities and
collectors clubs in large U.S. cities, and many
of the most well-attended exhibitions in the
Rochester museum's 65-year history. He also
oversaw the digitization of collections and
aggressive social-media campaigns to share
Eastman House's unparalleled collections with
the world. This will be the second term as
director of the Burchfield Penney for
Bannon, who led the museum from 1985 to
1996. Founded on the Buffalo State campus
in 1966, the Burchfield Penney Art Center is
dedicated to the art and vision of renowned
A Message from the 2012-2013 Alumni Association President
Alumni Association
BonAlumnus Updates
A
s you can tell from my class year, I am
from the era of our only Final Four bas-
ketball team, the 1970 Brown Indians
led by the legendary Bob Lanier and teammates
Billy Kalbaugh, Matt Gantt, Bubba Gary, Dale
Tepas, Paul Grys, (had to get my classmates in
there!) and an overachieving group of phenome-
nal athletes that would have won the National
Championship had the Big Cat not been
knocked out of our last two games with a knee
injury. Unfortunately for me, I never made the
trip to the Final Four that year.
So this time around, I decided nothing would
stand in the way of me following the women's
and men's teams as far as they would go during
March Madness.
As wonderful as the Lanier years were, howev-
er, this year was a double bonus. The best-kept
secret in the country was the Bonnie women and
head coach Jim Crowley.
Led by seniors Megan Van Tatenhove and
Jessica Jenkins, Jennie Ashton and Armelia
Horton, these women produced the best record
in SBU history (men or women) at 31-4 to reach
the Sweet 16. Jess finished her career as the best
single-season free-throw shooter ever (man or
woman) at 95 percent from the line and with the
most career 3-pointers in Atlantic 10 history. Sam
Urzetta, '48, holds the men's free-throw record
at 92.2 percent.
Bob Crowley, '71, Lynda Wilhelm, '86, and Marv
Stocker, '65, the last three NAAB presidents, sat
with Br. Ed Coughlin, O.F.M., (second from left) and
about 400 Bona fans as the women's team won the
regional title to move into the Sweet 16.
Along the way to Philadelphia, Nashville,
Tallahassee and Raleigh, it was great to see
hundreds of Bona Nation students, alums and
trustees -- all dressed in Brown and White and
screaming at the top of their lungs for the
pride of our school: our student athletes.
The Bonnies had a vocal contingent of
more than 1,000 fans in Nashville, where the
A-10 champion men lost a heartbreaker to
Florida State. Physics major and All-American
Andrew Nicholson, the best Bona big man in
40 years, laid claim to his own legendary sta-
tus among our alumni. Kudos to Coach Mark
Schmidt and his team for their first-ever
league championship and first NCAA bid in
12 years.
In Raleigh, our game with Notre Dame was
on a Sunday and Fr. Dan Riley presided at a
pre-game Mass in the team hotel where 120
Bona alums and family members attended.
Fr. Dan led off with a cheer of "Go
Bona's," after which, many alums shared
experiences of their years at SBU and their
love of our alma mater.
Former coach Marti Whitmore ('93-'00)
came to most of the women's games, as did
many former players (Hilary Waltman, Andrea
Doneth, Kaitlyn Murray, Ashley Edwards and
others). It was a great pleasure also to meet
parents of the players. The unity of the
Bonaventure Family has never been so strong
as in these past few months. Speaking on
behalf of Sr. Margaret Carney, the Trustees
(many of whom were at several of the tourney
games), and our National Alumni Association
Board, I want to thank both of our teams for
their incredible performances and for restoring
pride in our rich tradition of what it means to
be a Bonnie.
I encourage you to become involved in alum-
ni events and opportunities, and to support The
Bonaventure Fund.
Through your personal giving and telling
your Bona's story, you help to ensure a future
full of hope.