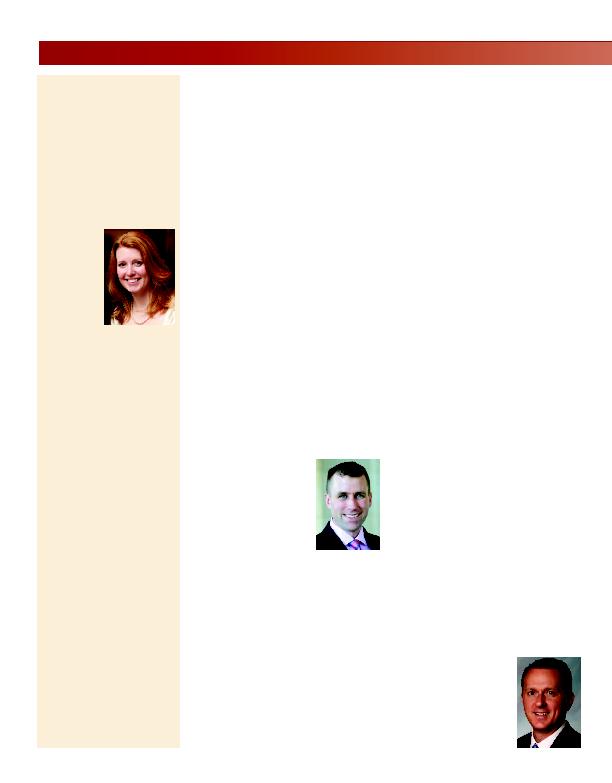 BonAlumnus Updates
Universities of Ohio/Ohio Foundation of
Independent Colleges Communicators' Summit,
held Jan. 5 at Capital University in Columbus. She
presented on developing a social media policy
with an eye to avoiding litigation while providing
guidelines and encouraging two-way communica-
tion rather than controlling the message, drawing
tips from Findlay's process of developing a social
media policy in 2010. English will complete her
year of service as 2012 president of the Northwest
Ohio chapter of the Public Relations Society of
America.
1995 -- Andres Calderon came in next-to-last at
Burguesa Burger's La Monumental hamburger
eating contest last September. The event was held
in Oak Cliff, Texas, to help celebrate Mexican
Independence Day. Kathy (Meade) Linares is
chief information officer of Amcor Packaging
Distribution, a $1 billion packaging company
headquartered in Buena Park, Calif. Adam Wolff
was promoted to systems analyst in the Collabor-
ation Systems group at Moog, Inc., where he is
responsible for the business analysis, design and
implementation management SharePoint and
related web-collaboration technologies.
1996 -- Michael Hill was named a 2012
American Express NGen Fellow, one of 12 individ-
uals selected as part of the Independent Sector
(IS) initiative to elevate and cultivate leadership
among a dozen under-40 leaders at IS member
organizations. Over the course of nine months,
the leaders will collaborate with other talented
under-40 leaders, interact with
established mentors, and con-
tribute to Independent Sector's
work on nonprofit impact and
leadership. Hill is senior vice
president of External Affairs for
United Cerebral Palsy (UCP),
where he leads national public
education, fundraising, commu-
nications, marketing and
branding efforts. Prior to joining UCP, he served as
executive director for external relations at
Washington National Cathedral, where he over-
saw the national development, communications
and volunteer efforts for the nation's church. He
directed a $125 million effort to expand the his-
toric Arena Stage, securing the largest single gift
ever made to a theater in the United States. He
has also served as executive director of St.
Bonaventure's Regina A. Quick Center for the
Arts, where he oversaw the construction of a new
museum complex, the renovation of a historic
theater, the addition of an artist residency center
and quadrupled the programming of the multi-
venue arts complex. He has served as a Dow
Jones Fellow and as a staff correspondent for the
Courier-Observer. Hill is a founding faculty mem-
ber of the Master of Arts Management program
at George Mason University; in 2011, he was
named faculty member of the year. Kelly
Murphy Lucyszyn was promoted to marketing
communications manager and copy editor for The
Strong, a highly interactive, collections-based
educational Rochester institution devoted to the
study and exploration of play. Through The
Strong, she creates marketing and communica-
tions materials for the award-winning National
Museum of Play, the globally recognized
National Toy Hall of Fame, the International
Center for the History of Electronic Games, the
Brian Sutton-Smith Library and Archives of Play,
and the American Journal of Play.
1998 -- Amanda Lloyd has opened her own
pediatric practice in Rochester. She lives in
Webster with her husband, Don Henry, and their
two children. Kimberly (Spiegel) Stehlik and
her husband, Michael, celebrated the five-year
anniversary of the opening of their family busi-
ness, Bonaventure Academy, a childcare center
designed for children ages 6 weeks to 6 years in
Bethlehem, Pa. Their business has grown to 80
children and 20 full-time staff. "We are proud to
share our love of St. Bonaventure with so many
families who have become extensions of our
own," Stehlik writes. She would love to hear from
alums at kimberly@bonaventureacademy.com.
1999 -- Paul Cramer is executive vice president
of Sales for Triton Digital's Applications and
Services division. Triton is the leading digital servic-
es provider to the media industry with a client ros-
ter of nearly 10,000 affiliates, including ESPN,
Warner Brothers, Pandora, CBS, Clear Channel,
AOL Radio, Disney, and Gannett. He and his wife,
Staci (Noecker) Cramer, '02, live in Orchard
Park, where Staci enjoys being a stay-at-home
mom to the couple's three children. Matthew
Dauksza led the Prudential Empire State Agency
to earn the 2011 Agency President's Trophy
Award, a distinction given to the top agency in
the company's Agency Distribution sales organiza-
tion for its outstanding sales performance and
service to the community in 2011. Dauksza joined
Prudential in 2000 and has earned four consecu-
tive company citations. The Empire State Agency
has offices in New Hartford, Dewitt and Amherst.
Holli (Millerd) Henning passed the Licensed
Professional Counselor's exam for the state of
Virginia and plans to work in
private practice. Ed Prue was
named a 40 Under 40 award
recipient by the Central New
York Business Exchange. The
annual competition recognizes
40 people under the age of 40
who excel in their chosen fields
and serve in the community.
2001 alumna named
2012 National
Online Teacher of
the Year
Leslie (Bangert) Fetzer, '01,
of Holly Springs, N.C., an online
biology teacher at North
Carolina Virtual Public School,
was named America's 2012
National
Online
Teacher of
the Year for
K-12 educa-
tion.
is awarded by
the Southern
Regional
Education Board (SREB) and the
International Association for K-
12 Online Learning (iNACOL).
The award recognizes an out-
standing online teacher for
exceptional contributions to
online K-12 education. The
review committee selected Fetzer
and two other finalists from
online educators in public schools
and state virtual schools in 26
states.
Fetzer has taught online biolo-
gy to grades 10-12 at North
Carolina Virtual Public School for
the past three years. A former
classroom teacher, Fetzer noted
that teaching online is not what
most people envision.
"To really teach a student, you
need to reach them on a person-
al level. Teaching online allows
me to personalize instruction for
every one of my students," she
said.
"I can use images, word analo-
gies, create a cartoon or anima-
tion, record a live lesson, or add
audio to help them remember."
Almost daily, she said, "I get to
witness students having `light
bulb' moments. This growth is so
exciting."
Fetzer was also 2011 Teacher
of the Year at North Carolina
Virtual Public School, which
serves 45,000 students statewide.