St. Bonaventure University
School of Arts & Sciences
---
Welcome to the largest and most diverse school at St. Bonaventure University. With some 40 majors and minors, excellent faculty and multidisciplinary programs, we offer something for everyone.
We service most of the courses for the General Education curriculum and the Honors Program. In addition, all university students, regardless of the school in which they're enrolled, take many of their classes within our school.


Preparation for wherever that next step leads
---
Arts & Sciences is an excellent source for professional training for any number of careers and for graduate school preparation.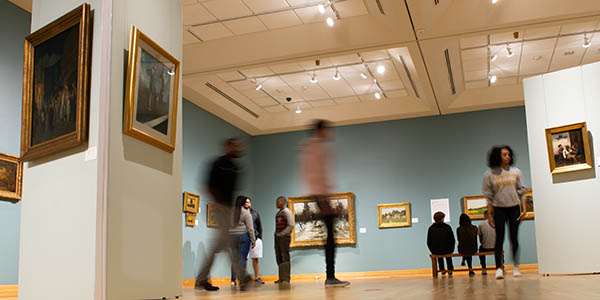 Students looking ahead to post-graduate study in the health care field may take advantage of the university's Franciscan Health Care Professions Program, and our Center for Law and Society prepares our students for law school.
We develop programming that responds to changing societal demands and student interests. We offer bachelor's and master's degrees in the increasingly important and popular field of cybersecurity. We also offer an early assurance program in cybersecurity, guaranteeing qualified high school seniors placement in our master's program upon completion of their bachelor's degree.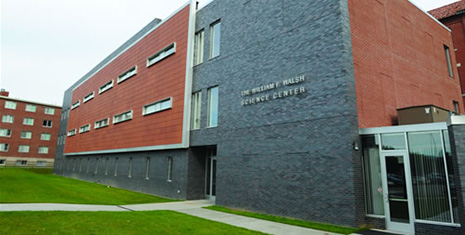 William A. Walsh Science Center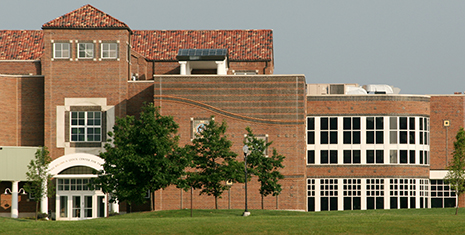 Regina A. Quick Center for the Arts
Modern centers for the arts & sciences
---
State-of-the-art facilities not only accommodate student research, creativity and performance, but serve as regional hubs for student and community engagement.

Experiential learning: The Expo & much more
---
Our annual Arts & Sciences Exposition is a celebration of our students' exceptional research and creativity, and just one of many ways in which an Arts & Sciences education extends beyond the classroom at SBU.
Held each spring in the University Conference Center, the Expo is a popular two-day event that allows the campus community to review outstanding work of students mentored by faculty in the School of Arts & Sciences.
Experiential learning in the School of Arts & Sciences doesn't end with the Expo. Many of our academic programs require internships, mentored research or capstone projects. Others encourage public service, emphasizing the personal growth that comes from using your knowledge and talents to help others.

Programs for area school students and teachers
---
The university hosts a number of annual events that foster interest in the arts and sciences among high school students across the region, and that aid the professional development of teachers in STEM fields.
About the School of Arts & Sciences
---
The dean of the School of Arts & Sciences is Dr. David Hilmey.
An associate professor of chemistry, Hilmey has taught at St. Bonaventure since 2008 and was named chair of the undergraduate program in chemistry in 2013. He was appointed dean of Arts & Sciences, the university's largest academic school, in 2016.
A graduate of the University of New York at Buffalo, Hilmey earned his Ph.D. in chemistry from The Ohio State University in 2006. He served as a postdoctoral associate at Cornell University from 2006 to 2008. He has been a member of the American Chemical Society since 2002.
SBU grad Erin McNell, '20, accepted into competitive ASBMB Honor Society
May 27, 2020 |
St. Bonaventure University May graduate Erin McNell of Springville, New York, has been accepted into the competitive American Society for Biochemistry and Molecular Biology (ASBMB) Honor Society for 2020.
McNell was a biochemistry major who had a strong commitment to research and was a leader in STEM outreach.
In her undergraduate research in Dr. Sean Ryan's laboratory at St. Bonaventure, McNell focused on investigating the toxic effects of disinfection byproducts on embryonic development using a zebrafish model. This research experience piqued her interest in the study of pollution and environmental contaminants.
McNell plans to attend graduate school as a student in the Biological and Biomedical Sciences Program at the University of North Carolina at Chapel Hill, with the goal of earning a Ph.D. in environmental toxicology.
Her specific research interests include the effects of environmental contaminants on mammalian pregnancy and fetal development, as well as the possible role of the placenta in mediating these effects. She hopes to someday investigate this topic in an academic or government lab.
Outside of her research, McNell took part in STEAM outreach in local school districts through St. Bonaventure's ASBMB Student Chapter. This involved traveling to schools or working with teachers and performing fun, hands-on science activities "with the hope of sparking an interest in science and spreading the knowledge that science is abundant in our everyday lives," McNell said.
As part of her honors project, McNell held a nutrition workshop for in-service and pre-service teachers and designed a board game for elementary students called Build MyPlate.
"My goal was to integrate science and math, allowing the game to be a STEAM activity. I wanted it to be hands on and allow the participants to actively learn, since that is often more effective than lecture-based learning," she said.
She chose to use nutrition as the science aspect since the leading cause of death in Cattaraugus County – and the nation – is heart disease. Since the risk of heart disease can be greatly decreased by making healthy diet and exercise choices, McNell's goal was to inform participants about the food groups and how to maintain a healthy diet while exercising regularly.
Cattaraugus-Allegany BOCES has integrated the board game into a nutrition kit that is available for component school teachers in the two counties.
McNell is hopeful that students will take the game home and pass their knowledge on to their families.
"I was very excited to hear that CA-BOCES was adding this game to the nutrition kit, meaning now it will have an even greater impact than I had originally imagined," she said.
Dr. Xiao-Ning Zhang, director of the university's Biochemistry Program, describes McNell as independent, hard-working and creative.
"I am very proud of her and what she has accomplished," Zhang said. "She set her mind on research in a Ph.D. program as a freshman. I wish her a bright future and lots of excitement ahead."
The ASBMB honor society is a competitive process and nominees must be ASBMB Student Chapter members who have demonstrated exceptional achievement in academics, undergraduate research and science outreach. Last year, only 27 students nationwide received the honor.
During her senior year, McNell served as president of the SBU ASBMB Student Chapter as well as vice president of the Campus Activities Board and as a student ambassador with the Office of Admissions.
McNell was awarded the Summer Borer Research Fellowship last summer and the Warden Research Award as a senior.