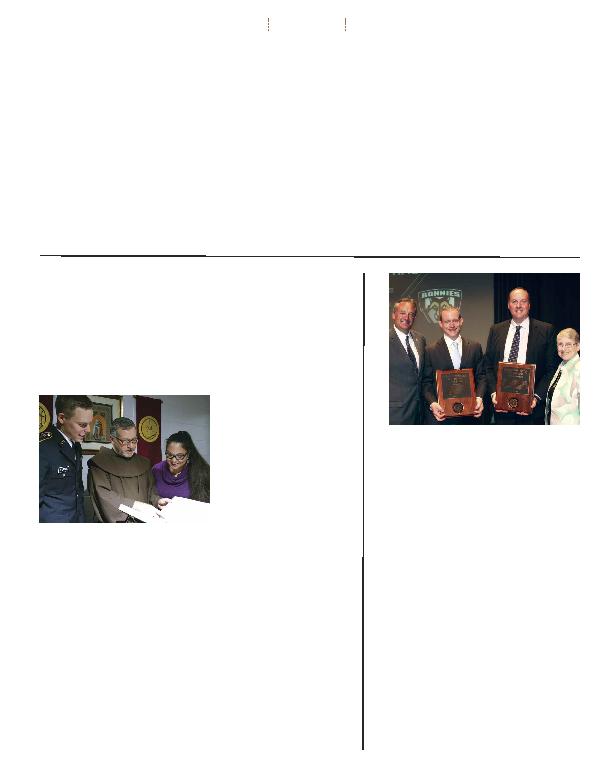 Fr. Michael Calabria, O.F.M., director of the Center for Arab and Islamic
Studies (CAIS) at St. Bonaventure, has been named the new general assis-
tant for dialogue with Islam for the Order of Friars Minor.
Fr. Michael will provide the order's general administration with advice and
guidance concerning interreligious dialogue and relations with Islam, and
promote activities aimed at
encouraging such interaction
on behalf of the Order.
Fr. Michael will continue to
serve as director of the CAIS
at St. Bonaventure, which was
established in 2015 to pro-
mote an understanding of
Arab and Islamic cultures, an
appreciation of their historical
and contemporary signifi-
cance in the global commu-
nity, and respectful relations
between Muslim and Chris-
tian people.
In his new role, Fr. Michael
will serve as president of a
Special Commission for Dialogue with Islam, which comprises three other fri-
ars and additional advisers. He will also serve as vice president of the order's
broader Commission for Dialogue.
The special commission has a number of initiatives on the horizon, includ-
ing the preparation of events to commemorate the 800th anniversary of St.
Francis' encounter with Sultan Malik al Kamil, the development of materials
for initial and ongoing formation on the importance of dialogue with Islam,
and an international resource directory for friars and other Franciscans en-
gaged in dialogue with Islam.
"I am truly humbled by this appointment, and by the trust the Order has
placed in me to assist in fostering relations between Franciscan and Muslim
communities worldwide at this time," Fr. Michael said. "Whatever abilities I
bring to this office, I owe to my educators, to the friars who taught me what
it means to be Franciscan, and to my Muslim brothers and sisters who have
shared their faith with me. I pray that I may serve them all well."
PRESIDENTIAL SEARCH
SHARING FAITH
SBU friar to help guide relations with
Muslims for Order of Friars Minor
Director of Athletics Tim Kenney (left) and Uni-
versity President Sr. Margaret Carney, O.S.F.,
congratulate Mark Evers, '01, and Brian DiPi-
etro, '94.
Evers, DiPietro inducted
into Athletics Hall of Fame
Swimmer Brian DiPietro, '94, and baseball
player Mark Evers, '01, were inducted into the
Athletics Hall of Fame June 4.
A breaststroke specialist, DiPietro's excellence
in his events and on relays helped St. Bonaven-
ture capture its first Atlantic 10 Swimming &
Diving Championship in 1993. He was the first
St. Bonaventure swimmer ever to win the 100
breaststroke at the A-10 meet, taking first
place in the event in both 1993 and 1994 to
earn all-conference honors.
Evers was an accomplished athlete and stu-
dent whose leadership pushed St. Bonaventure
baseball to the top of the Atlantic 10 Confer-
ence. A two-year team captain and a four-year
starting shortstop, the Troy, N.Y., native holds a
career batting average of .316. He also hit 19
career home runs, which ranked eighth all-
time at Bona at the time of his induction.
Fr. Michael Calabria, O.F.M., Ph.D., views
the Qur'an with Erik Furgal, '17, and
Amina Golden-Arabaty, '19, in the Center
for Arab and Islamic Studies at SBU.
Alumni and friends are invited to visit
www.sbu.edu/pres-search for updated
progress in the search for St. Bonaven-
ture's next president.
Presidential Search Committee members
and representatives from the search con-
sulting firm Witt/Kieffer have conducted
12 group listening sessions with students,
faculty, deans, administration, staff,
alumni, friars, members of the Board of
Trustees, and key community stakehold-
ers. Information shared during those lis-
tening sessions -- as well as feedback
submitted through the Presidential Search
Input Form -- was integral to the Presi-
dential Search Committee's drafting of the
position profile.
This document is now publicly available
on St. Bonaventure's Presidential Search
website as a national advertising cam-
paign begins.
This Presidential Profile will be given to
prospective candidates to help them un-
derstand St. Bonaventure's unique history,
mission and opportunities.
In the coming months, Witt/Kieffer will
begin identifying, recruiting and evaluat-
ing applicants for review by the full Presi-
dential Search Committee.
This process will likely extend into the
early fall, at which point the committee
will begin interviewing candidates. During
this portion of the search, work will be
conducted with the confidentiality neces-
sary to attract the strongest applicant
pool.
The intention is to name the new presi-
dent by Dec. 31, 2016, to be effective in
July 2017.
Presidential profile developed, national search begins