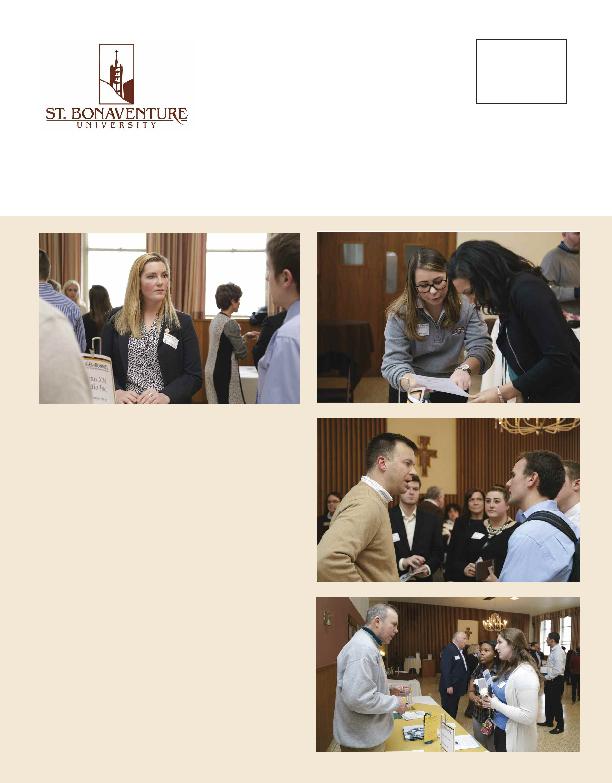 St. Bonaventure, NY 14778
The best thing about St. Bonaventure is the alumni. Just
ask Pamela Ferman, assistant director and employer relations
coordinator for Bona's Career and Professional Readiness
Center (CPRC).
Ferman regularly receives offers from alumni around the
globe interested in sharing their knowledge with today's stu-
dents, which is why the CPRC created Bonnies4Bonnies, a
career networking event that launched in February and will
be held annually.
Bonnies4Bonnies offers students the chance to connect
with alumni professionals, discuss career options, and dis-
cover internship and job opportunities.
Kevin Cleary, '02, marketing manager of sponsorships and
promotions for Nestlé Waters North America, was the
keynote speaker for the inaugural event. He discussed "The
Power of the Bonaventure Alumni Connection" and offered
tips on how to network.
More than 100 students attended the gathering that fea-
tured nearly two dozen notable alumni from New York City,
Washington, D.C., Buffalo, New Jersey, Pittsburgh, Char-
lotte, and Rochester. Companies with representation in-
cluded SiriusXM Radio, New York Life, Toyota, Nissan North
America, Scholastic, Constellation Brands, Rohrbach Brewing
Company, Fisher-Price, and M&T Bank.
Do you want to join the 2017 event? Contact Ferman at
(716) 375-2384 or pferman@sbu.edu.
BONNIES4BONNIES NETWORKING EVENT
Alumni answer the call