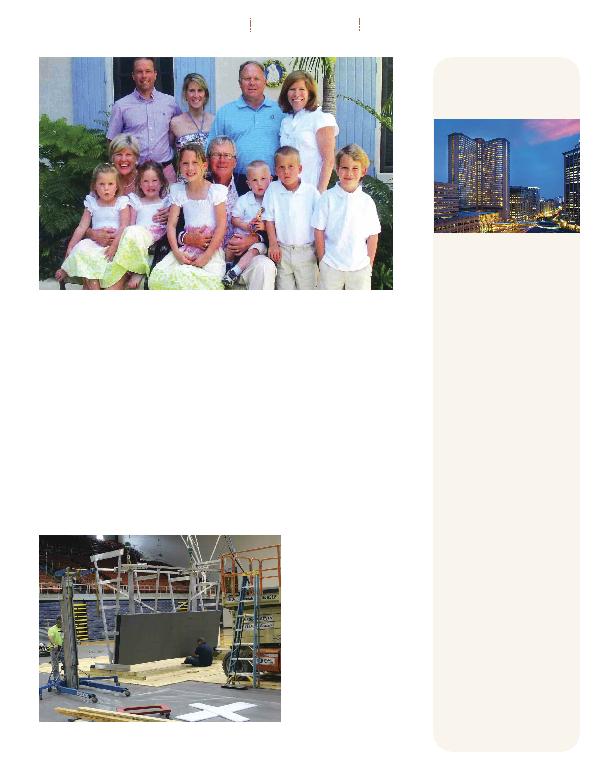 2
Gray Horton, who at a young age took on
the adult responsibility of helping to sup-
port his mother and three sisters.
"My father had to quit school in the
eighth grade and go to work," he said.
There wasn't enough money in the family
and the threat of an orphanage loomed,
so a young Albert and his mother teamed
up and entered the produce business. "He
was hauling fruits and vegetables when
he was 14."
By the early 1950s, Albert Gray Horton
became a pioneer in the pre-packing seg-
ment of the produce industry. Not only
did he build a successful business from
the ground up, but also ensured that each
of his sisters and all of his children had the
advantage of a college education.
Today, Albert C. Horton is chairman of
The Horton Fruit Company founded by his
father in 1946. He and his wife, Barbara,
make their home in Louisville, where they
raised three children: Albert Gray Horton
II, who passed away in 1993; Alanson
Boden; and Dorothy Jane Woodward. A
longtime supporter of St. Bonaventure,
Horton has served on the university's
Board of Trustees since 2010 and is a for-
mer member of the School of Business
Advisory Board and the Athletics Cam-
paign Steering Committee.
In memory of the men -- mentors,
friends and father -- who helped mold
him into who he is today, Horton has
made a leadership gift to
the university for up-
grades to the pool, condi-
tioning and strength
training equipment and
the new state-of-the-art
videoboard in the Reilly
Center Arena.
students find the same
support and motivation
he did at St. Bonaventure
and that they not take for
granted what others have
worked hard to pass
along.
(Susan Anderson is di-
rector of fundraising
communications at St.
Bonaventure.)
with your fellow Bonnies in
The Office of Alumni Serv-
ices will present the fourth in a
new series of leisure travel adven-
tures, with registration details to
come soon. We'll be lodging at the
Boston Marriott Copley Place and
touring as you wish, concluding with
Sunday Mass at our Franciscan
home on Arch Street, St. Anthony
Shrine and Ministry Center.
Rededication of the Grotto of
Our Lady of Lourdes, campus
Men's basketball at University
of Florida, Lakeland, Fla.
Men's basketball at Austin,
Al Horton, '66 (center), and his wife, Barbara, are pictured with their children and
grandchildren.
Upcoming
Alumni Events
Questions? Contact the Alumni
Office at (716) 375-2302 or
Installation of the new videoboard is expected to be com-
pleted by late July.