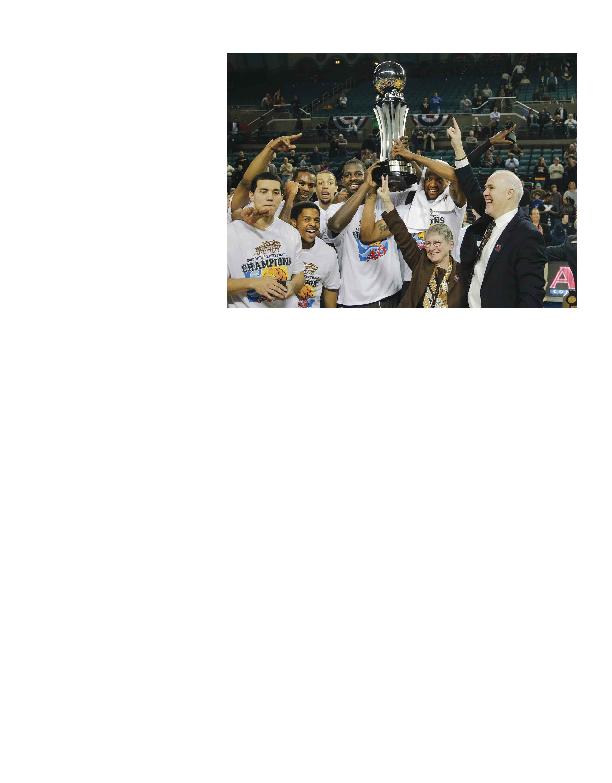 DOUBT WAS LEFT in the rear-view mir-
ror. She only knew one direction: forward.
She led a $95 million capital campaign
to commemorate the university's 150th
anniversary in 2008. New buildings
sprung up for recreation, rare books, din-
ing, the sciences, business and ministries
(to open in 2017). Old buildings and
spaces for the sciences, athletics, dining,
spiritual reflection and residence life were
rejuvenated.
"Every time we went out to raise
money, I always thought I could tell a
story well about what we needed and
why we needed it," said Bob Daugherty,
current chair of the Board and leader of
the fundraising campaign to build the
Swan Business Center. "And then Sr. Mar-
garet would get up and they would want
to give her the money as soon as she left
the stage because she was so compelling
of a speaker."
Give her 10 minutes to prepare, and she
could talk about the nuances of the infield
fly rule in baseball -- and it would be the
best speech about the infield fly rule you
ever heard. And she rarely spoke from a
script.
"She carries an eloquence of expression
that is not found in many men or women
in leadership capacities," McGinley said.
"She may be the best public speaker I
have ever heard."
She was just as good in private settings.
"Her capacity on a moment's notice to
say just the right thing was remarkable,"
said Dr. Emily Morris, who served under
her for nine years as vice president for
university relations. "I would often ask
her, `From where did you get the inspira-
tion to say that?' And she'd say, "From
the Holy Spirit.'"
Morris thought she was joking at first.
"But then I came to realize that's proba-
bly where it came from," Morris said.
"That I worked for a person who truly
was driven by and guided by faith was a
remarkable experience."
Sr. Margaret was also driven by an al-
most superhuman work ethic. If an office
light was on in Hopkins Hall after 10 p.m.,
it was almost always hers.
"One of my toughest challenges as
Board chair was getting her to slow down
every once in a while," said Ray Dee, a
member of the Class of 1964 and Board
chair from 2012-2015.
Her workload was staggering to every-
"I don't think it's heroic. It's just what I
do," she said. "You could call it worka-
holism on the one hand, but it's very
much the way that religious embrace their
ministerial calling. Personal leisure is a
value, but not a priority. I'm here to serve."
Sr. Margaret's tireless commitment was
"an extraordinary generosity that we
should be grateful for," Morris said. "We
had her 24/7/365. She was St. Bonaventure
from the time she woke up until the time
she went to bed. That's not a realistic ex-
pectation for any leader, religious or not."
NO ONE WORKED LONGER with Sr.
Margaret than Brenda McGee, who was
Sister's chief financial officer for her entire
run as president. Early on in her career,
McGee gave a business vendor an answer
about a contract renegotiation that he
didn't care for. So the vendor went over
her head to Sr. Margaret.
"She wasn't so much offended that he
wanted the contract reviewed because he
certainly had that right," McGee said.
"But when he said he didn't want to talk
to me but to the men of the university
who could make a decision ... well, I've
never seen anyone so quickly escorted out
of a CEO's office ­ with grace, of course."
McGee laughed telling the tale, but not
nearly as hard as she did on March 10,
2012.
The Bonnies had just survived a late rally
by UMass to clinch a berth in the Atlantic
10 men's basketball title game in Atlantic
City the next day. Sr. Margaret was
sweeping her kitchen right after the game
when McGee called. The president
wanted desperately to get to the game,
but didn't think she could drive herself.
McGee offered immediately and off they
went.
"In the backseat, she's calling one con-
vent after another, making small talk at
first and then revealing, `The reason I
called, Sister, is that my team is playing in
the A-10 Championship tomorrow, and I
need all of those nuns down on their
knees praying for us," McGee recalls.
"She must have called eight or 10 con-
vents on the East Coast."
Acknowledging the slippery slope of
praying for sports glory -- "I almost never
do that, but I did that day," she said with
a smile -- Sr. Margaret said she was
"spooked out" when she walked into
Mass that Sunday morning and heard an
Irish hymn she had heard maybe one
other time in her life.
"All I could think was that all of my Irish
ancestors were going to make sure we
won that game," she said.
Standing on the court in the chaotic
swirl of the postgame celebration, Sr.
Margaret grabbed star Andrew Nicholson
and thanked him, then was hoisted in the
air and twirled about by injured guard
Michael Davenport.
The opportunity to become president
emerged because of basketball. Now here
she was, nine years later, on the polar op-
posite end of the emotional spectrum.
Personally, she was thrilled. But she was
ecstatic for "all the people in the stands