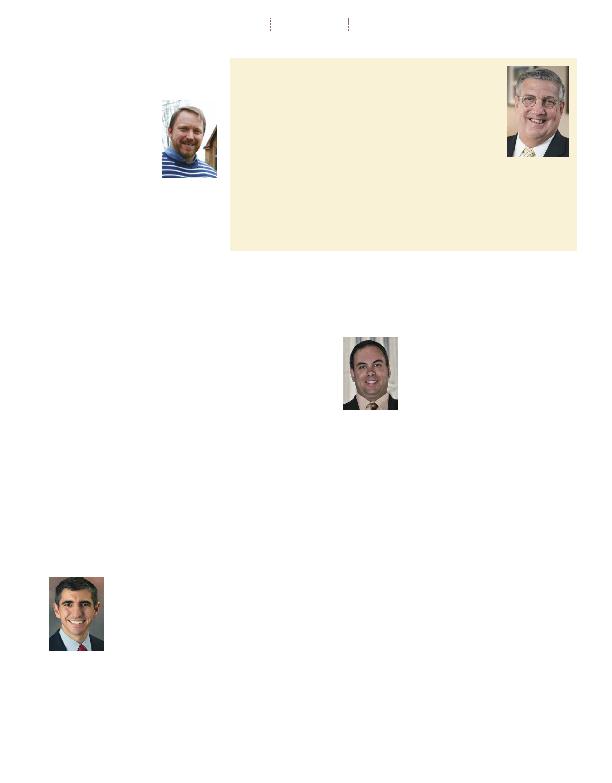 rector of Mt. Irenaeus. Fenn has been in-
volved with Mt. Irenaeus since 1987 as a
freshman at St. Bonaventure, and he lived in
community with the friars
during the summers of 1990
and 1991. After his three
daughters began to grow
older, he sought out more
involvement. He was invited
to join the Board of Trustees
in 2007, eventually taking
the role of chair in 2014.
After working in the corporate world for the
past 24 years, Fenn began to recognize the
need for a dramatic change in his profes-
sional life. One of Fenn's initial projects is de-
veloping the Mountain Companions ministry,
which will reach out to women and men, lay
and religious, in the Franciscan family and be-
yond to live amongst this Gospel-based com-
munity. Jeremy McGuire was promoted
from lieutenant colonel to colonel in the
United States Army. Due to health reasons,
Joe Tebo has retired from his job at the St.
Lawrence University Bookstore. He would like
to hear from friends via email at
jtebo001@twcny.rr.com. Steve Williamson
was named regional sales manager at ZE-
STRON, a leading provider of high-precision
cleaning products, services and training solu-
tions in the electronics manufacturing and
semiconductor industries. Williamson is fo-
cusing on growing ZESTRON's product and
services business while expanding the cus-
tomer base in the eastern American and
Canadian regions.
1993 -- Roy Bielewicz was named CEO of
Full Throttle Parts, www.fullthrottleparts.com,
an online retailer of automotive after-market
parts and accessories for trucks, Jeeps and
SUVs. Full Throttle has offices and a ware-
house in North Olmsted, Ohio, as well as a
retail store and warehouse in Quincy, Ill. He is
also a principal and co-founder of Apotheca
(www.apothecadigital.com), a marketing and
analytics agency also based in Ohio.
1994 -- Gregory A. Mat-
tacola has joined Hancock
Estabrook, LLP as counsel in
the Health Care Practice
and will concentrate his
practice on health law,
labor and employment law,
litigation, real estate, estate
planning and municipal law. In addition to
his law degree, he has certification in
healthcare compliance (CHC) from the
Compliance Certification Board. Previously,
Mattacola was the owner of The Mattacola
Law Firm and was the vice president/hospi-
tal counsel for Rome Memorial Hospital.
Mattacola will oversee the Hancock Es-
1997 -- Marc J. DelMonico received his
Ph.D. in systematic theology from the
School of Theology and Religious Studies at
The Catholic University of America in Wash-
ington, D.C. His doctoral
dissertation examined the
understandings of the
church in the writings of
two contemporary North
American Roman Catholic
theologians, Gregory Baum
and Fr. Patrick Granfield,
O.S.B., and focused on the
ecclesiology of communion and its implica-
tions for reform and renewal of church
structures. DelMonico has taught theology
in Washington, D.C., and served as a min-
istry and liturgical consultant with a number
of parishes, Catholic religious communities
and advocacy organizations. In 2012, he
co-founded a website design and online
digital communications studio, Perisphere
Media, with fellow alumnus Matthew
Smith, '99, and has launched a new port-
folio website for his consultation services
and academic activities at churchMD.com.
2000 -- Eric R. Wischman was promoted
to administrative vice president at M&T
Bank. Wischman has been with the bank
for 15 years, most recently as vice presi-
dent, risk manager in risk governance and
administration.
2001 -- Scott Heffner graduated with
honors from the American Bankers Associa-
tion School of Bank Marketing & Manage-
ment, a two-year professional school in
Atlanta. Following graduation, Heffner
earned his Certified Financial Marketing
Professional certification (CFMP) through
the Institute of Certified Bankers. He is as-
sistant vice president/assistant director of
marketing at Chemung Canal Trust Com-
pany, a $1.6 billion community bank head-
quartered in Elmira with 34 branch offices
throughout upstate New York and the
Northern Tier of Pennsylvania.
2002 --Michael W. Bigley is deputy direc-
tor of the DC Commission on the Arts and
Humanities, which is the government
agency that provides grant funding to non-
profit organizations and individual artists.
He oversees the day-to-day operations of
the agency, including its infrastructure,
grant making and special programming. It
has a budget of more than $15 million.
Adam Jester received Leadership Cattarau-
gus' 2015 Alumnus of the Year Award. In
addition to his service to Leadership Catta-
raugus, Jester has assisted a number of
local organizations -- including the Chal-
lenger Learning Center and the Olean Area
Chamber of Commerce -- by providing in-
formation technology services and profes-
sional assistance. Devin Murphy has sold
his first novel to HarperCollins. "The Boat
Runner," scheduled to hit bookstores in fall
2017, is the story of a wealthy Dutch family,
industrious owners of a lightbulb factory in
a small town, whose world is upended over
the course of four years during the WWII
Nazi occupation. The story follows the
youngest son through the forests of France,
the stormy beaches of England, and deep
within the secret missions of the German
Navy as he is confronted with the moral
dilemma that will change his life forever.
Murphy said there has been international
interest in translating the book since trade
journals announced the book in May.
Meredith Van Scoy is manager of the
Costume Shop for the Department of
Drama and Dance at Hofstra University. She
supervises students and staff in the con-
struction of costumes for four productions
each semester. In addition, she assists teach-
Conneely tapped as president of
University of Maine, Augusta
Dr. James F. Conneely, '80, began his term as the president of
the University of Maine at Augusta on Jan. 19. Conneely has spent
more than 30 years in higher education.
Conneely previously served as president of Notre Dame of Mary-
land University in Baltimore, the only man to hold that post at the
historically female school, as well as associate provost and vice presi-
dent of student affairs at Eastern Kentucky University and assistant vice chancellor of
student affairs at the University of Arkansas.
With campuses in Augusta, Bangor and University College Centers in eight rural or un-
derserved communities, the University of Maine at Augusta has a statewide mission of
expanding access to higher education for learners of all ages, locations and backgrounds.
Conneely holds a doctorate in higher education from Georgia State University.