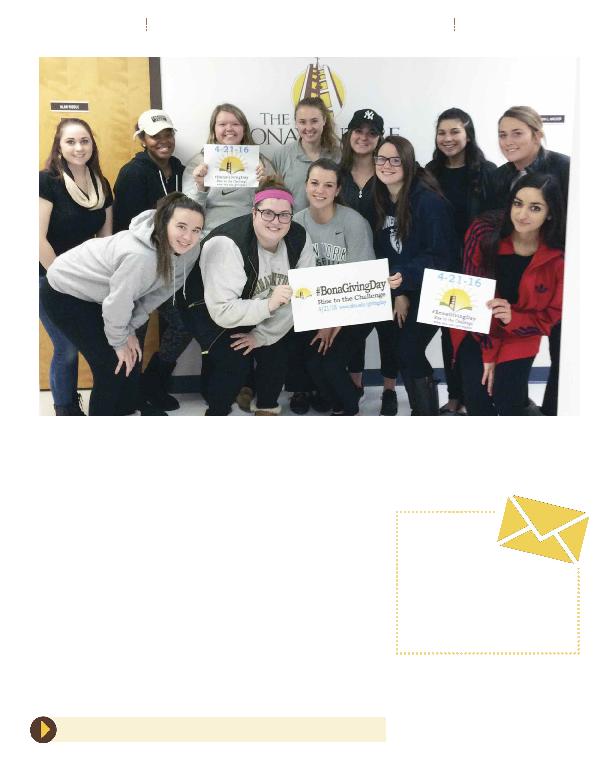 Partnering with You Today. Making a difference for tomorrow
T
hanks to the shared vision of thousands in the St. Bonaventure family, The
Bonaventure Fund received nearly $2.5 million in donations during the 2015-
2016 fiscal year, breaking the previous record (set during the 2007-2008 fiscal
year) by more than $100,000!
A large part of this accomplishment can be attributed to the inaugural #BonaGiv-
ingDay on April 21, but it takes much more than one big day to break a record.
The fundraising success of this past year was a culmination of many positive
· The undergraduates who were part of our first student philanthropy
efforts are now young alumni and giving back at an impressive rate.
· Our reunion classes continue to build momentum as a fundraising force.
The 2015­2016 Reunion Class Challenge, which concluded May 31,
garnered $619,583 from reunion classes 1951 to 2011. Here are a few
highlights from the classes that celebrated 50-year, 25-year and 5-year
anniversaries:
· The class of 1966 raised $74,724
· The class of 1991 raised $52,822
· The class of 2011 raised $2,956
Bonathon callers celebrate success on #BonaGivingDay.
You're invited!
of a class year end-
ing in 2 or 7? If so, please
consider serving as a reunion co-
chair for The Bonaventure Fund this
year. To learn more, or to volunteer,
please contact Karen Heitzinger, associ-
ate director of Annual Giving, at (716)
375-2328.
You made it happen: $2,498,142!
What lies ahead? With every gift, you en-
able the university to continue its mission in
the Franciscan tradition and to graduate stu-
dents who demonstrate competence, self-
confidence, and a willingness and ability to
serve others.
To see all Reunion Class Challenge results, visit www.sbu.edu/reunionchallenge