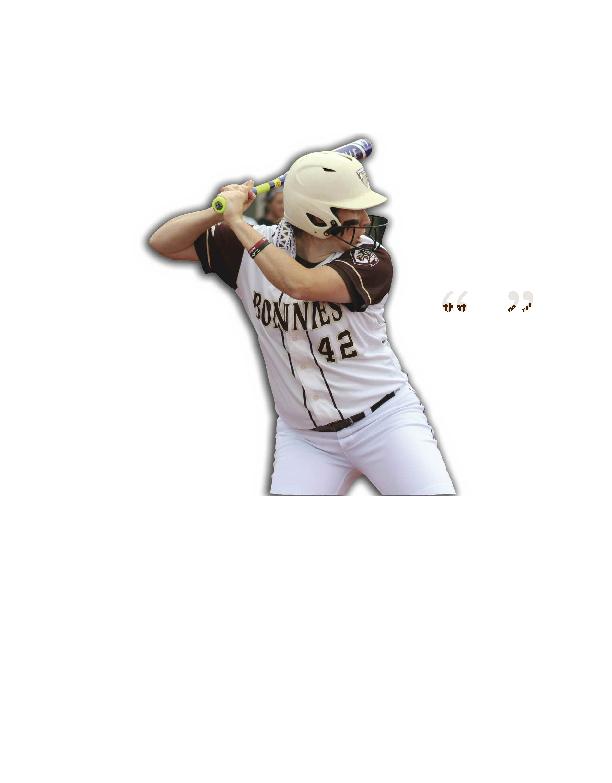 After the initial shock wore off, though, the
"At first I thought about softball and school
and everything I have going on," she said. "I
wondered how this would impact my senior
year. After I thought about it, I knew that
there wasn't anything going on in my life
that was more important than helping this
girl potentially live longer. Once I realized
that, I knew nothing would stop me
Her surgery was set for January
in Rochester. After having her
marrow removed, she would
then need to take a blood
transfusion due to blood loss
"I knew that it would im-
pact softball, I just didn't
know how drastically,"
she said. "We didn't
know exactly how I would
feel after surgery. My
teammates and coaches were really understanding and super supportive. They've
been behind me through the whole process."
A four-year starter for the Bonnies, Sinclair was in the Bonnies' lineup when the
season began in February. Though it was an ongoing process to regain her stam-
ina, she finished the season strong, ultimately hitting .290 with five home runs.
Sinclair still has precious few details of the person to whom she may have given
a new lease on life. Through the Be The Match program, details on patients re-
main anonymous even after donation.
"She's still a stranger to me," Sinclair said.
A year after the surgery, both parties may give consent to pass on information
to each other through a Be The Match coordinator. Until then, Sinclair can only
hope that her sacrifice will help someone else enjoy some of the things many of
us take for granted.
"You never know when or how you will be able to impact someone's life,"
she said. "I knew that if I was in that position and needed this, I would want
someone to be generous enough to donate to me. I hope this helps this per-
son live the life that she loves."
(Scott Eddy is assistant sports information director at St. Bonaventure.)
The ultimate team player
Senior Katie Sinclair agrees to bone marrow donation,
knowing it could sideline her softball season
L
ike most college seniors, Katie Sin-
clair entered her final days
as a college student
with a lot on her mind
-- school, potential
job prospects and a
full schedule as part of
the St. Bonaventure soft-
ball team.
A few months ago, she could have
never imagined temporarily putting some
of those things on hold to help potentially
save the life of a complete stranger.
Sinclair, a native of Cortland, N.Y., received a
call from the Be The Match National Marrow
Donor Program last October notifying her that she
was a match for someone in need of a bone mar-
row transplant. Like many of her teammates, she
had a cheek swab done to identify potential
donors when the Be The Match registry program
visited campus in February 2015. She never
thought she would turn out to be that match
someone was waiting for, however.
"You never think that if you put your name in
you will be the one chosen," Sinclair said.
Be The Match helps patients fighting blood can-
cers, forming a community of donors to help pa-
tients receive the life-saving marrow or cord blood
transplant they need. According to Be The Match
data, 70 percent of patients do not have a donor in
their family and therefore rely on those who are
willing to donate through the program.
With the potential to be someone's match now a
reality, Sinclair found out exactly what that en-
tailed. If she decided to move forward, she would
undergo a surgical procedure to extract bone mar-
row from her pelvic bone to go toward the patient
in need.
And to consent to an often painful procedure,
she would know little more about the person she
was donating to other than that it was a female
patient -- the Be The Match program remains
completely anonymous.
Further, there was also her softball career to con-
sider. Set to enter her senior season with the Bon-
nies, Sinclair enjoyed her best year as a junior. She
helped lead the Bonnies to their first Atlantic 10
Tournament appearance since 2008 by hitting
.303, pacing the team in doubles, home runs and
slugging percentage.
Read an expanded version of this story about
Katie Sinclair and view an accompanying video
on gobonnies.com.
I knew that there wasn't anything
going on in my life that was more
important than helping this girl