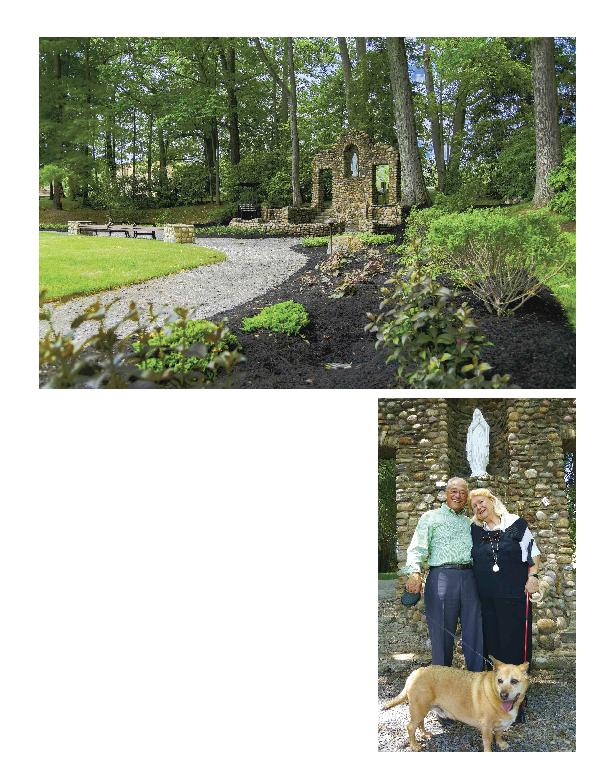 T
he newly renovated Grotto
of our Lady of Lourdes is
pride. The makeover of this fa-
vorite reflection and prayer space
included new lawn, walkways, light-
ing, a wheelchair-accessible ramp,
stone terrace seating, benches and
a new statue of St. Francis.
The stone utilized for seating and
steps in the Grotto was recycled
from elsewhere on campus. Original
stonework in the more than 90-year-
old shrine was cleaned and repaired.
Janice Zampogna spent time at
the Grotto during Alumni Reunion
Weekend. While not a graduate
herself, Janice shared her senti-
"Bonaventure has always been a
part of our lives (and) very mean-
ingful," she said, while leaning
against the sun-warmed stones of
the newly restored Grotto, placing
rosary beads blessed by Pope
"These rosaries were blessed at
my son's (Christopher) wedding in
Rome. I want everyone to take
Her husband, Dr. Joseph Zam-
pogna, '59, served as a language
arts professor at St. Bonaventure
for more than 10 years, retiring in
2006. His brother, Tony Zampogna,
was the first director of Housing
and Dining at the university.
"When the German priests were
here, they had meat and potatoes.
Tony introduced sauce," giggled
Janice, as she carefully tore more
tape to adhere a pink rosary on a
The renovations at the Grotto
were made possible by many
donors -- especially the classes of
1964, 1965 and 2015. A rededica-
tion ceremony is being planned for
Joseph, '59, and Janice
Zampogna
Gorgeous Grotto in bloom