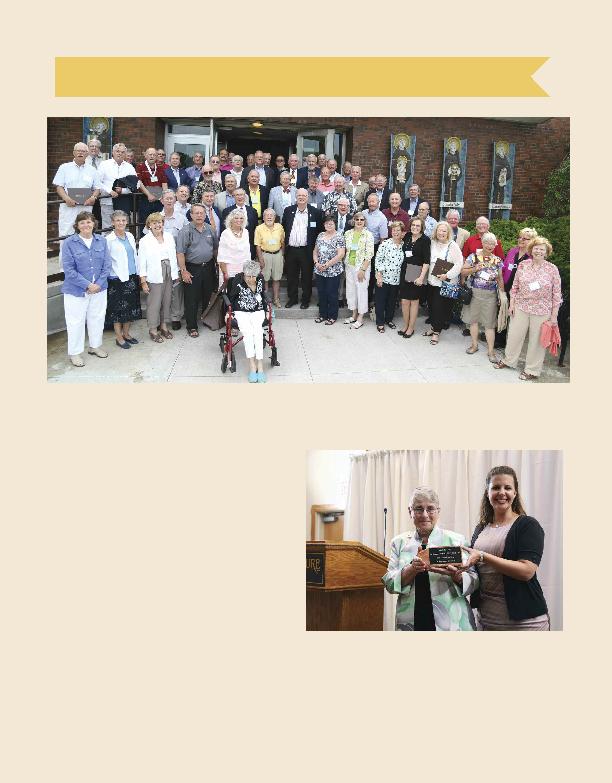 The sun shone brightly on
Alumni
Reunion Weekend 2016
as 1,000 Bonnies returned home to
celebrate friendships old and new. The
weekend was blessed with beautiful
weather, allowing for best use of the
campus -- for baseball and Kan Jam
competitions, long walks and socializing.
The Rigas Family Theater in the Regina A.
Quick Center for the Arts was packed for
the farewell address of Sr. Margaret
Carney, O.S.F., university president, and
later that day Sr. Margaret graciously
accepted the 2016 William "Stax"
McCarthy Alumnus of the Year Award.
Classes ending in 2 and 7, make plans now
for Reunion 2017, slated for June 2-4!
Alumni from the Class of 1966 pose for a 50th anniversary class
photo. View and download hundreds of photos from Reunion
Weekend at
www.sbu.edu/bonaflickr.
National Alumni Association Board President Kristan McMahon,
'97, presented Sr. Margaret with the 2016 Alumnus of the Year
Award. The plaque was mounted on a brick from the college's
first building, which burned down in May 1930. The bricks were
discovered during excavation for the Richter Center.
Once a Bonnie ...
Photos by St. Bonaventure University Multimedia Specialist
\ \ \ \ \ \ \ \ \ \ \ \ \ \ \ \ \ \ \ \ \ \ \ \ \ \ \ \ \ \ \ \ \ \ \ \ \ \ \ \ \ \ \ \ \ \ \ \ \