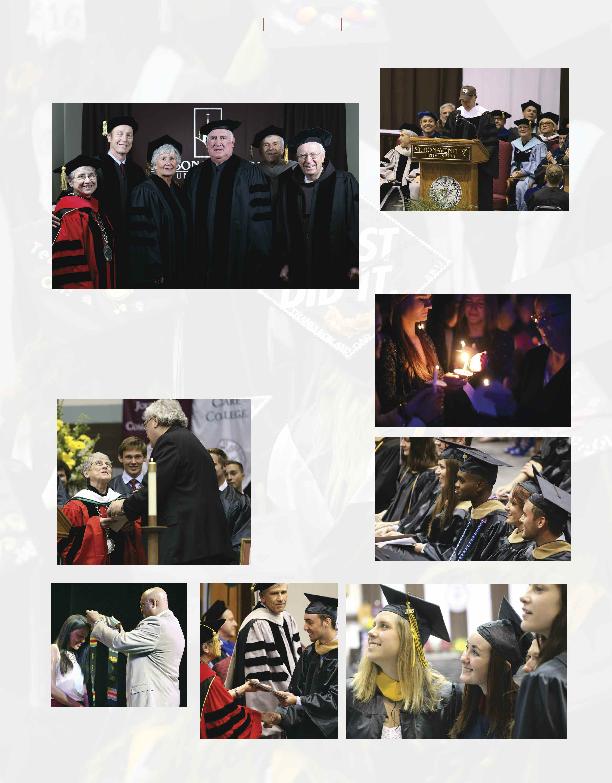 2
Sr. Margaret Carney,
O.S.F., received a stand-
ing ovation from more
than 1,000 students,
family members and uni-
versity community mem-
bers after Fr. Greg
Dobson, pastor of St.
Mary of the Angels
Roman Catholic Church
in Olean, surprised her at
Baccalaureate with a
medal from Pope Francis.
The university paid tribute to four individuals with honorary degrees at Com-
mencement: Raymond C., '64, and Maureen K. Dee (center of photo), successful
entrepreneurs and longtime Bonaventure backers; Dan Barry, '80, (second from
left) a Pulitzer Prize-winning writer for the New York Times; and Fr. André Cirino,
O.F.M., (right) of Immaculate Conception Province, whose ministerial experience
includes parish work, retreats and education. The honorees are pictured with Pres-
ident Sr. Margaret Carney, O.S.F., and Board Chair Bob Daugherty.
Eschewing his velvet beret at the outset and
donning a Bonnies ball cap at the end, Dan Barry
offered up a heady mix of humor, humility and
honor to more than 560 students at Bona's
156th Commencement Exercises.
Commencement 2016 Photo File
A Multicultural Stole Ceremony
celebrated the academic achieve-
ments of domestic students of color.
{View thousands more at www.sbu.edu/Bonaflickr}