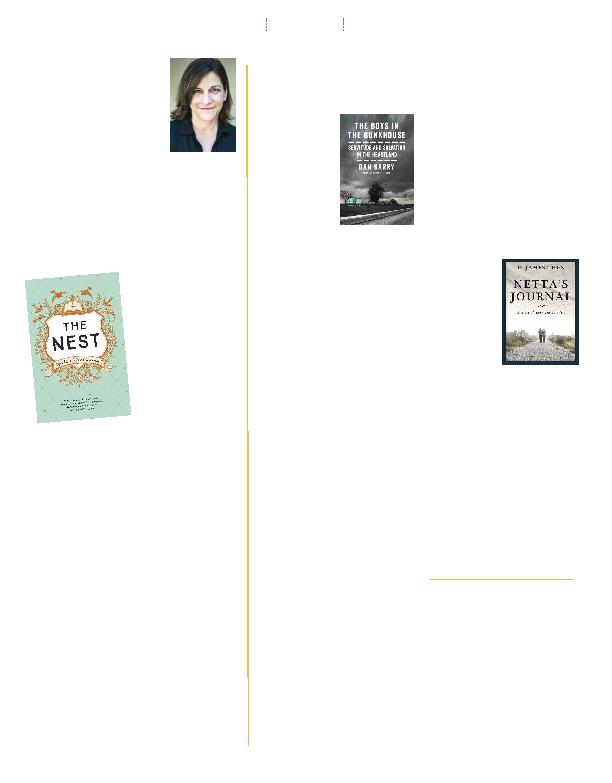 Fiction writer and former
Cyn-
thia D'Aprix Sweeney, '82,
debuted her first novel, "The
Nest," in March. Published by
HarperCollins, the book has
gotten as high as No. 2 on The
New York Times Bestseller's list
and continues to remain close
to the top.
Gathering inspiration from her own family ex-
periences growing up, D'Aprix Sweeney writes a
warm, funny, and acutely perceptive novel about
four adult siblings, and the fate of the shared in-
heritance that has shaped their relationships, their
choices, and their lives.
On an unseasonably cold afternoon in New
York City, years of simmering tensions finally
reach a breaking point as
Melody, Beatrice, and Jack
their charismatic and reck-
rehab. Months earlier, an
Plumbs' joint trust
fund, "The Nest,"
which they are months away from finally receiv-
ing. Meant by their deceased father to be a mod-
est mid-life supplement, the Plumb siblings have
watched The Nest's value soar along with the
stock market and have been counting on the
money to solve a number of self-inflicted prob-
lems.
Brought together as never before, the siblings
must grapple with old resentments, present-day
truths, and the significant emotional and financial
toll of the accident, as well as finally acknowledge
the hand they have in their own fates.
"The Nest" has received much praise, from
People Magazine calling it "Hilarious and big-
hearted .... a stellar debut" to The New York
Times Book Review calling it "Humor and delight-
ful irony abound in this lively first novel."
D'Aprix Sweeney lives in Los Angeles with her
husband and two sons. She has an MFA from The
Bennington Writing Seminars. She lived and
worked in New York City for more than two
decades, writing copy for a variety of clients, in-
cluding American Express, McDonald's and more
defunct internet startups than she cares to count.
Her nonfiction essays have been published in The
New York Times Magazine and Martha Stewart
Living. Read more about "The Nest" at
www.cynthia-sweeney.com.
St. Bonaventure chose the nonfiction
book "The Boys in the Bunkhouse:
Servitude and Salvation in the Heart-
land" by
Dan Barry, '80,
mon read for
2016-2017. This
All Bonaventure
Reads selection
explores how and
why 32 men with
mental disabilities
came to live in an
Iowa schoolhouse
and were woe-
fully underpaid,
physically and
emotionally abused, and nearly forgot-
ten for many years.
"The Boys in the Bunkhouse," re-
leased by HarperCollins May 17, tells
the story of men with intellectual dis-
ability who endured decades of ex-
ploitation -- living in an old
schoolhouse and working at a turkey-
processing plant for little pay -- before
finding justice and freedom. Through
exhaustive interviews, Barry dives
deeply into the lives and testimonies of
the men, recording their memories and
suffering, their small moments of joy
and persistent hopefulness for better
times ahead.
Barry explores why this small heart-
land town remained all but blind to the
men's plight, details how those respon-
sible for such profound neglect justi-
fied their actions, and chronicles the
lasting impact of a dramatic court case
that spurred advocates to push for just
pay and improved working conditions
for people with disabilities.
Barry, a Pulitzer Prize-winning jour-
nalist and New York Times reporter
and columnist, also lays out how state
social workers and one local reporter
doggedly stayed on the case, and how
a determined labor lawyer worked day
and night to hold the accountable par-
ties responsible for their profound and
chronic negligence.
First-year students received copies of
"Bunkhouse" during orientation in July
and were asked to read the book prior
to the fall semester. Students will be
engaged in conversations about the
book's themes in their University 101
course and various campuswide events
during the academic year, including a
keynote address Barry will deliver to
the Class of 2020 at 7 p.m. Monday,
Sept. 26, in the Reilly Center Arena.
"Netta's Journal" is a thoughtful and
beautifully written new novel by 1974
Hellinger recipient,
Donald J. Then
this book, Riley Harper, a best-selling
novelist, returns home to Francisville,
Ky., for the funeral of his deceased
nanny, Netta Player, a woman who
died in her 90s. The impetus for
Harper's sad-but-enlightening home-
coming is an email from Katie San-
born, his estranged love. Katie and
Riley grew up together in Francisville
and Netta was Katie's nanny, too.
Sadly, Riley and Katie have not spoken
in 17 years.
After his arrival, Harper learns from
Katie that, on her deathbed, Netta
spoke of a mys-
terious journal, a
memoir that re-
vealed her true
identity. An inspi-
rational ending
of "Netta's Jour-
nal" provides
several surprises,
including the
modern identity
of Father Charles, the priest who
helped Netta escape from Poland after
World War II.
Then is a resident of Northern Ken-
tucky, a native of Western New York, a
former owner and publisher of an
award-winning Sunday newspaper,
and a 30-year marketing executive.
His previous books include "As Sure
as The Sun Rises," "The Heart by
Which We Live," "That Tender Light,"
"McToon's Final Shot," and "Spencer
Mouse's First Great Adventure," all of
which are available on www.ama-
zon.com. To read more about his nov-
els of adventure, intrigue, and rebirth,
visit www.djamesthen.com.
Kathy (Petersen) Cecala, '78,
author of "The Novice Master," a con-
temporary, coming-of-age book.
Touching on issues such as spirituality,
sexual maturity and compassion fa-
tigue, as well as adolescent angst and
the disillusionment of older age, it
should appeal to both mature readers
and "new adults" age 18 to 30.
As a freshman college student
boarding at his history professor's
house, Evan Claver unravels the profes-
sor's secret past as a devout monk min-
istering to the sick and dying at a

2