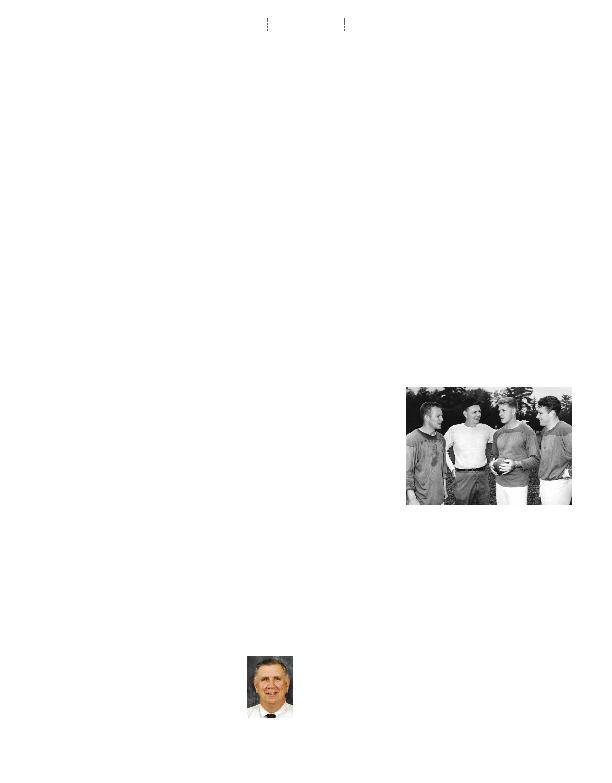 * Member of St. Bonaventure's Seraphim Legacy Society
Arthur J. Brown Jr., retired director of Maintenance and Operations at St. Bonaventure,
died March 31 in Olean. Brown retired from the university in 1999 after 21 years of service.
Theodore "Ted" Marchibroda, '53,
who spent six decades in pro football as
a quarterback, a head coach for three
teams with roots in Baltimore, an offen-
sive coach and a broadcaster, died Jan.
16. A star quarterback at St. Bonaven-
ture and then at the University of Detroit
(now Detroit Mercy) when St. Bonaven-
ture discontinued its football program,
Marchibroda was selected by the Pitts-
burgh Steelers in the first round of the
1953 NFL draft. As offensive coordinator
for the Buffalo Bills (1987-91), Marchi-
broda choreographed the Bills' high-
powered no-huddle offense led by Jim
Kelly that sparked four straight AFC ti-
tles. Marchibroda was inducted into the university's Athletics Hall of Fame in 1970 and
awarded an honorary doctorate from his alma mater in 1996.
Alumni couple Robert, '52, and Aubrey (Kryzynski), '53, Routier died within five months
of each other on Jan. 4 and June 9, respectively. Robert was a partner in a Washington,
D.C., law firm and Aubrey was a teacher. In retirement, they split their time between Mor-
gantown, W.Va., and Ocala, Fla., eventually moving to Columbia, Mo. In 1990, the Routiers
established the Robert and Aubrey Routier Scholarship, which has been awarded to students
who are in need of financial support and may want to pursue a career as a lawyer.
Fr. Allen Weber, O.F.M., who was a Franciscan friar for 33 years and a
priest for 50 years, died Dec. 25, 2015, in Hackensack, N.J. In 1987, Fr. Allen
was assigned to St. Bonaventure, where he would spend most of his Francis-
can life. He worked first at the university's counseling center. After he com-
pleted his doctorate in counseling in 1990, he was appointed assistant
professor in the School of Education. He taught in the university's graduate
counselor education program, as well as in Clare College, the university's
Steelers coach Buddy Parker is pictured in the
1957 preseason with quarterbacks Ted Marchi-
broda, Jack Scarbath and Len Dawson.
In Memoriam
Alumni Deaths
A directory of deceased alumni is available on Bona's Online. Not a member of Bona's Online? Register at www.sbu.edu/alumni.
Msgr. Salvatore P. Mitchell, '38, Hermitage, Pa.*
Robert C. Fenzl M.D., '43, New Smyrna Beach, Fla.
William R. Blood, Esq., '49, Olean, N.Y.
Thomas G. Geoghegan, M.D., '49, Bedford, Ohio
Beryle (Douglas) Cole, '50, Chittenango, N.Y.
Thomas A. Salciccia, Esq., '50, San Jose, Calif.
George W. Weider, '50, Rochester, N.Y.
Joseph T. Dunbeck, '51, Cary, N.C.
Daniel L. Lienert, '51, Buffalo, N.Y.
Alfred H. Miller, '51, North Rose, N.Y.
Helen D. Powers, '51, Fillmore, N.Y.
Paul W. Vail, '51, Rochester, N.Y.
Hon. William J. Birney, '52, Pasadena, Calif.
Anthony J. La Paglia, '52, Marco Island, Fla.
Robert V. Nolan, '52, Boston, Mass.
Richard J. O'Connor, '52, Frederick, Md.
Robert J. Routier, Esq., '52, Columbia, Mo.
Vincent A. Stallone, '52, Franklin, Pa.
Rev. Joseph F. Girzone, '53, Altamont, N.Y.
Joseph M. Kerekes, '53, Tallahassee, Fla.
Theodore J. Marchibroda, '53, Weems, Va.
Audrey M. (Kryzynski) Routier, '53, Columbia, Mo.
Dr. John F. Sommer, '53, Charleston, Maine
Thomas W. Boland, '54, Phoenix, Ariz.
Paul R. Prunier, '54, Lakeland, Fla.
John P. Spindler, '54, Rochester, N.Y.
William J. Winkler, '54, San Antonio, Texas
Rev. Angelus Gambatese, O.F.M., '55,
New York, N.Y.
Werner J. Rose, '55, Defiance, Ohio
Lt. Col. (Ret.) George D. McLaughlin, '56,
Emerald Isle, N.C.
Peter R. O'Brien, '56, Oceanside, N.Y.
Stephen E. Cavanaugh, '57, Orchard Park, N.Y.
James E. Croker, '57, Bradford, Pa.
Rev. Daniel Carroll, O.CARM., '58, Chicago, Ill.
Donald E. Heysel, '58, West End, N.C.
Sr. Mary N. Kelly, R.S.M., '58, Water Mill, N.Y.
Autumn P. Finlan, '59, Rochester, N.Y.
Donald M. Green, '59, Hammondsport, N.Y.
Raymond L. Keenan, '59, Minato Ku, Tokyo
Robert N. Rolfe, '59, Horseheads, N.Y.
Thomas P. Sweeney, '59, Penfield, N.Y.
Dr. Charles E. Doll, D.D.S., '60,
Chenango Bridge, N.Y.
Patricia A. Heister, '60, Olean, N.Y.
Arthur J. Higby, '60, Cuba, N.Y.
Herbert F. Rorke, '60, Minneapolis, Minn.*
David G. Schryver, '60, McLean, Va.
Jack E. Myers, '61, Rochester, N.Y.
Peter L. Petrosino, '61, Bay Head, N.J.
Daniel R. Barnes, '62, Coshocton, Ohio
Clifford T. Jefferson Jr., '62, Shrewsbury, Mass.
Kenneth G. Prigg, '62, Hamburg, N.Y.
William J. Schmidt, '62, Neptune, N.J.
Dr. John V. Betz, '63, Spring Hill, Fla.
William J. Straessley, '63, Girard, Pa.
Justin C. Burns, '64, South Dartmouth, Mass.
David F. Giannuzzi, '64, South Hero, Vt.
Phyllis (Gostomski) McMahon, '64, Bradenton, Fla.
Beatrice W. McKenzie, '64, Northampton, Pa.
Richard S. Monahan, '64, Erin, N.Y.
Brian J. Sweeney, '64, South Pasadena, Fla.
Ralph G. Auletta, '66, Cheshire, Conn.
Rev. John P. Fenlon, '66,
Jamesville, N.Y.
Rev. Joseph J. Malloy, '66,
Stamford, Conn.
Sr. Frances Cardillo, O.S.F., '67,
Allegany, N.Y.
Gary A. Grandusky, '67, Miami, Fla.
Niles E. Klee, '67, Madison, Ala.
Patrick D. Wells, '69, Manassas, Va.
Phyllis M. Bonney, '70, Saint Cloud, Fla.
Sr. Lartigue C. Cools, '70, Kingston,
Jamaica
James R. Cross, '70, Cuba, N.Y.
Sr. Anthony C. Reiman, '71,
West Islip, N.Y.
Palm Beach Gardens, Fla.
Rev. Roland J. Jaskulski, O.F.M., '72,
Garfield Heights, Ohio
West Chester, Pa.
Laurence J. Burns, '73, Pennsauken, N.J.
Peter F. McCoy III, '73, Bradford, Pa.
Judith M. (Shabala) Brennan, '74,
Olean, N.Y.
Edward L. Hasselman, '76, Ridgway, Pa.
Lindsay A. (Morris) Regan, '79,
Fenton, Mich.
Eileen M. (Gildea) Bednar, '80,
Elkridge, Md.
Thomas P. Kellenstine, '81,
Williamsport, Pa.
Rudy J. Rote, '81, Rockville, Md.
Michael R. Stokes, '81, Huntington, N.Y.
Paul W. Rymer, '82, Ridgewood, N.J.
Ronald Angood, '85, Coudersport, Pa.
Frances A. Ambroselli, '86, Moultrie, Ga.
Michael A. Muench Jr., '88,
Alexandria, Va.
John L. Flannery, '92, Pearl River, N.Y.
Jonathan M. Fabian, '95, Buffalo, N.Y.
Mark T. Culley, '96, Buffalo, N.Y.
Heather M. (Schultz) Hedlund, '96,
Smithtown, N.Y.
Kim S. Sweet, '01, West Seneca, N.Y.
Keith T. Young, '02, Cattaraugus, N.Y.
t
o

c
o
r
t
e
s
y

o
f

R
y
m

R
l
a