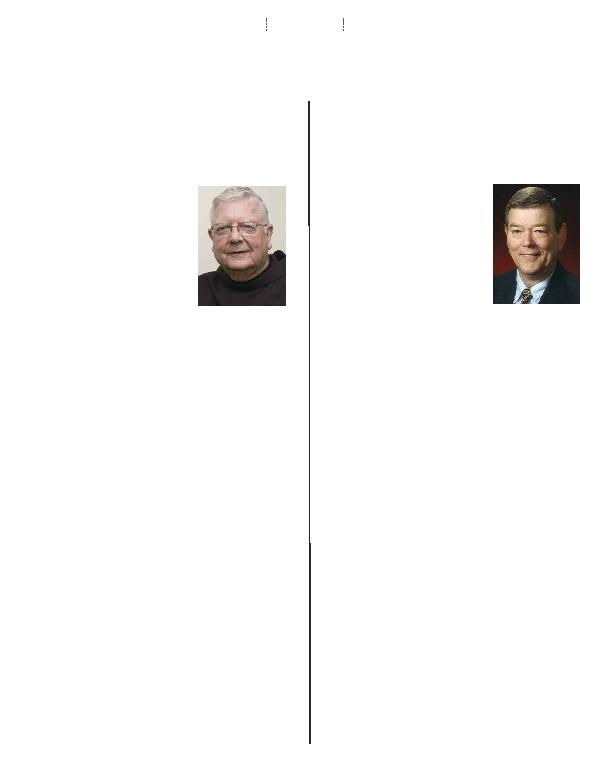 2
SBU notes passing of former presidents
Fr. Mathias Doyle, O.F.M., president of St. Bonaventure for
15 years, died June 16 at age 82. A Franciscan friar for 58
years and a priest for 54, Fr. Mathias was president of St.
Bonaventure from 1975 to 1990, the third-longest presiden-
tial tenure in university history.
"His leadership style was quiet
and lacking in drama but his steady
hand on the wheel kept the univer-
sity moving forward while integrat-
ing new demands and welcoming
new generations," said Sr. Margaret
Carney, O.S.F., university president.
"The fact that Matt was happy to
live out his days at Siena says much
about his commitment to higher ed-
ucation. I was always grateful for his
warm welcome and supportive
words."
Fr. Mathias led St. Bonaventure during a time when major
institutional changes were underway. The Board of Trustees
appointed its first lay leaders. Mt. Irenaeus, the Franciscan
mountain retreat in Allegany County, was established. Christ
the King Seminary had just moved in 1974 from Francis Hall to
East Aurora. Athletics moved to Division I in all 14 sports.
On campus, major additions included the John J. Murphy
Professional Building, the Garden Apartments, a new friary, the
observatory, and an addition to Plassmann Hall.
"During these years, the work to build endowments, profes-
sionalize fundraising, and manage the ever-present twin reali-
ties of enrollment and finances kept Fr. Matt focused on
keeping the university in good institutional health," Sr. Mar-
garet said.
Fr. Mathias earned a bachelor's degree in history and political
science from Siena College in 1955. He was received into the
Order of Friars Minor, Holy Name Province, on July 14, 1956.
He was ordained to the priesthood in Washington on March
17, 1962. He received his master's degree from Catholic Uni-
versity of America in Washington in 1965, and completed his
Ph.D. in political science from Notre Dame University in 1968.
Fr. Mathias' first assignment after studies was to Siena Col-
lege, where he was a professor of political science from
1968 to 1975. In 1975, Fr. Mathias was elected the 17th
president of St. Bonaventure. The youngest friar ever se-
lected for the position, his 15-year term in office is exceeded
only by that of Fr. Thomas Plassmann, O.F.M., who served 29
years, and Fr. Joseph Butler, O.F.M., who served 24 years.
Doyle Hall on campus is named after him.
From 1990 to 1991, Fr. Mathias served as the first Admin-
istrator's Fellow with the U.S. Agency for International Devel-
opment (AID) in Washington, D.C. He was also special
consultant to the office of Congressman Amory Houghton.
Fr. Mathias was assigned to St. Anthony Shrine in Boston
in 1991, where he ministered for two years. Then, in 1993,
he returned to St. Bonaventure as professor of political sci-
ence and served in that capacity for the next seven years.
Dr. Robert J. Wickenheiser,* the 19th president of St.
Bonaventure and the university's first lay president, died
Nov. 25, 2015.
He was the former president of Mount St. Mary's Univer-
sity in Emmitsburg, Maryland,
where, at one time, he was the
youngest college president in the
United States, and where he served
for 16 years. The Maryland State
Senate recognized his "exemplary
leadership" during his tenure at the
Mount. He also served as president
of the Princeton Adult School and
was an assistant professor at Prince-
ton University in New Jersey, where
he taught for seven years.
"Bob Wickenheiser was brought
to this university at a time of dire financial stress. His work
in turning that around created both support for his leader-
ship and criticism of his means of fulfilling that need," said
University President Sr. Margaret Carney, O.S.F.
"While those disagreements were always part of the SBU
landscape, Bob continued to serve with energy and hope-
fulness and to welcome new faculty in whom he saw a
bright future. I hope that he has found the great peace that
is the promise of God, whom he sought to serve through-
out his life," she said.
Wickenheiser received his doctorate and master's in Eng-
lish literature from the University of Minnesota in 1970, and
his Bachelor of Arts in philosophy from St. Benedict's Col-
lege and Abbey in Atchison, Kan., in 1965.
He was a collector of books, passionately specializing in
the 17th century poet John Milton and the contemplative
poems of George Herbert.
A scholar of John Milton, he amassed one the largest li-
braries of his works. He built his collection over the years,
and devoted his life to preserving and enhancing the repu-
tation of John Milton.
Today, his collection of books and artwork, more than
6,000 volumes, is housed at the University of South Car-
olina. Its special focus on illustrated editions makes it per-
haps the most comprehensive collection ever of Milton
illustration, from the first illustrated edition of "Paradise
Lost" (1688) through all the major illustrators that follow.
A descriptive catalogue, "The Robert J. Wickenheiser Col-
lection of John Milton at the University of South Carolina: A
Descriptive Account with Illustrations," was published in
2008.
Wickenheiser was a devout Catholic, spending some time
with the Benedictine order followed by a life of devotion to
Catholic education and scholarship, which was in evidence
as he sought to support regional Catholic high schools dur-
ing his term as president.
He was an active member of St. John's Parish in Olean.
Fr. Mathias Doyle, O.F.M.
Dr. Robert J. Wickenheiser
* Member of St. Bonaventure's Seraphim Legacy Society