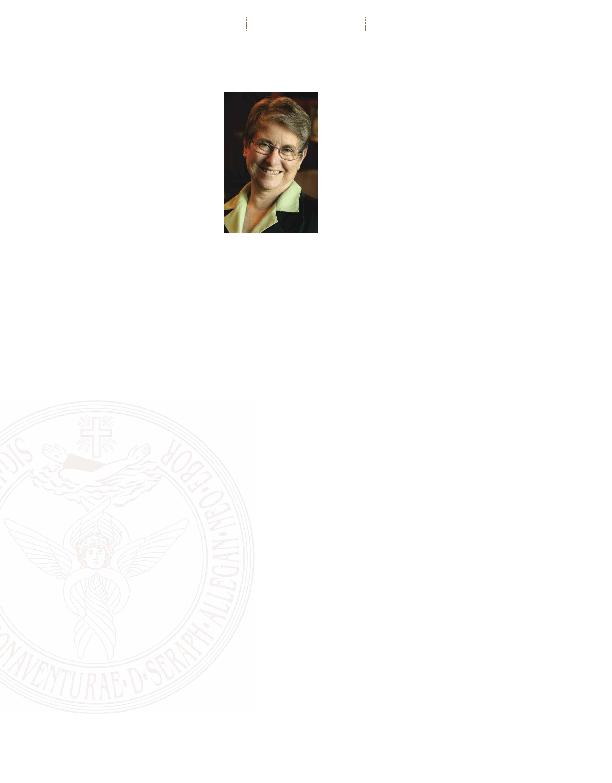 Dear St. Bonaventure Alumni:
E
ach time I enter into another set of
the many farewells I am marking
these days, I have a mental image of
my life here as a vast piece of Velcro. I have
come to realize that leaving St. Bonaven-
ture's presidency is going to be a lot like un-
hooking a fastening made of this space-age
material. Velcro is composed of countless
small loops that interlace so completely that
when you try to separate two strands, you
suddenly become aware that it is not one
physical pulling apart, but countless minia-
ture unhookings that are taking place in
ways you cannot see.
Of course, I am not leaving my member-
ship in the Bonaventure Family, that world-
wide web of brotherhood and sisterhood.
That realization has softened many a mo-
ment that would have been very hard to
bear in recent months: the last commence-
ment, the last alumni reunion, the last
meeting of the A-10 council, the last meet-
ing with our wonderful Trustees ... the list
is a long one. However, it has become very
clear to me that the work of leading
Bona's, given without reserve, has yoked
me intimately to this place -- this very par-
ticular and very beautiful place.
It reminds me of the charge of Polonius to
his son, Laertes, in Hamlet: "Those friends
thou hast, and their adoption tried, grapple
them to thy soul with hoops of steel." Well,
my soul has been grappled to hundreds of
friends, co-workers, students and traditions
that are part of our culture as an institution.
It should also go without saying that as a
native of Pittsburgh I have a profound re-
spect for the staying power of steel and
these bonds are truly that strong.
I knew at the beginning that there would
be many days of very hard work to rebuild
our good name, our commitment to aca-
demic excellence, our hope that our stu-
dents would
come to a joyful
adult autonomy
while in our
midst, our need
for the staying
power of our
Catholic and
Franciscan roots.
I knew at the be-
ginning that this
would take re-
serves of disci-
pline and doses
of self-knowledge laced with a sense of
humor.
I also knew that in no way could I hope to
transcend the enormous obstacles -- finan-
cial, legal, organizational -- without the
dedication and faith of other leaders: cabi-
net officers, deans, our faculty members
both senior and newly minted professors,
our friars. Perhaps it should come as no sur-
prise that in many hours when the energy
to keep going was in short supply, it was
our students whose hopefulness and infec-
tious energy gave me that extra jolt of
adrenaline to commit to "one day more,"
as the chorus of Les Miserables sings while
facing the battle they know they are called
to wage.
Now I stand at the other end of the jour-
ney. In multiple celebrations you have all
called upon me to look back and join with
you in giving thanks for what has been ac-
complished in my 12 years as the 20th
president. You have showered me with
words of thanks and affirmation. You have
buoyed me up with prayer and pragmatic
help as I enter into the work of fighting
cancer. You have assured me that my place
will always be in this community. You seem
to echo the words with which I have sent
countless graduates forth: From this day
forward your forwarding address is "Infinite
Possibilities," but your permanent address
will always be "Bonaventure."
Now, I must pray that mantra for myself.
Permit me one more time to thank you
for the outrageous spirit of loyalty that
makes you -- our alumni -- the stuff of
legends among Catholic universities in this
country. Thank you for the generosity that
has allowed us to build and improve this
campus even in the shadow of an awful re-
cession. Thank you for continually promot-
ing Bona's as a choice to your own children
and to prospects with whom you have a
connection. Thank you for your lives of
honor in your communities, professions,
faith-based institutions, and our country's
military units. Thank you for the miracles
big and small that are recounted every time
Bonnies gather and every time Bonnies re-
spond to need, whether in happy or horri-
ble circumstances.
Permit me one more time to ask some-
thing of you. The Franciscan Rule by which I
am bound says this about one's ability to
accomplish goals:
They should not seek glory or even
rejoice interiorly at any good word or
work that God does through them.
Rather, in every place and circum-
stance, let them acknowledge that all
good belongs to the most high God,
ruler of all things. Let them always give
thanks to the One from Whom all good
proceeds. Art. 31.
So, in closing I ask that you take a mo-
ment to quietly pray a prayer of praise and
thanks to the God who both Francis and
Bonaventure knew as a wellspring of good-
ness, BONUM, and a goodness whose de-
sire for us, for our world, is peace, PAX.
PAX ET BONUM (one last time!),
Sr. Margaret Carney, O.S.F.
Peace and good, Bona's, now and forever

2
Board Chair
First Vice Chair
Second Vice Chair
Vice Chair for Academic Excellence
Vice Chair for Presidential Search
Board Secretary
St. Bonaventure University Board of Trustees
Steven G. Barry, '88
Lana D. Benatovich
Janet I. Bodnar, '71
James E. Canty, '84
Sr. Margaret Carney, O.S.F., '86
Scott P. Cielewich, '72
Fr. Thomas E. Conway, O.F.M.
Joseph A. DeMaria, '79
Thomas M. Garvey, '74
Deb Henretta, '83
Michael E. Hill, '96
Albert C. Horton, '66
Bharat Kohli
William J. Lawley Jr., '85
Cindy Abbott Letro
Paul C. McDonald, '80
Kristan K. McMahon, '97
Yvonne Minor-Ragan
Very Rev. Kevin Mullen, O.F.M.
Les Palm
Fr. Kenneth P. Paulli, O.F.M.
Richard Penna, '68
Very Rev. John Puodziunas, O.F.M.
Bill Purcell
Leslie C. Quick III, L.H.D., '75
Carol Schumacher, '78
John Sheehan, '82
James E. Stitt
Marvin W. Stocker, '65
Lynda M. Wilhelm, '86
Trustees Emeriti
Raymond C. Dee, L.H.D., '64
Robert R. Jones, D.C.S., '58
John R. "Jack" McGinley, L.H.D., '65
Charles Osgood, L.H.D.