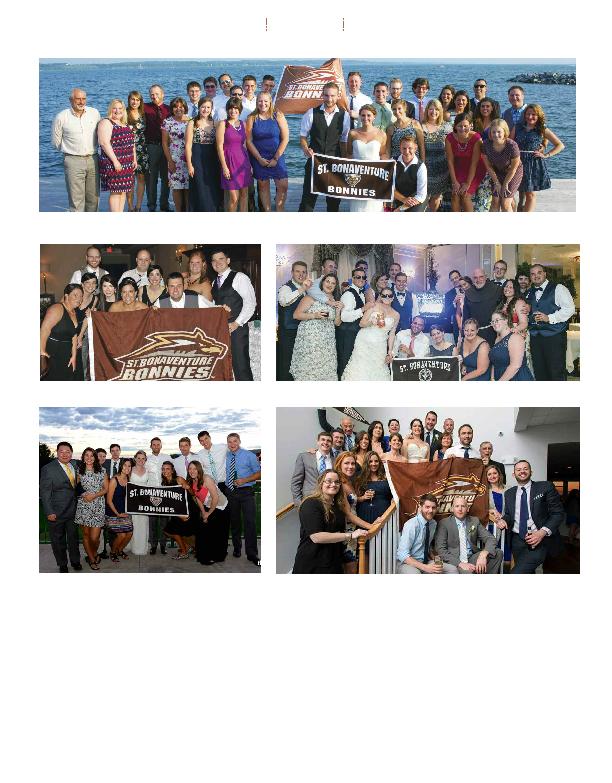 To submit your announcement
for an upcoming edition:
· use the enclosed envelope
· email bonalumnus@sbu.edu
· use the online form at
www.sbu.edu/BonaMag
All photos must be of good re-
productive quality.
Wedding Guidelines
Pictures submitted electronically must have
a resolution of at least 300 dpi. The university
is prohibited from publishing copyrighted pho-
tographs, unless accompanied by written per-
mission from the photographer. Photos are
published at the discretion of the editor.
Don't forget to notify us of your new name or
address! Update your information at Bona's On-
line at www.sbu.edu/bonasonline.
Danielle Ruffino, '06, '07, and John Grzymala
Deirdre Lennon, '10, and Joe Tripodi, '06
Alexandra Fioravanti, '10, '11, and Christopher Novak, '08
Caitlin Ely, '10, '11, and Robert Ryer, '11
Riley Archer, '13, and Michael Mesaros, '12
Amy Constant, '95,
and Michael Schott
Additional
Announcements
St. Bonaventure University takes
pride in its alumni and joyfully
shares the news of their lives and
achievements. Supportive of our
Catholic Church's teachings, pub-
lication of announcements pro-
vided to us by our alumni does
not necessarily imply an endorse-
ment by St. Bonaventure Univer-
sity.