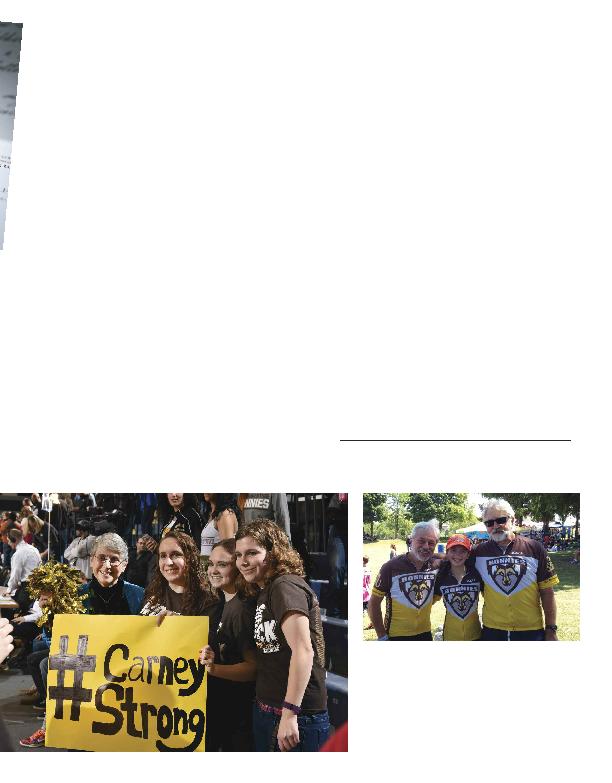 2
THE RECIPROCITY OF THAT affection was never more evident
than the night of Feb. 24, 2016, just hours after Sr. Margaret re-
vealed to the campus community that she had been diagnosed with
cancer.
Mike Padlo said his political science class went stone silent when
the news was released that morning. But Padlo and SGA colleagues
JW Cook and Jessica Laursen shook off their sadness and rallied the
student body on social media to get to the men's basketball game at
the RC that night.
The student section, typically half full for a weeknight game during
midterm exams, was packed. They waved signs of support declaring
#Carneystrong and serenaded her from across the arena with chants
of "SISTER MARGARET!"
Touched by the outpouring, Sr. Margaret left her seat at center
court and joined the students in the bleachers for the last 10 minutes
of a nail-biting win over Duquesne. She lingered for 20 minutes after
with students who just wanted to hug her.
Buttafarro, emotionally beat up by the right cross about retirement
and the upper cut about cancer, watched the game on TV from his
living room couch. Seeing the support from the students and her de-
sire to cross the arena to thank them was more than he could bear.
"Without a doubt, that was the proudest moment I've had in the
10 years I've been here," he said. "The fact that we have a president
who would go down there to wave pompons with the students was
amazing, and then when they started chanting her name ... I just
started balling."
Not surprisingly, the person who took the news of her cancer diag-
nosis the best was Sr. Margaret. Talk to her about it and it's just a
pothole that will "slow her down from 80 mph to 55." She'll even
admit she feels lucky.
"I've had extraordinary health my entire life, so at 75, I can't com-
plain," she said. "Compared to some of the people I see at Roswell
(Park), I feel blessed. I have something difficult to deal with, but I'm
getting the best possible care. And I've received more support than I
deserve, especially when I see others, many so much younger than
me, who are very isolated as they deal with this."
SBU students came out in force Feb. 24, the day
Sr. Margaret shared that she was diagnosed with
multiple myleoma.
took to their bikes in June for the annual Ride for
Roswell fundraiser for the Buffalo cancer research
center. Among the 26-member team were
14-year-old team captain Samantha Van Wicklin and
faculty members Jean-François Godet-Calogeras (left)
and Chuck Walker.
Sr. Margaret won't feel isolated the morning of Monday,
Aug. 1, the first day she doesn't have to report to Hopkins
Hall, but she admits it's "going to be a very weird day. There
will be a period of grieving because as hard as the work is,
it's the everyday relationships and friendships that I'll miss.
The letdown will be a significant personal challenge I'm still
trying to figure out how to deal with."
THE SENTIMENT IS UNDERSTANDABLE. She's been a
Bonaventure girl for almost 60 years.
True story: Ellen Carney (Sister's given name) desperately
wanted to be Bonaventure before Bonaventure desperately
needed her. Fantastic summers helping to organize Franciscan
youth conferences on the SBU campus left an indelible im-
pression on the Pittsburgh teenager.
"We'd have 300 to 400 Franciscan high school students
come up here, with big signs, `St. Bonnie's or bust!'" she re-
calls. "And we just had a fabulous time, so I decided I wanted
to take the name Bonaventure."
Just one roadblock: a frail, elderly nun schlepping dishes in
"I really wanted the name Sister Mary Bonaventure, but we
already had one, and the other postulants said, `You can't
pray for her to die, so you better come up with another
name,'" she said, her words muddled by full-throated laugh-
ter.
Two months to the day before taking her final vows, her
mother, Margaret, passed away. Ellen Carney became Sister
Margaret Carney, Order of St. Francis.
"Doesn't our God have a wonderful sense of humor," she
said. "I didn't get the name. I got the place."
(Tom Missel is interim vice president for University Rela-
tions at St. Bonaventure University.)