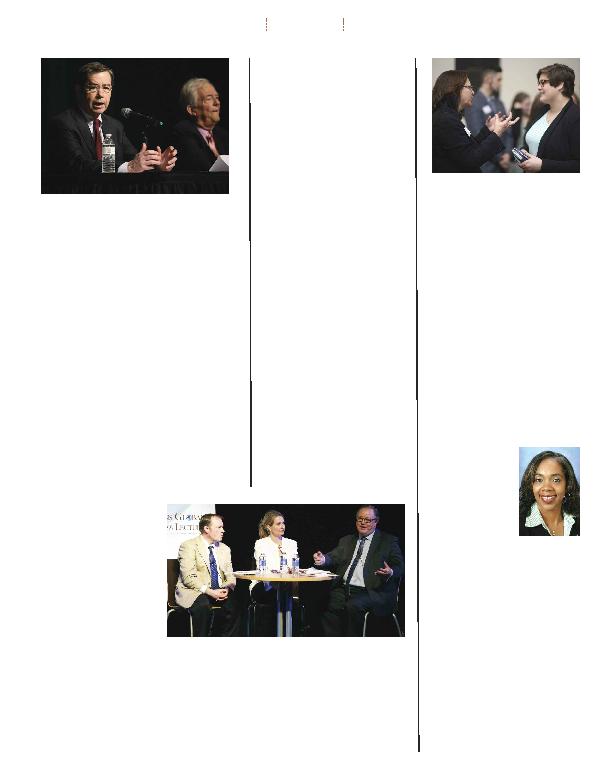 2
St. Bonaventure has established
three new academic tracks in its
internationally accredited MBA
program. Students in the gradu-
ate MBA program may now
choose among tracks in account-
ing, finance and marketing,
along with the existing general
management track, said Brian
McAllister, MBA program direc-
tor.
Students on each track choose
four courses from track-specific
offerings.
Starting in September, the MBA
program will be available for the
first time in a fully online format.
Courses offered in the online
MBA program have a duration of
seven weeks. Students generally
take one online course at a time
(therefore two online courses
would be completed each semes-
ter: fall, spring and summer). The
anticipated degree completion
time varies from 28 months
(seven semesters) to as few as 20
months (five semesters).
"The online program was cre-
ated specifically for the produc-
tive adult with a busy schedule,"
said McAllister.
Learn more at online.sbu.edu.
Three new MBA
tracks established
NEW ONLINE OFFERINGS
SCHOOL OF BUSINESS
GLOBETROTTERS
James T. Walsh (R-N.Y.) and Richard H.
Stallings (D-Idaho), former members of the U.S.
House of Representatives, visited St. Bonaven-
ture March 6-8 as part of the Congress to
Campus program.
The duo visited classes and presented a pub-
lic forum on the 2016 presidential campaign,
with a focus on global issues such as immigra-
tion, terrorism and trade.
Walsh, a 1970 graduate of Bona's, also led a
lunchtime forum for students, faculty and staff
on the Northern Ireland Accords as a model for
negotiating peace in the Middle East. Walsh is
a government affairs counselor in K&L Gates'
Washington, D.C., office. He was elected to
the U.S. House of Representatives in 1989,
where he served until 2009.
Walsh returns to Bona's
with Congress to Campus
CIVIC LITERACY
New dean to build
on school's legacy
Panelists share
pitfalls and
opportunities
of working in
the global arena
During his tenure in Congress, James T. Walsh
(left) served as deputy Republican whip from
1994-2006.
Dr. Matrecia James began her post
July 1 as dean of the School of Busi-
ness. She previously was associate
dean of Jacksonville
University's Davis
College of Business
and director of its
graduate business
programs.
Jacksonville's direc-
tor of Leadership
Development Port-
folios, an electronic platform she de-
signed and maintained for the
storage and tracking of graduate
leadership development portfolios.
"I look forward to working in part-
nership with the corporate commu-
nity to raise the profile of the school
and create an enduring reputation of
responsive excellence in both the
community and business environ-
ments," James said. "The School of
Business has a history of academic
distinction and community involve-
ment. I plan to honor and
strengthen this legacy."
James earned her Ph.D. in business
administration from Florida State in
2005.
LEADERSHIP LESSONS: Mass com-
munication alumna Deb Henretta,
'83, (left) senior adviser to SSA &
Company and retired group presi-
dent from P&G, visited campus for
two days in March as the 2016
Leader in Residence. Henretta,
known as an inspirational leader
and global brand innovator, deliv-
ered presentations on "Developing
Your Personal Brand,""Being a
Leader of Consequence," "Commu-
nication Ethics," and "Women's Is-
sues in the Workplace."
This year's Kearns Global
Business Lecture, "Globetrot-
ters Working Internationally,"
assembled a panel of international business
executives who shared details about how
their international work experiences en-
hanced their leadership and interpersonal
skills while honing their global business acu-
men. The panelists (above) included Brian
Kearns, vice president and CFO of BH Air-
craft Co.; Jennifer Torneden, vice president
and regional sales director for Zurich Insur-
ance Group; and Donard Gaynor, retired sen-
ior executive of Beam Global Spirits & Wine.
In the Q&A session, the panel addressed
how students can best explore global career
opportunities and give their insights into cor-
porate international assignment programs.
Dick Kearns, '72, senior adviser for Zurich
Insurance Group, was the moderator and
host of the lecture series.