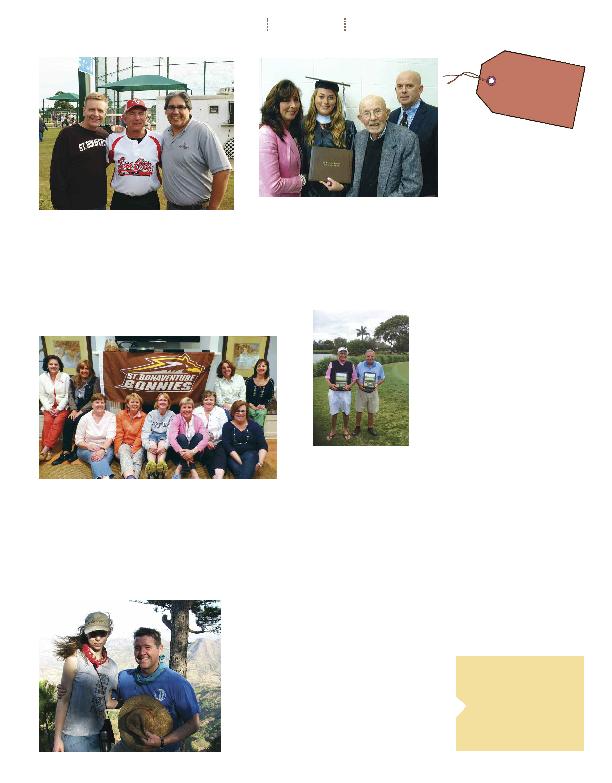 Hugh G. McGovern, '57
James M. Moran, '57
Beth A. (Serio) Nelson, '62
Robert J. Manning, '62
Robert L. Guarino, '62
Phillip N. Sgamma, '62
Jeremy R. Wilkin, '62
James F. Zehnder, '67
Gail G. (Karper) Bollin, '67
Kenneth H. Kirk, '67
David M. Ciampo, '67
Michael T. O'Bryant, '67
Mark D. Ondrako, '72
Joseph G. Fritsch, '72
Marie J. Shaw, '72
Sherry J. Hall, '77
Jeffrey W. Hoffman, '77
Kimberly A. Cronin, '82
Michael J. Shea, '82
Carole L. (Martin)
Christopher Niven, '82
Joseph A. Bantelman, '87
Robert J. Camoin, '87
Jacqueline M. (Lechase) Frate,
Eileen F. (O'Meara) Horan, '92
Conon M. Green, '92
Matthew J. Wiens, '97
Kelly L. (Bigg) Tomaseski, '97
Christopher T. Shea, '97
Matthew Pochily, '02
Matthew Strollo, '02
Jeffrey R. Nogaj, '07
Amie L. Marasco, '12
Abhimanyu Aggarwal, '12
We've lost touch with a number
of alums and need your help! Of
the many missing alumni, our
hope is to start finding lost alumni
who will be celebrating their re-
union in 2017. If you know the
whereabouts of the following
alumni, please let us know at
www.sbu.edu/foundalumni.
SEND US NEWS OF YOUR
ACCOMPLISHMENTS
To submit information for
the next issue of Bonaven-
ture magazine, use the en-
closed envelope or fill out
an online form at
www.sbu.edu/BonaMag.
Alumnae of Gardens D & F East from the Class of 1984
gathered April 15-17 for their annual reunion in Skaneate-
les, N.Y. Pictured from left are Ruth (McKenna) Loftus,
Denise (Rekettye) Pateros, Lori (Trimper) Piotrowski, Mar-
ian (McCarthy) Roohan, Christy (Chirlin) Everett, Linda
(Smith) Abbaszadeh, Kate (Nolan) Clemens, Martha (Mc-
Neil) Auster, Kim (Wassel) Robinson, and Patty (Kohlman)
Finnerty.
Alumni Fran Machina, '82, Pete Bonanno, '69,
and Mario Russo, '82, ran into each other at a
Florida ballfield. Machina and Russo were
watching an over-60 softball tournament in
Plant City, Fla., when Bonanno approached and
informed them that he was a 1969 graduate.
Bonanno was playing for the Hilton Head trav-
eling team. They shared stories of their wonder-
ful times at Bonaventure and all agreed it is a
magical place.
The Franz family celebrated three genera-
tions of Bona's graduates in May: Pictured
from left are Kathleen Donaldson Franz,
'82; Caroline Franz, '16; F. Shane Franz, '50;
and Eric Franz, '83.
Bill Lawley Sr., '57, and
Jack Berger Sr., '60,
scored holes in one on
two consecutive days
of golf at the Coral
Ridge Country Club in
Fort Lauderdale, Fla.,
in February.
D.J. Kitzel, '86, and his daughter, Lehna, re-
turned from helping build a school in Las Mer-
cedes, a small community in the mountains
above El Sauce, Nicaragua. They are part of a
group called Linking Hands for Learning, and
lived with the people of El Sauce while labor-
ing to construct the school. Last year, Kitzel
joined the board of Earth Works Institute to
support environmental education in the
Rochester area and he's worked as a guide for
Pack, Paddle, Ski Corp. for 25 years. Kitzel also
teaches English and wilderness skills for
Canandaigua City Schools and builds with
stone during the summer.

2