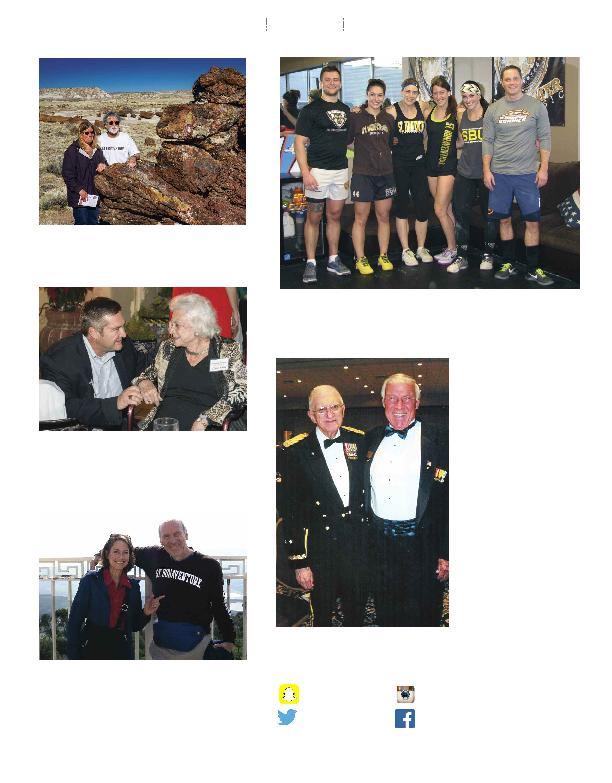 2
Ray Schey, '83, chats with former Supreme Court
Justice Sandra Day O'Connor during a reception
for the Valley Leadership Man and Woman of the
Year Award, a recognition program in the Phoenix
Metropolitan area.
Dan Cully, '73, and his wife, Linda, marked Febru-
ary's Bona Pride Day at the Petrified Forrest in Ari-
zona (with a balmy 74 degrees!).
These alums show off their Bona pride at CrossFit 716. Pictured from left
are Jonathan Garbin, '13, Michelle Andhor, '06, Erin Haskell, '07,
Stephanie Karnas, '06, Emily Ciraolo, '08, and Paul Tuite, '99.
Jean Lapp Aberle, '85, and Fr. Jay Seymour are pic-
tured atop Mt. Tabor in the Holy Land. In an amaz-
ing trip, Aberle and her husband, Tim, renewed
their wedding vows at Cana, went out on the Sea
of Galilee, visited each site of the 20 mysteries of
the rosary, and assisted at Mass in the tomb of
Jesus' resurrection. She offers "many thanks to the
Franciscans who maintain holy sites there!"
Major General Norbert Rappl,
'52, (left) and Marv Stocker,
'65, are pictured at the 2016
Military Ball. The two hadn't
seen each other in more than
40 years. After Stocker re-
turned from Vietnam in 1967
he was assigned to complete
his five-year ROTC commit-
ment in the 98th Battalion in
Rochester. When he reported
for duty, the commanding of-
ficer, then-Col. Rappl, wel-
comed him and said,
"Lieutenant, we have some-
thing in common" and held
out his SBU class ring. Rappl
went on to become one of
the highest-ranking officers
of more than 1,000 St.
Bonaventure ROTC gradu-
ates, retiring as a major gen-
eral. "It was an honor to
serve under Col. Rappl for
three years," said Stocker.
Keep in touch!