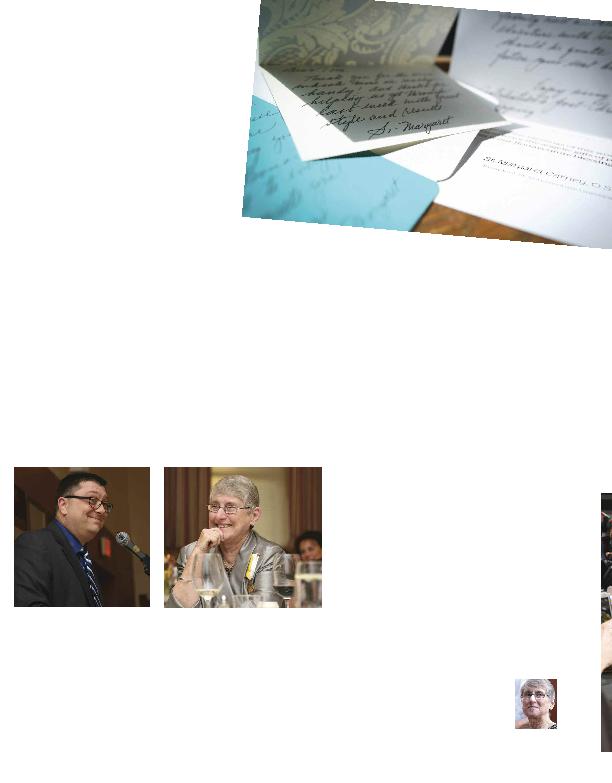 And Sr. Margaret enjoyed it: "For some presi-
dents, that part of the job is painful, but not for
me. I really enjoy meeting people."
Tom Buttafarro, her longtime director of opera-
tions, marvels at her ability to work a room.
"In a different world, she's a politician -- and a
really good one," said Buttafarro, who would
know; he was an aide for New York state legisla-
tors Pat McGee, Cathy Young and Joe Giglio be-
fore coming to SBU. "She would be a staffer's
dream."
More than anyone, given the sheer volume of
time he spent with her, Buttafarro was witness
not only to Sister's remarkable public persona,
but to those moments off stage when the de-
mands of the job inevitably took their toll.
"As long as Sarah (Stangle, her secretary) and I went on a lit-
tle bit of a cleaning spree in the office and kitchen area when
she was in a mood, her compassionate side would come out
pretty quick," said Buttafarro, who delivered a hysterical and
heartfelt tribute to Sister at her farewell dinner with trustees
June 10.
BUTTAFARRO OFFERED THE story with a big smile, framed
around tales of Sr. Margaret's deep desire to get to know more
about the people she valued and the history she treasured.
On a drive to an Alvernia College trustees meeting in Reading,
Pa., Sr. Margaret encouraged Buttafarro to use the time she was
at the meeting to take a trip to the Yuengling Brewery in Pottsville
for a tour. But other commitments didn't allow him to go.
The next time Buttafarro drove her to Alvernia, Sister pulled
him aside and told him, "Tom, let's leave early and take that
"We had an hour to kill in Buffalo one day and she said, "Let's
go to the art gallery.' She has a real sense of adventure," Butta-
farro said. "Finding the Pietrobattista family in Assisi" -- the de-
scendants of the university's first president -- "was all about her
sense of adventure."
One of the byproducts of that quest? Flavia Pietrobattista,
who visited with family from Italy when SBU celebrated its
150th anniversary in 2008, enrolled at St. Bonaventure in the
fall of 2015.
In 2004, the university honored Don Aldo Brunacci with a
National Gaudete Medal for his efforts to save more than 200
Jews during World War II. The honor was bestowed in Washing-
ton at the Holocaust Museum. Sr. Margaret asked Benatovich,
who's Jewish, to attend the ceremony and light a candle with
him.
"That moment had such a huge impact on me," said Bena-
tovich, the director of the National Federation for Just Commu-
nities of WNY. "To have the experience of lighting a candle at
the Holocaust Museum with a Righteous Gentile was extremely
powerful. Sister made that happen. These things just come nat-
urally to her. She's brought so much meaning and depth to my
life."
The Herculean workload of a college president never stopped
Sr. Margaret from taking precious moments out of her day to
think of others.
"How many of you have gotten a handwritten note from Sr.
Margaret? How many have gotten that note?" Daugherty
Hundreds, at least. Likely more. Buttafarro and McGee
have stacks of them, each pulling one out occasionally for a
spiritual lift. Alumni director Joe Flanagan has received
them, and a phone call, too. In January 2008, Sister called
Flanagan to invite him to lunch at the SBU Clubhouse. He
wasn't sure why.
"I thought it was some issue with alumni, but my brother
John had just died in December, and she just wanted to ex-
tend her condolences and see how I was doing," Flanagan
recalled. "That just really touched my heart. She's the presi-
dent of the university. She didn't have to do that.
"The thing about Sister is that I never forgot that she was
a Franciscan first. She was exactly what the university
needed at the time. She had the right stuff."
Buttafarro put a bow on her presidency: "Everything she's ever
done here -- everything -- is about love."
View the tribute video produced by
Multimedia Specialist Danny Bush
"An Extraordinary Legacy of Leadership: