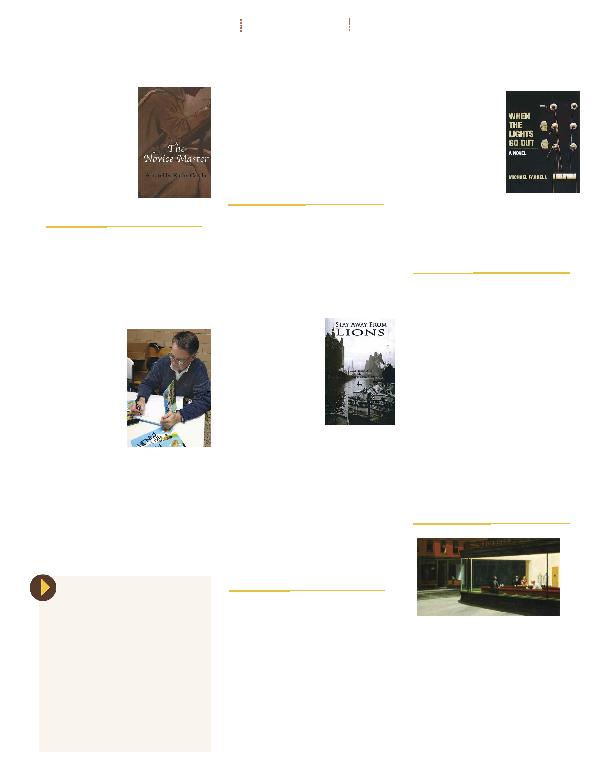 monastery hospice before renouncing his
faith.
she was deeply influ-
enced by the writings
of Thomas Merton,
seeks to explore,
through fiction, issues
of faith and belief in a
secular 21st century
world. Cecala's blog,
the Persistent Writer,
can be found at
kathycecala.com.
Patrick E. Brennan, '81,
his first children's book, "Henry Loves Hills,"
the tale of a school bus named Henry. The
friendly bus, with Driver Ed at the wheel,
travels the countryside near Perry, N.Y., in
rural Wyoming County. He overcomes his
biggest challenge during a raging snow-
storm, inspired by
the Blizzard of '77,
with the help of
Sally the Snow-
plow.
there are three lev-
els of meaning in
the story. First, it is
a simple children's
book with an en-
gaging storyline
about service, bravery and teamwork. On a
second level, it includes more than 30 refer-
ences to the Perry area, part of why it was
awarded its status as the "Official Bicenten-
nial Book of Perry."
"At a more philosophical level," said
Brennan, "Henry represents each of us,
guided through life by our `driver' (God)
who `opens the door' to let people enter
and leave our experience ... and when
faced with adversity (the snowstorm) we
must often depend on others (the snow-
plow) to guide us safely back home."
Brennan is a 24-year corporate communi-
cations leader at GE and a former manag-
ing editor of the Knights of Columbus
magazine COLUMBIA and Western New
York Catholic publication. He and his wife
live in Stratford, Conn. More information
about the book is available on the "Henry
Loves Hills" Facebook page.
Matt Smith, '89,
Patrick Reynolds, '90
"Stay Away from Lions," crime fiction with
a black comedy twist published by No Frills
Buffalo.
Tommy Patton is a small-time crook from
Buffalo's gritty Irish-Catholic First Ward
who's always been committed to never liv-
ing a law-abiding day
in his life. Upon being
sprung from the Erie
County Jail for his lat-
est indiscretion, Tommy
learns he's being held
responsible for a debt
owed to a local crime
boss due to a past rob-
bery gone wrong.
deadline winding
down, a two-faced mob soldier charged
with collecting the debt goes behind his
boss's back and hatches a scheme designed
to benefit all involved. But eventually, the
soldier's plan goes terribly awry, exposing
unholy secrets and costing people their
lives. And Tommy Patton finds in his bid to
stay alive that when it comes to being for-
given for his sins, no one can be trusted --
not even his parish priest.
The book is available from No Frills Buf-
A barroom guitarist strumming between
two lives. A faded bluesman drunk on his
own legend. A rock pianist who responds
to a higher calling.
These compelling characters clash to drive
Michael Farrell's
ond Buffalo-set novel, "When the Lights
Go Out."
What happens to a musician when his life
strays from the stage? Does he settle into
his marriage to a barroom waitress? Does
he try to smooth past friction with the city's
most prominent bluesman? Or does he lean
on the scene's only garage band-leading
Catholic priest to find his voice with or
without the micro-
phone? Throughout
his journey from rock
clubs to familiar crisis
and rediscovery of
music's revelatory
meaning, Johnny
"Nighthawk" Nolan
will find out how life
unfolds when the
lights go out.
Farrell is a 2000 graduate of St. Bonaven-
ture whose work appears regularly in The
Buffalo News and Buffalo Spree and whose
first novel, "Running with Buffalo," de-
buted in 2007.
Dr. Barbara Trolley,
selor education at St. Bonaventure, has co-
edited and authored two chapters of a
book titled "Working with Students with
Disabilities: Preparing School Counselors."
The book is part of Parson & Zhang's se-
ries of books, "Counseling and Professional
Identity." Trolley co-edited the book along
with Vicki McGinley, a professor of special
education at West Chester University of
Pennsylvania.
St. Bonaventure faculty and alumni
joined Trolley in contributing to the book.
Chris Siuta, assistant professor of counselor
education; Alan Silliker, associate professor
of counselor education; Diana Lawrence-
Brown, professor of differentiated instruc-
tion; and alumnae
Heather Haas, '06,
Tamara Reynolds, '10,
Christopher Dell's
selected for publication in Pudding Maga-
zine. Pudding Magazine is a small-press lit-
erary publication with an emphasis on
poetry, although the content can include
very short fiction, essays, book reviews, art
and photography.
Dell is a member of the Class of 2007. His
poem is about Edward Hopper's classic
painting "Nighthawks" (pictured above).
CONTACT US
We are happy to print announce-
ments and brief summaries of new
books, CDs and other multimedia works
published by SBU alumni, faculty and
staff.
Send a copy of the book or CD and
summary press release to:
Bonaventure magazine
P.O. Box 2509
St. Bonaventure University
St. Bonaventure, NY 14778
Or email bonalumnus@sbu.edu