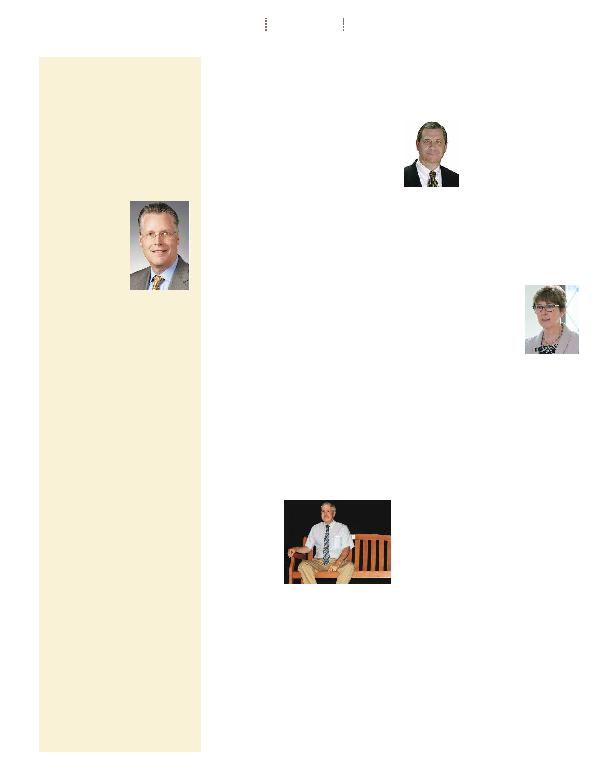 lege, where he serves as chief clinician in the
Department of Dental Hygiene. Jacqueline
Trescott will be inducted into the National
Association of Black Journalists Hall of Fame
on Aug. 5. Induction into the Hall of Fame is
the highest honor NABJ gives for professional
excellence and advocacy on behalf of black
journalists.
1971 -- Dr. Daniel Rochowiak was named
director of The University of Alabama in
Huntsville's (UAH) Quality Enhancement Plan
and Collaborative Learning Center. Ro-
chowiak is an associate professor in com-
puter science and philosophy and served
previously as associate dean of the College of
Science. Rochowiak's research agenda blends
theory and practice and focuses on explana-
tion, collaboration and communication. His re-
search efforts have been funded by the
National Science Foundation, Marshall Space
Flight Center, the U.S. Army Missile Com-
mand, the Alabama Department of Economic
and Community Affairs, and the Tennessee
Valley Authority in areas ranging from intelli-
gent control of AGVs to process planning for
composite materials and high performance
networks. His current research interests con-
cern computer supported critiquing, collabora-
tion, argumentation, and knowledge
presentation. His teaching interests focus on
artificial intelligence, software development,
the epistemology of science and technology,
and professional ethics. Rochowiak holds a
Ph.D. in Logic and Philosophy of Science from
the University of Notre Dame.
1972 -- Richard Myers retired from Our
Lady of Mercy School for Young Women in
Rochester after 41 years of service at the
school. A
bench was do-
nated to the
school in his
honor. Myers,
who started at
Our Lady of
Mercy in fall
1975, has
taught social
studies, English, Afro-Asian culture, European
culture, U.S. history and government, ad-
vanced placement U.S. history and civics. In ad-
dition to teaching, Myers has coached softball,
basketball, soccer, volleyball and bowling at
the school, and has also served as coordinator
of recruitment/publicity, athletic director, direc-
tor of academics and assistant principal for ac-
ademics during his tenure. Myers was active as
a moderator or adviser for numerous events
and clubs, including Model United Nations, the
freshman class, National Honor Society, year-
book, MasterMinds, Academic Challenge Bowl
and the Colleen Harrington Walk.
1976 -- Lisa Biedenbach is director of oper-
ations for Central Connections, a senior cen-
ter in Middletown, Ohio. She oversees
communications, marketing, membership,
volunteers, and administrative functions.
Michael A. Biondolillo is
managing client searches and
assisting with business devel-
opment at Salveson Stetson
Group, a retained executive
search firm in suburban
Philadelphia. Biondolillo pre-
viously served as senior vice
president of Human Resources for Henkel.
Biondolillo has 33 years of extensive human
resources experience and leadership. During
his career, he led global human resources ini-
tiatives for several blue chip clients in addi-
tion to Henkel, including QVC, Inc.; Wyeth
Pharmaceuticals; Penn Mutual Life Insurance
Company; MG Industries;
and General Electric.
Brigadier General (Ret.)
Maureen Keenan-LeBoeuf,
Ed.D., was selected to serve
as the vice chair for the
United Service Organizations
(USO) of North Carolina.
1977 -- Dave Bohrer was named editor of
The Meridian (Miss.) Star. Bohrer, who has 38
years' experience as a community journalist
as an editor, designer and reporter, most re-
cently was content editor of the Star-Gazette
in Elmira. Prior to that he was senior editor of
The Ithaca Journal, regional assistant managing
editor for the Star-Gazette and The Ithaca Jour-
nal and, from 1999-2009, assistant managing
editor of The Ithaca Journal. He has won indi-
vidual and team awards from the New York
State Associated Press Association, New York
State Publishers Association and Gannett Co.
Inc. for writing, design and leadership. Bar-
bara Heins was named executive assistant to
town of Greenwich, Conn., First Selectman
Peter J. Tesei. Heins is the founding editor of
Greenwich Patch.com, a local online news site
she has developed and managed for the past
five years along with eight other Patch sites in
Connecticut. She has more than 35 years' ex-
perience as a traditional newspaper and online
journalist, and as a public relations consultant.
Joe Marren was named the town historian for
the town of Colden.
1979 -- Chris LaPlaca, senior vice president
of Corporate Communications at ESPN, was
inducted into the PR People Hall of Fame
sponsored by PR News. LaPlaca, a 35-year
veteran of ESPN, is responsible for the com-
pany's worldwide internal, public and media
relations strategies, including oversight of con-
sumer, corporate and employee communica-
tions for ESPN's 50 business units. He also
Ed Bastian, '79, became chief ex-
ecutive officer of Delta Air Lines on
May 2 after nearly 18 years with the
airline. In his previous role as presi-
dent, Bastian focused on leading
Delta's commercial and interna-
tional functions and strengthening
Delta's financial
foundation
through innova-
tion, debt reduc-
tion, revenue
growth and bol-
stering the air-
line's global
network.
a pivotal role in
finalizing Delta's acquisition of
Northwest Airlines in 2008 and
managing the airlines' successful in-
tegration. Since that time, Bastian
and his team have led Delta's con-
tinued transformation by develop-
ing strategies to make the business
less vulnerable to economic cycles.
Bastian joined Delta in 1998 as vice
president of finance and controller
and was promoted to senior vice
president in 2000. He left Delta in
early 2004 to become senior vice
president and chief financial officer
of Acuity Brands before returning to
Delta six months later to serve as
the company's CFO. Bastian was ap-
pointed to serve as Delta's president
in September 2007.
Bastian also served as chief re-
structuring officer between 2005
and 2007, playing a crucial role in
the airline's swift and successful
Chapter 11 reorganization. Bastian
has broad finance and audit experi-
ence, including serving as vice presi-
dent of finance for Pepsi Cola
International, vice president of busi-
ness processes re-engineering for
Frito-Lay, vice president of finance
and controller for Frito-Lay Interna-
tional, and as a partner in the New
York audit practice of Price Water-
house specializing in the entertain-
ment, advertising and manufacturing
sectors. He also served as the strate-
gic planning partner for Price Water-
house's New York region.
Bastian was awarded an honorary
degree from his alma mater in
2008.
Bastian named
CEO of Delta