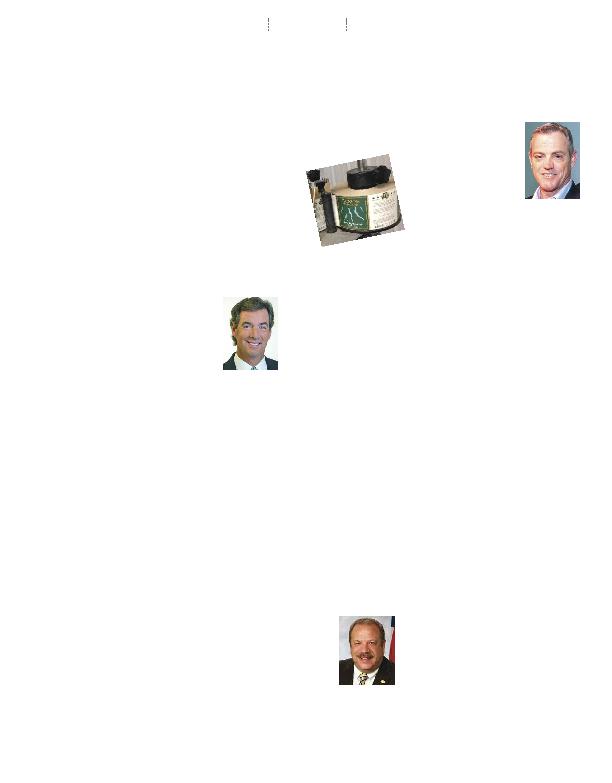 oversees the company's day-to-day working
relationship with The Walt Disney Company's
corporate communications and investor rela-
tions groups. In 2014, LaPlaca received the
Corporate PR Professional of the Year Award
from PR News, one of the industry's highest
honors. LaPlaca was honored by his alma
mater in 1995 with the Jandoli School's Alum-
nus of the Year Award. In April 2003, LaPlaca
became the seventh alum in the program's
54-year history to be inducted onto the
J/MC school's Wall of Fame, which includes
five Pulitzer Prize winners. He has served on
several industry programming boards, and the
boards of several Bristol or Connecticut com-
munity organizations, including the United
Way and Bristol's Chamber of Commerce.
1981 -- Gary Frigo, after 29 years of service,
retired from Nissan North America as regional
vice president for the Northeast Region.
1982 -- Anne Sweeney Holliday won a
Pennsylvania Association of Broadcasters
award for Outstanding Local Newscast for
coverage of a Bradford water crisis in February
2015.
1983 -- Dr. Eddie Downes, a professor at
Boston University's College of Communica-
tion, was one of 25 "Frank Scholars" chosen
to participate in an original conference spon-
sored by the University of Florida's College of
Journalism and Communication. The confer-
ence focused on the value of science-
based/data-driven approaches to strategic
public communication, and a receptiveness
to interdisciplinary scholarship, to create
"meaningful and lasting social change in the
public interest." St. Anthony Messenger
Magazine's February issue featured an article
by Bob Kunzinger about his pilgrimage on
the Camino de Santiago in Spain with his
son, photographer Michael Kunzinger.
1984 -- Dr. Mary (Shannon) Colson grad-
uated from the State University at Buffalo in
May. Her Doctor of Nursing Practice degree
was earned as a psychiatric and mental
health nurse practitioner. Her thesis project
entailed writing and researching a distrac-
tion iPhone app titled "My Shiny Thing" for
adolescents who self-injure. Her specialty is
adolescent mental health and she began
working with area adolescents in June at
Gateway Longview and Mid-Erie psychiatric
clinics in Buffalo. David Whalen, director of
Niagara University's First Responders Disabil-
ity Awareness Training program, was named
Advocate of the Year for 2016 by Deaf Ac-
cess Services of Buffalo. The Disability
Awareness Training program is customized
for each first responder discipline -- emer-
gency management, firefighters, 911 opera-
tors/dispatchers, emergency medical services
and law enforcement. Created in coopera-
tion with all major first responder associa-
tions, councils and state offices, the training
is designed to give first responders the
knowledge necessary to best serve and re-
spond to individuals with disabilities. Whalen
has facilitated statewide first responder dis-
ability training in New York, Arkansas
and New Jersey. Randy
Agness and
David Lanzillo
partnered to start
Agness Wine Cel-
lars, launching its
first vintage, a 2015
Finger Lakes semi-dry
Riesling.
1985 -- Ray Collins won the 2016 Florida
Associated Press award for General Assign-
ment Reporting. Collins
works for WWSB-TV in Sara-
sota. He also operates a
communications consulting
firm (Ray Collins Media), is
the immediate past-presi-
dent of the Broadcasters
Club of Florida, and is a
member of the WSBU-FM
Hall of Fame. Russell Joy has completed a
personal wine project by releasing his first
vintage, a 2012 single vineyard Napa Valley
cabernet sauvignon called Joya. The wines
are being sold exclusively in restaurants and
retail shops in the Buffalo and Rochester
markets. Dr. Timothy Ireland, dean of Ni-
agara University's College of Arts and Sci-
ences, has been chosen as a recipient of the
University at Albany School of Criminal Jus-
tice Distinguished Alumni Award. Ireland
earned his Ph.D. in criminal justice from
SUNY Albany. Among Ireland's numerous re-
search interests are the causes and conse-
quences of exposure to family violence and
drug abuse. An article Ireland coauthored on
intergenerational continuities and discontinu-
ities in intimate partner violence was selected
as one of the 10 best violence research publi-
cations of 2011 by the Psychology of Violence
multidisciplinary research journal.
1986 -- Alexander P.
Nazemetz celebrated 16-
plus years at the University of
Pittsburgh at Bradford where
he was promoted to associ-
ate vice president of enroll-
ment management/director
of admissions. He encourages "those alums
I've known throughout the years to hit me up
and say hello!"
1989 -- Sean Boyce, Freehold Regional
High School District assistant superintendent
for business administration and board secre-
tary, was honored by the New Jersey Associ-
ation of School Business Officials (NJASBO)
with a 2016 Distinguished Service Award for
his long-term, continuous
exemplary service. As part of
the award, Boyce had the
honor of presenting two
$500 scholarships from
NJASBO to two senior stu-
dents, both of Hamilton.
Boyce serves the Monmouth
County Association of
School Business Officials as past president
and has held numerous other offices and
committee memberships in the organiza-
tion. Prior to his current appointment, Boyce
was BA/Board Secretary for Freehold Town-
ship Schools and Washington Township
Schools.
1990 -- Sara (Scharf) DeSmith has been
named assurance leader for Sustainable
Business Solutions at PricewaterhouseCoop-
ers LLP. She is a partner in PwC's Capital
Markets Accounting Advisory Services prac-
tice specializing in M&A complex account-
ing, U.S. Generally Accepted Accounting
Principles/International Financial Reporting
Standard (GAAP/IFRS), and bankruptcy con-
sulting. DeSmith is a board member and
treasurer of the New Jersey State Board of
Accountancy and a member of the Ameri-
can Institute of Certified Public Accountants.
She is a licensed CPA in New York and New
Jersey. Todd Havens accepted a position
with Vanderbilt University Medical Center in
Nashville, Tenn., in May. As vice president of
internal audit, he leads a team of 10. He and
his wife, Colleen, and their four children live
in Nolensville, Tenn. Hank Russell, public
relations director at The Public Relations and
Marketing Group (PRMG), was named by
Long Island Business News as one of the "50
Around 50" honorees for his continued suc-
cess in the field of marketing and communi-
cations. Since 2008, when he joined The
PRMG, Russell has secured major media cov-
erage for several clients, including Gershow
Recycling, The Law Office of Frederick K.
Brewington, School-Business Partnerships of
Long Island (SBPLI), Alzheimer's Disease Re-
source Center, Inc. and The Cochran Firm.
He is overseeing the public relations and
campaign initiatives for Suffolk County Exec-
utive Republican candidate Jim O'Connor.
1991 -- Alan Delozier earned a Doctor of
Letters degree in Irish studies from Drew
University and was named one of the 2015
Irish Education 100 by the Irish Voice.
Michael Fenn was named the executive di-