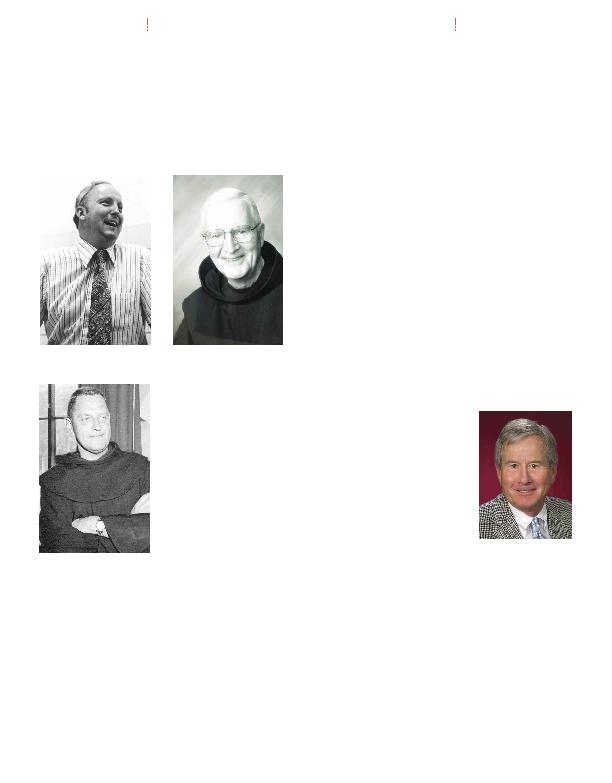 e arrived at St. Bonaventure from Louisville, Ky., a high
school swimming star finished with competing. But by
his sophomore year, the former champion was home-
sick, struggling academically, and at a loss how to turn
things around.
Thanks to the tough discipline and encouragement of two friars
and a coach, he got back into the pool and found a path to suc-
cess. Now as he celebrates his 50th Reunion, 1966 alumnus and
Board of Trustees member Albert C. Horton pays homage to these
men, long gone but never forgotten: Coach John Skehan (head
swim coach from 1958-1978 and director of intramurals from
1958-1985); Fr. Eugene Malek, O.F.M. (director of maintenance,
golf team moderator and swim team chaplain from 1962-1966);
and Fr. Gervase White, O.F.M. (a 1951 alumnus who served 47
years at St. Bonaventure).
"I attribute my success in life to my father and to these men,"
Horton said. "They taught me discipline and ignited in me the de-
sire to work hard and succeed. I have all the respect in the world
for them."
Horton credits Coach Skehan for helping him to hone self-con-
trol, Fr. Gervase for putting him on track academically and Fr. Eu-
gene for offering him a shoulder to lean on and a healthy dose of
optimism.
Horton maintained a close relationship with each man through
the decades. From his graduation to his marriage and through the
years of raising a family and shaping a business, they were with
him for every milestone, achievement and heartbreak. "As long as
they were alive, I always talked to them," he said.
But perhaps the greatest teacher for Horton was his father, Albert
Partnering with You Today. Making a difference for tomorrow
One renowned swimming coach
devoted to developing
leaders and two beloved friars
focused on maintaining a
positive attitude are behind
every step to success
Al Horton, '66, has found in life.
Fr. Gervase White, O.F.M.
Continued on next page >>>