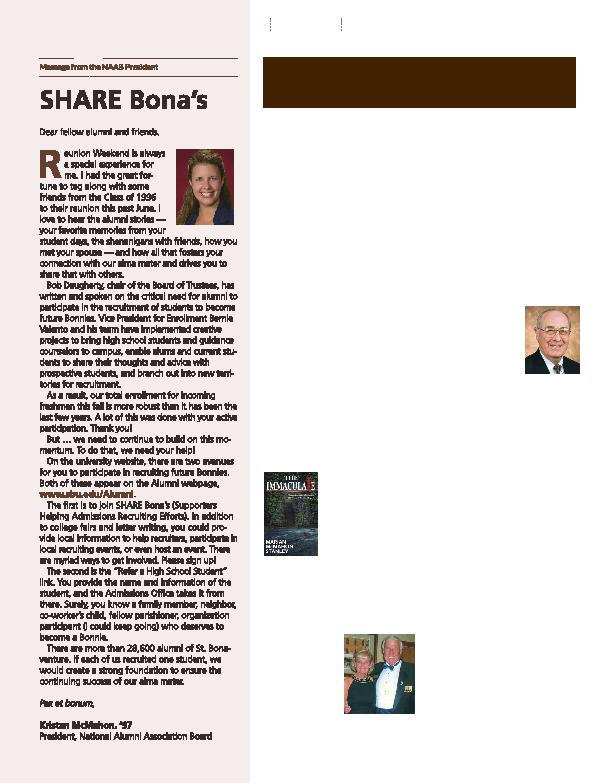 2
Message from the NAAB President
SHARE Bona's
Dear fellow alumni and friends,
44 SEND US YOUR NEWS!
To submit information for the next issue of Bonaventure magazine,
drop us a note in the enclosed envelope or fill out an online form at
www.sbu.edu/BonaMag.
1951 -- Michael Martone, who
marked his 65th reunion this year, re-
flected on how he made the basketball
team at Bona's and the many wonderful
friends he made during his time at the
school. After graduating from high
school, Martone joined a semi-pro local
basketball team and initially didn't con-
sider going to college. When the coach
offered to write him a letter of recom-
mendation to Siena or St. Bonaventure,
Martone selected Bona's "because it was
farther from home and I liked the idea of
travel." At first he didn't have a room on
campus and stayed with an elderly cou-
ple in the area. Before the first official
basketball practice, Martone said guys
on campus would meet at the gym after
class for pickup games. "The first day it
was quite a while (before) I was picked.
The next day I was selected by the varsity
players quickly," Martone recalled. He
also remembers the first day of tryouts
-- Oct. 15. After practice at the Olean
Armory he was given a room, board and
a scholarship for tuition. "No one was
ever more excited than I -- except my
mom and dad."
1965 -- Marian McMahon Stanley
has published a well-received Boston-
based mystery novel titled "The Immac-
ulate," a story about
the murder of an eld-
erly, social activist nun
in the days before the
Boston Globe Spotlight
investigation. McMa-
hon Stanley is a retired
vice president of Po-
laroid Corporation and,
more recently, of Northeastern Univer-
sity. She and her husband, Bill, live in
Concord, outside Boston. They have
four children and a small pack of
adorable grandchildren. Marv Stocker
and his wife, Donna, represented the
university's Board
of Trustees and
Stocker's class-
mates who served
in Vietnam at the
April Military Ball.
The event cele-
brated the 100th
anniversary of the
Reserve Officers' Training Corps and
the 80th anniversary of ROTC's found-
ing at Bona's. Stocker served in Viet-
nam from May 1966 until June 1967.
1966 -- Francis Higbie and his wife,
Lois, are enjoying good health and visit-
ing with their three grandchildren.
After five years away from community
theater, Higbie has returned to the
stage and is enjoying it. Tom McKeon
will retire as executive director of the
Roanoke Higher Education Center at
the end of the year. The center is an in-
cubator for innovative approaches to
learning that include a mix of tradi-
tional classroom instruction, computer
assisted instruction, and distance learn-
ing instruction that meet a wide variety
of student learning
styles and needs. McK-
eon has led the center
since its construction
began in 1999, creat-
ing a hub for adult
learning that today
supports 310 jobs and
an annual economic impact of $32 mil-
lion per year. More than 9,000 people
have completed degree, certificate and
workforce training programs at the
center since it opened in 2000. Active
in his community, McKeon serves as a
member of the board of the Roanoke
Regional Chamber of Commerce and is
chair of the Roanoke Arts Commission.
He also served on the boards of The
Taubman Museum of Art, Downtown
Roanoke, Inc., the United Way of
Roanoke Valley and the Roanoke Valley
Convention and Visitors Bureau. Before
joining the Roanoke Higher Education
Center, McKeon was the director of the
William and Ida Friday Center for Con-
tinuing Education at the University of
North Carolina at Chapel Hill, where he
also was a clinical professor of educa-
tional leadership.
1968 -- Dr. William J. Powers was
appointed to the Board of Trustees of
the Southern Regional Area Health Ed-
ucation Center in Fayetteville, N.C. The
center is associated with Duke Univer-
sity Medical Center, which supports a
family practice medical residency pro-
gram and continuing education for
health care professionals in the region.
Powers is also a faculty member at
Fayetteville Technical Community Col-
R
eunion Weekend is always
a special experience for
me. I had the great for-
tune to tag along with some
friends from the Class of 1996
to their reunion this past June. I
love to hear the alumni stories --
your favorite memories from your
student days, the shenanigans with friends, how you
met your spouse -- and how all that fosters your
connection with our alma mater and drives you to
share that with others.
Bob Daugherty, chair of the Board of Trustees, has
written and spoken on the critical need for alumni to
participate in the recruitment of students to become
future Bonnies. Vice President for Enrollment Bernie
Valento and his team have implemented creative
projects to bring high school students and guidance
counselors to campus, enable alums and current stu-
dents to share their thoughts and advice with
prospective students, and branch out into new terri-
tories for recruitment.
As a result, our total enrollment for incoming
freshmen this fall is more robust than it has been the
last few years. A lot of this was done with your active
participation. Thank you!
But ... we need to continue to build on this mo-
mentum. To do that, we need your help!
On the university website, there are two avenues
for you to participate in recruiting future Bonnies.
Both of these appear on the Alumni webpage,
www.sbu.edu/Alumni
The first is to join SHARE Bona's (Supporters
Helping Admissions Recruiting Efforts). In addition
to college fairs and letter writing, you could pro-
vide local information to help recruiters, participate in
local recruiting events, or even host an event. There
are myriad ways to get involved. Please sign up!
The second is the "Refer a High School Student"
link. You provide the name and information of the
student, and the Admissions Office takes it from
there. Surely, you know a family member, neighbor,
co-worker's child, fellow parishioner, organization
participant (I could keep going) who deserves to
become a Bonnie.
There are more than 28,600 alumni of St. Bona-
venture. If each of us recruited one student, we
would create a strong foundation to ensure the
continuing success of our alma mater.
Pax et bonum,
Kristan McMahon, `97
President, National Alumni Association Board