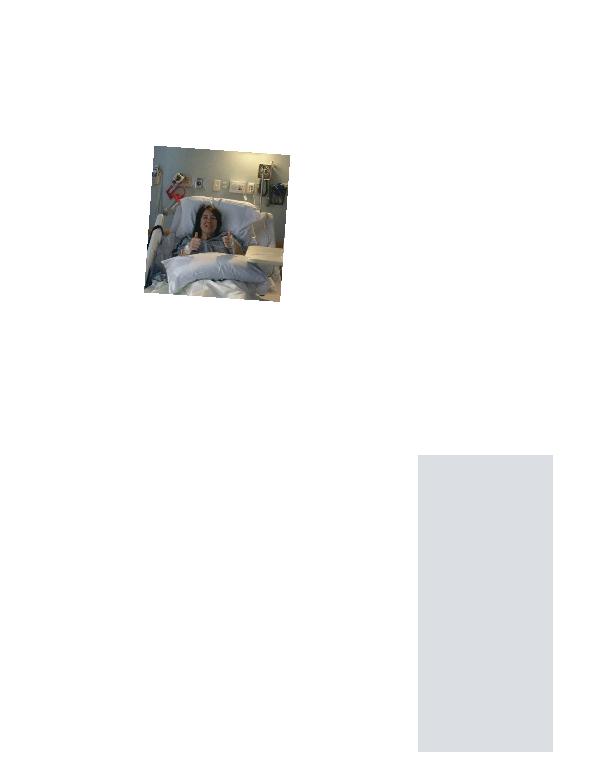 T
he women have known each other
since high school; both graduated
from Fayetteville-Manlius High
School near Syracuse. They were casual
friends who independently chose St.
Bonaventure. Garcia majored in mass com-
munication. Blakely was
active in the Black Stu-
dent Union and pursued
a degree in social sci-
ence.
ation, jobs, marriage,
kids, and Boston. Both
happened to be living in
Boston in 2015 when
Blakely's doctors at
Tufts recommended
pursuing a kidney
transplant.
to Boston in 2010
from Michigan and
was working at Suffolk
University.
Garcia, who moved to Boston in 1994,
was working in human resources for the
private bank Brown Brothers Harriman &
Co. when she saw a Facebook message
posted by her classmate: Do any of my
friends have type O blood?
In an effort to cast as wide a net as pos-
sible for a potential donor, Blakely shared
the Facebook message in March 2015 --
National Kidney Month -- asking if any-
one had O negative or positive blood and,
if so, if they'd consider being tested as a
potential match. A year later, the women
were at Tufts being prepped for surgery.
It had been about 12 years since Blakely
was diagnosed with polycystic kidney dis-
ease. She was grateful to remain healthy
and active for much of that time, seeing
doctors regularly to monitor her kidneys. In
2015, the new year brought news that
Blakely's kidneys were working at only
about 20 percent. By spring 2016, her kid-
ney function had declined to 14 percent of
normal function and she was close to
being placed on dialysis.
"There is usually a five- to six-year wait
on the transplant list. I was very lucky,"
Blakely said. "I posted the message and
Michele messaged me privately. It makes
me emotional, she never hesitated."
"There could not have been a better set
of circumstances," said Blakely, who has
doctor visits every two weeks to monitor
the kidney and has returned to her job full
time as head of circulation at Suffolk Uni-
versity's library.
A lifelong blood donor, Garcia wasn't in-
timidated by the score of medical tests
that awaited her in the coming year: blood
tests, EKG, X-rays.
"I knew it would be major surgery, but I
didn't feel it was insurmountable," Garcia
said.
right thing to do. I can't
say it any other way. She
later to her running regi-
"I feel like I slept most of
March," Garcia jokes. "I'm
Sergio, and their 10-year-
old son recently relocated to
Originally from Olean, Blakely's family
moved to the Syracuse area during her
sophomore year of high school. She was
drawn back to Western New York when
she considered colleges because of St.
Bonaventure's strong academic reputation
and her family legacy. Her stepfather, Matt
Gantt, is a 1972 graduate who was on the
Bonnies' 1970 NCAA Final Four team and
was inducted into the university's Athletic
Hall of Fame in 1990.
M
ost people in need of an organ
donation start with their family
members, Blakely said. In her
case, only her stepmother was her blood
type; after undergoing some initial tests,
other health concerns prohibited her from
being a candidate.
"I am so thankful to Michele. It's amaz-
ing to hear her say, `what else would I
do?'" Blakely said.
"There are really not words adequate
enough to describe the wonderful gift that
Michele has given me," she said. "Her
willingness to offer to be a donor came
immediately upon my request on Face-
book. She never wavered. It still amazes
me that someone would be so willing to
undergo major surgery to help a friend. I
will be eternally grateful to her for that."
Their renewed connection has had both
women reflecting on their Bonaventure
days, the university's mission and the fu-

2
estimates less than 7 percent
of the population in the U.S.
has O negative blood. O neg-
ative is known as the "univer-
sal donor" because patients
with any blood type can re-
ceive O negative blood.
become one of the leading
medical institutions in the
country for kidney transplan-
tation since its program
began in 1971. The Boston
hospital's transplantation
services has performed more
than 1,200 kidney transplants.
According to the National
Kidney Foundation, there are
some 121,678 people waiting
for lifesaving organ trans-
plants in the U.S. Of these,
100,791 await kidney trans-
plants (as of 1/11/16).
"I think it's that sense of com-
munity and wanting to help
someone if you can. There are
such good values there," Garcia
said.
Blakely said the campus em-
braces you and helps transform
your values and perspectives on
life.
She's proud that those values
will be instilled in a third genera-
tion in her family. Her son, Isaiah,
will be a freshman at St.
Bonaventure this fall and plans to
study journalism and mass com-
munication. She and her hus-
band, Anthony, also have a
16-year-old daughter, Arianna.
Blakely is looking forward to
being back on campus for her
son's orientation this summer.
"I follow Mt. Irenaeus on Face-
book. I read Fr. Dan (Riley's) posts
and reminisce about when I was
a student. It's such a wonderful
place," she said.
(Beth Eberth is director of uni-
versity communications at St.
Bonaventure.)
Fast Facts
Michele (Fehr) Garcia gives tw
thumbs up following surgery t
remove one of her kidneys.