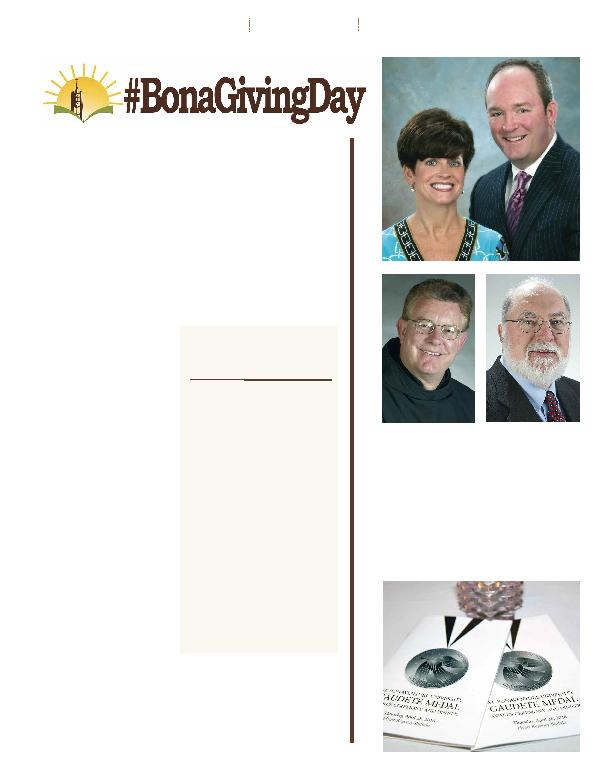 2
REJOICE!
The 2016 Gaudete Medal Awards Dinner recog-
nized Suzanne and John, '88, Berger, Fr. Joseph
Bayne, O.F.M., Conv., and Jack Connors for their
committed Franciscan service to Buffalo and
Western New York. The Gaudete Medal is one
of St. Bonaventure's highest awards. It is be-
stowed to outstanding business and community
leaders who exemplify the same spirit expressed
through the life and teaching of Sts. Francis and
Clare of Assisi. This year's event raised more
than $35,000 for student scholarships.
Alumni help raise $326,320
during one-day giving blitz
T
he most exciting thing about the inaugural #BonaGivingDay was
how it grew organically. Following the success of the 2015 Young
Alumni Challenge, we were confident the Bona Nation would get
behind the idea -- and you did, raising more than $326,000!
The excitement during #BonaGivingDay was not limited to any particu-
lar group; rather it was communitywide:
· Graduates from the past 10 years took on the Young Alumni
Challenge posed by Don, '59, and Margy Gracyalny, with a total 105
young alumni contributing.
· Reunion classes embraced
the Reunion Class Challenge
offered by Eileen (Madigan)
Kinslow, '86, and Chris
Kinslow, '85, with an
astounding $46,562 raised.
· Members of the Class of
1981 surpassed the $5,000
challenge posted by Rich
O'Halloran, '81, donating
$6,175.
· Thirty-four donors, including
three young alumni,
stepped up to the
Devereux Giving Societies
Challenge given by Laurie
Krupa, '82, making a gift of
at least $1,000 during the
fiscal year.
These are just a few examples
of how Bonnies coming to-
gether can do great things. We
were blessed to have the likes
of Jim, '76, and Nina, '79,
Meyer contribute $75,000 and
Laurie Branch, '04, give
$25,000, but these major gifts
were just a part of the overall
picture.
young and old emerged to
make their first-ever gift to the university, helping to bring the total of
new gifts that day to 262.
Ultimately, that's what #BonaGivingDay was about: creating excite-
ment and incentive for everyone to get behind the university and better
understand how The Bonaventure Fund impacts our students and com-
munity as a whole.
day (setting a new
record!)
$1,000+ Devereux Giving
Societies