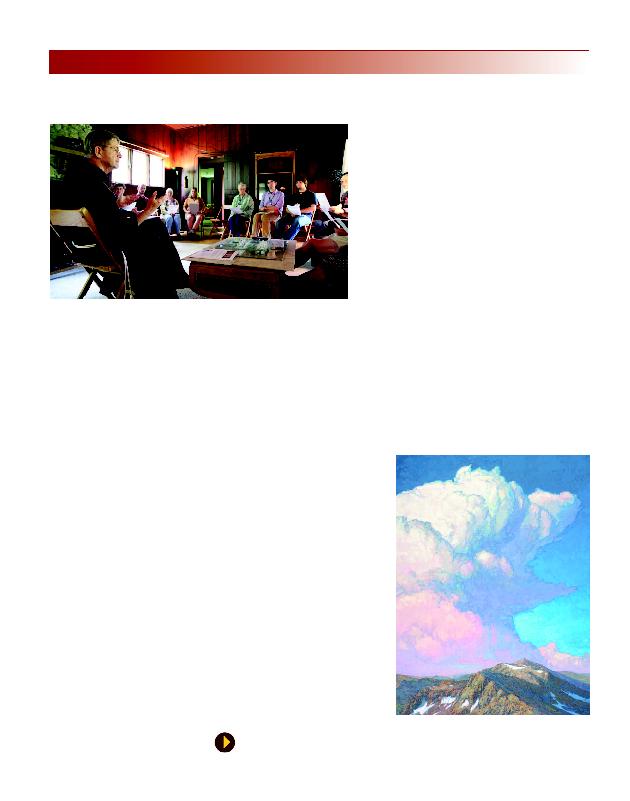 Campus News
Celebrating Thomas Merton
CONFERENCE
SPOTLIGHTING FALL EXHIBITIONS AT THE QUICK CENTER:
Through keynote speakers, worship experiences, and tours, a four-day
conference at the university explored the relationships Trappist monk
Thomas Merton had with the people and places of St. Bonaventure. The
June 19-22 conference, "Coming home and going forth: Merton as mirror
and model," was held in anticipation of Merton's 100th birthday in 2015.
Above, Br. F. Edward Coughlin, O.F.M., leads a discussion in a cottage near
Olean where Merton spent time writing. Also presenting at the confer-
ence was Merton scholar and SBU alumnus Fr. Dan Horan, O.F.M., '05.
The Regina A. Quick Center for the Arts
will open its fall exhibitions in late August.
Here is just a taste of what's in store:
Nature's Terms: Paintings by
Thomas Paquette Commemorating
the 50th Anniversary of the Wilder-
ness Act: The Wilderness Act of 1964
was signed into law to protect the wildest
remaining lands in the United States. This
exhibition celebrates the places preserved
by that law -- places that thrive not by
dint of industry and scientific progress but
by the forces of nature alone, protected
from significant human intrusion.
Asian Art Collection: Portions of this
vast collection from the University's Art
Collection are on exhibition alongside a
loan of ancient Asian artifacts from the
Arthur M. Sackler Foundation. As a spe-
cial feature, Dr. Chisato O. Dubreuil, pro-
fessor of non-Western art at SBU, has
curated the exhibition featuring tradi-
tional Japanese kimono and woodblock
prints.
La Ofrenda: The Day of the Dead is
an ancient Aztec celebration of death, the
bittersweet companion to life. Over hun-
dreds of years, the Day of the Dead has
become a part of the Catholic tradition in
many Latin American countries. Everyone
is invited to participate by making and
placing offerings, or "ofrendas," at the
altar in the Front Gallery. Support and
programming for this exhibition come
from the campus Damietta Diversity Cen-
ter and the LASO (Latin American Student
Organization).
20th and 21st century Works from
the University Art Collection: Recent
gifts to the collection from the Andy
Warhol Foundation were the impetus to
redesign the Quick Center's Contempo-
rary Gallery for fall. It will feature silk
screens and photographs by Warhol, as
well as works by Frankenthaler, Jenkins,
Dali and Picasso.
Summer is still in full swing -- but it's not too early to
make plans for Family Weekend 2014. This year's festivi-
ties run Sept. 26-28. Celebrate music, food and fun
rolled into one big street festival Sept. 27 in downtown
Allegany with Bonagany. The day will feature music,
food, games, information booths for student groups,
and other activities. A full schedule of events will be
posted soon at
www.sbu.edu/FamilyWeekend
Join us for Family Weekend!
From Andy Warhol and Aztec celebrations to the Wilderness Act
Thomas Paquette's painting "Beyond Mile
High," oil on linen, is of Raggeds Wilderness,
Colo.
Two students were awarded grants from the presti-
gious Fulbright U.S. Student Program.
Simone Bernstein of St. Louis, Mo., graduated May 11
with an honors degree and a bachelor's degree in altru-
ism and entrepreneurship. She received a grant to re-
search age-related hearing loss at the University of
Toronto during the 2014-2015 academic year.
Rebecca Weitzel of Dansville graduated magna cum
laude in May '13 with a degree in elementary/special ed-
ucation and a master's in childhood literacy this past May.
She was awarded a grant to work for 10 months in
Malaysia, but declined the award because she had al-
ready accepted a two-year contract to teach second
grade at the Al-Bayan Bilingual School in Kuwait.
Two awarded Fulbrights