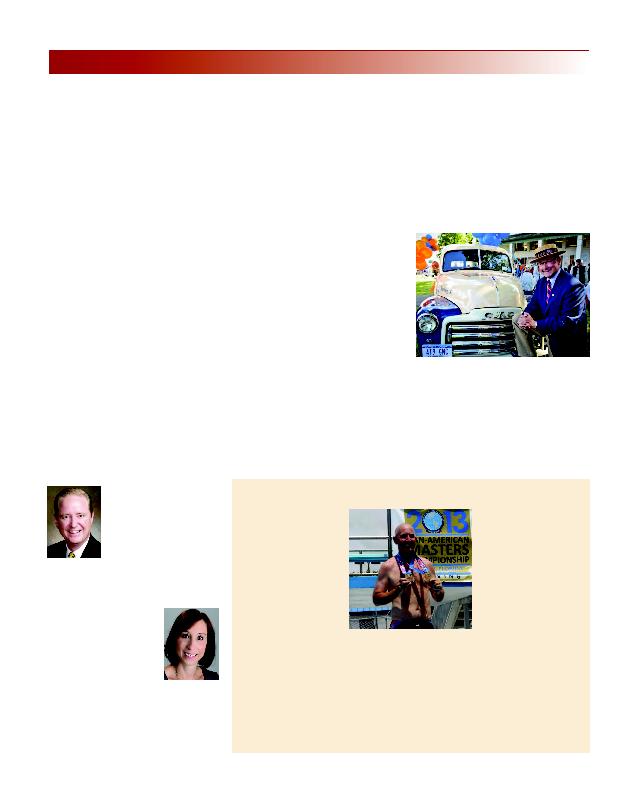 business transactions in the Communications,
Media & Entertainment group, which includes
communications, information services, technol-
ogy, entertainment, sports, gaming, and media.
J. Timothy George, who serves in the JAG
Corps, was promoted to major in the U.S.
Army Reserve. George is co-founder of Pur-
chase & George, P.C. Rebecca Norr-Hartman
was promoted to global director of Marketing
Communications & Branding at Welch Allyn
Inc. of Skaneateles Falls, N.Y. Michael T.
Williams was promoted to vice president of fi-
nance and chief financial officer at IEC Elec-
tronics Corp. Williams previously served in a
number of operations and finance roles during
his career at Bausch & Lomb. IEC Electronics
provides electronic manufacturing services to
advanced technology companies primarily in
the aerospace and defense, medical, industrial
and communications sectors.
1990 -- Jennifer Corker is now working at
the YMCA Retirement Fund in New York City
as a quality assurance specialist after 15 years
at New York Life Insurance. David J. Kelley,
Ph.D., presented the workshop "Corporate
Sponsorships in High School Athletics" at the
44th National Athletic Directors Conference in
Anaheim, Calif., in December 2013. The con-
ference, sponsored by the National Federation
of State High School Associations and the Na-
tional Interscholastic Athletic Administrators
Association, provides an educational in-service
program for interscholastic athletic administra-
tors. Charles Makey III, senior vice president
of Insurance Operations at Merchants Insur-
ance Group, was elected to the board of direc-
tors of the New York Insurance
Association. Makey has been
with Merchants since 1996.
The insurance group offers per-
sonal and commercial insur-
ance through a network of
more than 600 independent
insurance agents throughout
the Northeast and north central United States.
Kathy Geller Myers co-founded Chatterbox
Communications, a PR consulting business that
provides services including
media relations, media train-
ing, press conference coordi-
nation, strategic
communications planning,
event planning, trade show
coordination, speechwriting
and social media engagement.
Geller Myers has a website at www.chatterbox-
comm.biz and welcomes email at
myersdk@comcast.net.
1991 -- Scott Rua is an operations training
supervisor with Duke-Energy at the Shearon
Harris Nuclear Plant in New Hill, N.C. Steve
Williamson is a territory manager with Hisco
Inc., a nationwide distributor serving the elec-
tronics, aerospace, industrial and medical mar-
kets. Williamson manages sales for Upstate
New York, Western Pennsylvania and Eastern
Ohio. He and his wife, Annette, live in Owego,
N.Y., with their three boys. Adrian Woj-
narowski has joined the FOX Sports 1 on-air
talent roster. Wojnarowski will contribute on
FOX Sports Live -- FOX Sports 1's flagship
nightly highlight, news and opinion program
-- and will also make regular appearances on
America's Pregame. As the NBA columnist for
Yahoo! Sports since 2007, Wojnarowski has es-
tablished himself as the No. 1 NBA insider. His
news breaks, insider information and award-
winning columns will continue to appear on
the Yahoo! web platform.
1992 -- Allen E. Hyde, principal at E.R.
Hughes Elementary School in New Hartford,
N.Y., was appointed assistant superintendent
for curriculum and instruction for the New
Hartford Central School District beginning July
1. Maureen Mulhern is director of Career
Development for St. Thomas Aquinas College
(STAC). In this role, Mulhern develops strong
relationships between employers and students
and markets STAC graduates to national, re-
gional and local organizations and corpora-
tions. She coordinates Career Development
events, oversees programs, and develops new
opportunities for students to enhance their ex-
perience and prepare them for careers after
graduation. Mulhern earned a master's degree
in education from Fordham University. She
holds a provisional school counselor certifica-
tion in New York and school counselor certifi-
cation in New Jersey, and is also certified in
eclectic cognitive-behavioral therapy. Sean
Murphy graduated from the University of Illi-
nois-Chicago with a master of science in nurs-
ing after completing the Psychiatric Mental
Health Nurse Practitioner program. He is mov-
ing to Rochester, N.Y., where he'll begin prac-
ticing as a psychiatric nurse practitioner at
Trillium Health in August.
1994 -- Martin Biniasz (above) was named
2014 Tourism Executive of the Year by West-
ern New York's convention and visitors bureau
Visit Buffalo Niagara. Biniasz is director of spe-
cial events and brand marketing for the Erie
County Agricultural Society, which sponsors
the Erie County Fair. The Erie County Fair is the
largest county fair in North America with an
Updates
member Gerry Dunn,
'83, continues to make a
big splash across the
globe.
Dunn competed in the
Irish Open Diving Champi-
onships in Dublin, Ireland,
placing first in the one-
meter and three-meter
springboard in the 25+
age group. He also took
third in the platform diving competition. As
Irish Champion he qualifies for the Euro-
pean Masters Championships in 2015.
Last July, Dunn won three gold medals at
the Pan American Masters Championships
in St. Petersburg, Fla. In addition to one-
meter and three-meter gold, he also placed
first in synchronized diving with a partner.
Dunn returned to diving last year to train
with his 15-year-old
daughter, Brighid, who is
also a diver. The pair rep-
resented the United
States in South Korea last
summer as part of a six-
member U.S. team.
Dunn took two silver
medals in the one-meter
and three-meter compe-
tition in the Men's 30+
age group.
of the SBU varsity swimming team and at
one time held records in both one-meter
and three-meter springboard while diving
for SBU. He is training for the FINA World
Championships to be held in Quebec,
Canada, in July.
Dunn is a real estate broker in the Wash-
ington, D.C., area. He lives in Potomac,
Md., with his wife and two daughters.
Former SBU diver still earning top honors