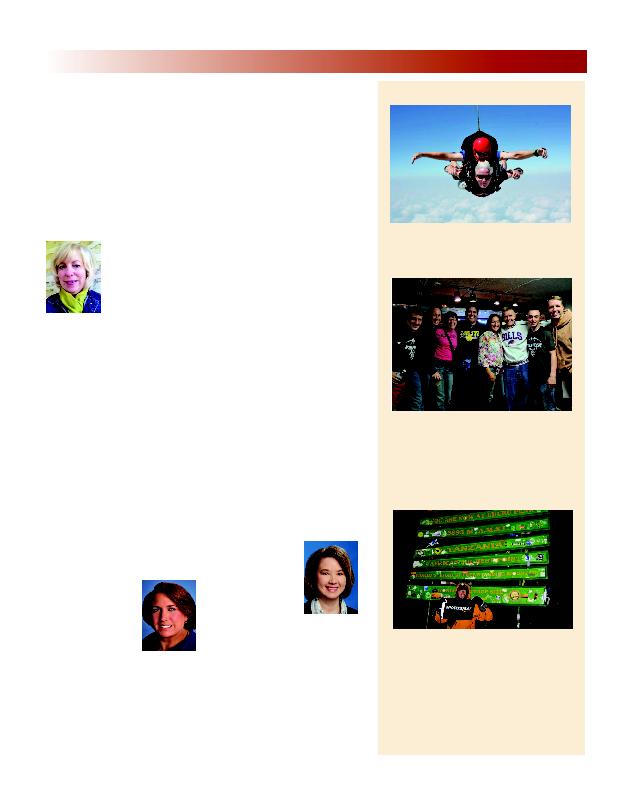 neering firms specializing in private and
public works. Harrison has written on
numerous topics related to financial is-
sues in the construction industry and
regularly presents to financial institu-
tions on the proper underwriting of
construction contractors.
1981 -- Eat First: Diary of a Food-Lov-
ing Central New Yorker, a local food
blog created, written and pho-
tographed by Margaret McCormick,
received mention in a list of "Belly
Rumbling Blogs" featured in Edible Fin-
ger Lakes Magazine.
"Eat First shines most
when it takes advantage
of the informality of the
blog form,"the article
notes. McCormick is a
self-employed writer,
editor, and public rela-
tions and social media coordinator. She
blogs at eatfirst.typepad.com. Anne
Ruisi is the online news editor at China
Daily, the "USA Today" of China, a
large English language daily with edi-
tions around the world. She welcomes
contact from Bonnies in China at
anneruisi@hotmail.com.
1982 -- Karen (Bloom) LaFauci is
owner and president of The Write Stuff
Communications based in Rochester. Her
husband, Peter, '82, a former chief fi-
nancial officer in the advertising industry,
founded CFO Solutions 14 years ago.
1984 -- Donna L. Burden has given a
number of presentations at professional
conferences in recent months. She pre-
sented at the Midyear Meeting of the In-
ternational Association of Defense
Counsel in Carlsbad, Calif., in February
on "Successful Strategies for Effective
Defense of Mild TBI
Claims with Major Set-
tlement Demands." She
was also a speaker at
the annual meeting of
the Themis Advocates
Group held in Miami,
Fla., co-presenting with
Susan Antell, Ph.D., a
board certified clinical and forensic
neuropsychologist, on "Major Claims
from Minor Head Injuries -- The New
Age of Minor Traumatic Brain Injuries."
She gave a third presentation, "Compli-
ance Safety Accountability: Planned Im-
provements, Keeping Scores out of
Litigation, and the Risks for Carriers
and Brokers," at the March 31 Ameri-
can Conference Institute's 4th National
Forum on Defending and Managing
Trucking Litigation in Chicago. William
McMeekin is vice president and director
of content for economic development
publications at Journal Communications
Inc., a custom media and content mar-
keting company in Franklin, Tenn. He
joined the company in January 2007. He
and his wife, Carolyn, live in Nashville,
Tenn.
1985 -- Margaret Jones-Carey com-
pleted her Ed.D. at D'Youville College in
December 2013. The title of her disserta-
tion was "Teacher-led direct reading in-
struction and the NYS ELA."
1986 -- Joe O'Conor was appointed
chief of the Peachtree (Ga.) Fire-Rescue
Department. The department responds
to more than 3,100 emergency incidents
each year with a combination (paid and
volunteer) staff of 145 and an annual
budget of $7 million. In addition to his
bachelor's degree from St. Bonaventure,
O'Conor holds a master's degree in exec-
utive fire service leadership from Grand
Canyon University. He is married, has five
children and lives in the Peachtree City
area, about 30 miles south of Atlanta.
1988 -- Steve Hayes was elected chief
of the Bemus Point (N.Y.) Volunteer Fire
Department for 2014. Hayes, a senior
vice president with Bank of America,
began his volunteer emergency services
"career" as a member of the campus
MERT team in 1986. Lori (Erickson)
Keane of Orchard Park, N.Y., was pro-
moted to director of marketing at Blue-
Cross BlueShield of
Western New York. She
is responsible for mar-
keting strategies, market
research and digital ex-
perience. Prior to joining
the health plan, Keane
served in marketing
roles at HSBC North America and First
Niagara Financial Group. Patricia
Pillsworth successfully defended her
dissertation, "Security, prestige, and Re-
alpolitik: Sir Eyre Crowe and British For-
eign Policy, 1907-1925," to complete a
Ph.D. in history at the University at Al-
bany.
1989 -- Kevin Cullen was promoted to
managing director at CIT Group. He
oversees underwriting efforts for new

2
Updates
Jeff Brown, '85, shared a photo from his
Aug. 6, 2013, arrival at the summit of Kili-
manjaro (19,341 feet), the highest peak in
Africa and one of the Seven Summits (the
highest mountain peaks on each of the
seven continents). Brown had a Bona's ban-
ner on his pack that he'd hoped to photo-
graph at the summit -- but it blew away
during the evening summit ascent during a
freak windstorm.
This is how James Duffy Hickey celebrated
his 60th birthday -- whoopee!
Bona families and friends for life, this crew
enjoyed the Bona win over Canisius. Pic-
tured from left are Daniel Egan, '15; Jim
Egan, '86; Mary (Russo) Egan, '86; Mario
Russo, '82; Renee Caya, '83; Fran Machina,
'82; Brian Machina, '16; and Gary Machina,
'87.