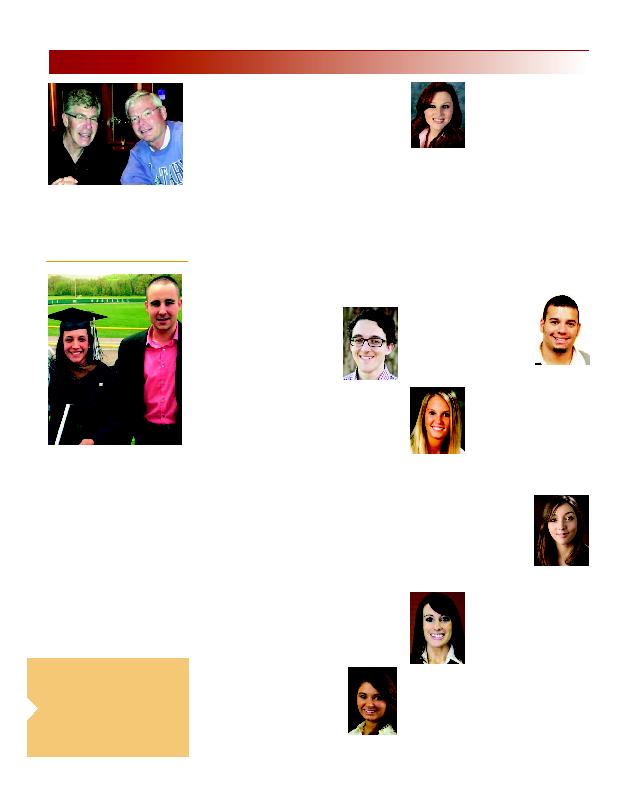 ment of linear variable filters that will go on a
satellite that will be sent to land on a nearby
asteroid in 2020. Mara Primmer was named
Wells College's women's soccer coach. Prim-
mer, who played on SBU's Division I soccer
team, served as an assistant coach of the
Oneonta State women's soccer team last fall.
Lizz Schumer was named editor of The Sun
newspaper in Hamburg, N.Y. She has worked
for a variety of newspapers and magazines; her
most recent position was editor of the
Springville Journal.
2009 -- Kyle C. Burch was promoted to su-
pervisor at Buffamante Whipple Buttafaro, P.C.
Previously an intern, he officially joined the firm
in June 2009 and became a certified public ac-
countant in July 2012. Alyssa Sparatta is now
working at the University of California, San
Francisco. Jordan Steves was promoted to di-
rector of communications at
Chautauqua Institution, and in
that role will also serve as edi-
tor of The Chautauquan Daily.
He previously served Chau-
tauqua for five summers as the
Daily's assistant and then man-
aging editor, and for four years
as lecture associate in the Department of Edu-
cation.
2010 -- Peter A. Bucci was promoted to ac-
count executive with the Detroit Tigers.
Colleen Ennis was promoted from an experi-
enced assistant to an in-charge accountant on
the Bonadio Group's Healthcare/Tax Exempt
Central Team. She lives in Fairport. Kevin
Rhode was promoted from an in-charge ac-
countant to a senior accountant on the Com-
mercial Team with The Bonadio Group. Robert
Sonnenberger was promoted to senior staff
accountant at Chiampou Travis Besaw & Kersh-
ner LLP. Jeremy M. Smith was promoted to
senior accountant at Buffamante Whipple
Buttafaro, P.C.
2011 -- Justin M. Isaman was promoted to
senior accountant at Buffamante Whipple
Buttafaro, P.C. Andrea Korczynski accepted a
physical education teaching position at North-
east Ohio College Prep school. She wants to
thank all of her professors for their help and
support throughout this journey.
2012 -- Amie Marasco is an
assistant accountant for the
Bonadio Group's Commercial
Team. Marasco lives in
Rochester. Founded in 1978, The
Bonadio Group offers account-
ing, business advisory and per-
sonal financial services. Kelsie Nolan works in
the Audit Department for EFP
Rotenberg, LLP, in Rochester.
Nolan lives in Farmington. In
addition to Rochester, the ac-
counting, business consulting,
and reputation management
firm has offices in the Finger
Lakes, Corning and New York City. Alexis
Thomas started the online business "Blush
Consignment & Boutique" at www.blushcon-
signmentboutique.com, which offers quality re-
sale apparel and accessories in an assortment
of sizes and styles to accommodate varying
body styles and shapes. The objective of the
business is to make every woman feel "blush"
worthy.
2013 -- Samantha Berkhead is a premium
content writer at HubShout, an Internet mar-
keting company in Rochester.
Ryan Lazo, sports editor for
The Hopewell News in Virginia,
has won two 2014 Virginia
Press Association Awards. He
earned a first-place award for
Sports Writing Portfolio for a
non-daily and a third-place
award for Sports Column Writing at a non-
daily. Danielle Pendlebury is
the marketing coordinator at
Hillis-Carnes Engineering Asso-
ciates, Inc. The consulting engi-
neering firm has offices in
Maryland, Virginia, Pennsylva-
nia, and Delaware and provides
innovative and cost-effective geotechnical, con-
struction materials inspection and testing, envi-
ronmental and drilling services
for private and public sector
clients. Brittany Smith is a
staff accountant in Lumsden &
McCormick, LLP's audit depart-
ment, which is responsible for
audit field work and the prepa-
ration of financial statements.
Kristin Sullivan is an inbound
marketing strategist for Quinlan and Company
of Amherst, N.Y. Sullivan devel-
ops and manages digital con-
tent for Quinlan clients through
campaign planning, execution,
management, and analysis
through daily interaction with
client web sites, blogs, search
presence, and social media. She
was most recently a member of the digital mar-
keting team at LocalEdge, a Hearst multimedia
services company. Sullivan lives in Lancaster,
N.Y. Alaina Walker has signed a professional
contract to play basketball in Portugal. She will
play for Olivais Coimbra Club.
Updates
Bona grads and siblings Emily
Costello, '13, and Matthew
Costello, '11, are working for the
same firm -- Schlumberger --
and are both in the Longhorn
State. Matthew is the supplier
manager for North America at
Schlumberger in Houston. Emily
is the south Texas materials coor-
dinator at Schlumberger in San
Antonio. Schlumberger is the
world's leading supplier of tech-
nology, integrated project man-
agement and information
solutions to customers working in
the oil and gas industry world-
wide.
Kevin Dillon, '79 (left), and Jon
Vance, '78, reconnected in San
Diego in March. The former
floormates lived on 4th Dev East
(Freaks) back in the day.
SEND US NEWS OF YOUR
ACCOMPLISHMENTS
To submit information for the
next issue of Bonaventure maga-
zine, use the enclosed envelope
or fill out an online form at
www.sbu.edu/BonaMag.