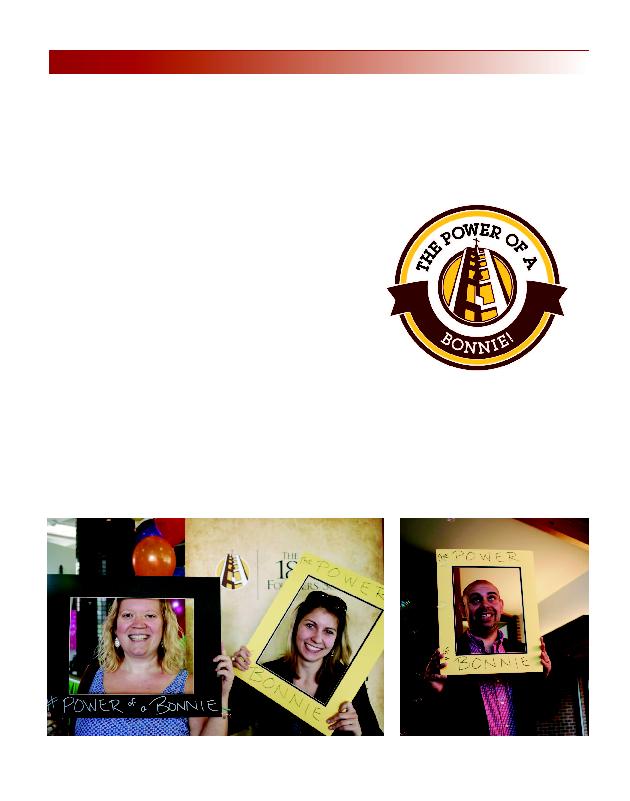 Partnering with you today. Making a difference for tomorrow.
`The Power of a Bonnie' is theme
for 2014-2015 Bonaventure Fund
T
he power of a Bonnie lies in the friendships, connections, and networks that Bonaventure inspires. It
is the familiar faces of the classmates you greeted before classes or in the dining hall. It is
the chapel where you worshipped and service projects where you served alongside
It is applause at the Quick Center and the Garret Theater where artists and actors
showcased their talents. It is the greeting of a fellow Bonnie -- old friend or new
-- who happened to notice you wearing Bonnies gear in an airport. It is your new
office where fellow alumni welcome you as a friend. It is the fellowship of Re-
union and Homecoming, Mountain on the Road, big games, celebrations, and
life events.
Many schools boast a strong alumni network. They use coffee mugs, bumper
stickers, and T-shirts to announce their school pride. Yet none can boast a net-
work of Bonnies. Bonnies are family -- strongest when we work together. And,
that is the reason for this year's Bonaventure Fund theme: The Power of a Bonnie.
The Power of a Bonnie lives in all of us and in the University's core values of discov-
ery, self-worth, and community.
It is activated through every dollar invested in St. Bonaventure University. Please join in
expressing the Power of a Bonnie through a gift to the 2014-2015 Bonaventure Fund.
MAKING A POWER GIFT IS EASY TO DO!
Online:
www.sbu.edu/donate
Call us at (800) 664-1273, option 6
Use your credit card or bank account to make automatic monthly, weekly or quarterly donations
Matching Gift: Your employer may match your gift -- ask your HR office
Mail:
Drop a check in the mail to:
St. Bonaventure University, P.O. Box 2519, St. Bonaventure, NY 14778
Stop by Francis Hall to talk with us the next time you're on campus
WHAT IS `THE POWER OF A BONNIE'?
Bridget Elliott, '04, (left) and Carolyn Evert, '04
Jason Desiderio, Esq., '99