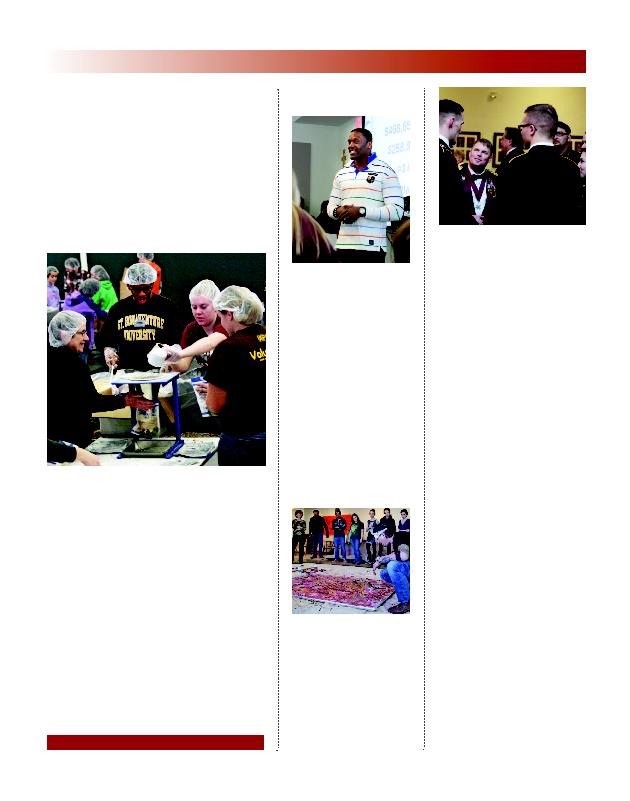 2
Campus News
BonaResponds, St. Bonaventure's disaster-response
organization, packed 108,864 meals to send to hungry
children in Haiti and the Philippines in a daylong work
session March 22 in the Reilly Center Arena.
Volunteers from campus, surrounding communities
and even some prospective St. Bonaventure students
who were invited to experience a collegiate service-
learning activity, participated in the event.
Working in three shifts, hundreds of volunteers cre-
ated individual meal packets containing rice, soy pro-
tein, dehydrated vegetables, vitamins and minerals.
When mixed with boiling water, each packet be-
comes a meal specially designed to feed the malnour-
ished.
The food was distributed by Feed My Starving Chil-
dren, a Christian nonprofit organization that distributes
packed meals through missionaries and global nonprof-
its across the world.
The University welcomed alumnus
Army Col. Kevin C. O'Connor, D.O.,
(facing camera) to campus Feb. 13
and 14 as the inaugural speaker in
the Becoming Extraordinary Leaders
series.
O'Connor, '88, has served as a
White House physician since 2006
and as Physician to the Vice President
of the United States since 2009.
During several campus lectures,
O'Connor shared details about his
medical career journey as an Army
family physician, teacher, flight sur-
geon and hyperbaric medical officer
for the last 18 years. O'Connor has
served in clinical, academic, leader-
ship and operational assignments, in-
cluding tours of duty with the 82nd
Airborne Division, 75th Ranger Regi-
ment, and Army Special Operations
Command. He has deployed on nu-
merous combat rotations in support
of classified missions in Afghanistan,
Iraq and Bosnia.
O'Connor attended St. Bonaventure
on an Army ROTC scholarship, earn-
ing a degree in biology with a minor
in theology. He served as class presi-
dent and a charter member of the
campus Medical Emergency Response
Team. He completed medical school
at the New York College of Osteo-
pathic Medicine in 1992.
The Building Extraordinary Leaders
program is a new leadership series
sponsored by St. Bonaventure's Class
of 1963 and organized by the Stu-
dent Affairs division.
Two St. Bonaventure alumni were inducted into
the ROTC Hall of Fame during ceremonies March 29.
The 2014 inductees are Col. Giac P. Modica, '56, and
Col. Beverly Schwenk Pritchett, '79, both retired.
On June 7, James Duffy Hickey, '75 (swimming),
Kyle Johnson, '03 (baseball), and Nikki Renninger
Levan, '98 (volleyball) were inducted into the Athlet-
ics Hall of Fame.
Rochester artist and 1994
SBU graduate Greg Polisseni
demonstrated his unique
style of painting at the Quick
Center in March. Polisseni's
work, which was the subject
of an exhibition at the arts
center, has been described as
"beautiful, passion-filled ab-
stracts," that he says reveal
calm in the midst of chaos.
Revealing calm
in the chaos
One day, 108,000 meals
LEADING BY EXAMPLE
Alumni honored by ROTC,
Department of Athletics
HALLS OF FAME
Medical perspectives
from the battlefield
to the White House
THE DOCTOR IS IN
BREAKING FREE
BONNIES PLEDGE
TO VOLUNTEER
2,010
That was the number of SBU
community members who
pledged to volunteer during
a campaign between the
University, the Buffalo Bills
and the United Way. By hit-
ting the goal of 2,000, the
campus was treated to a visit
by NFL linebacker Arthur
Moats (above). Moats, a for-
mer Buffalo Bill now with
the Steelers, spoke about the
importance of volunteerism.
View photos from these events and more