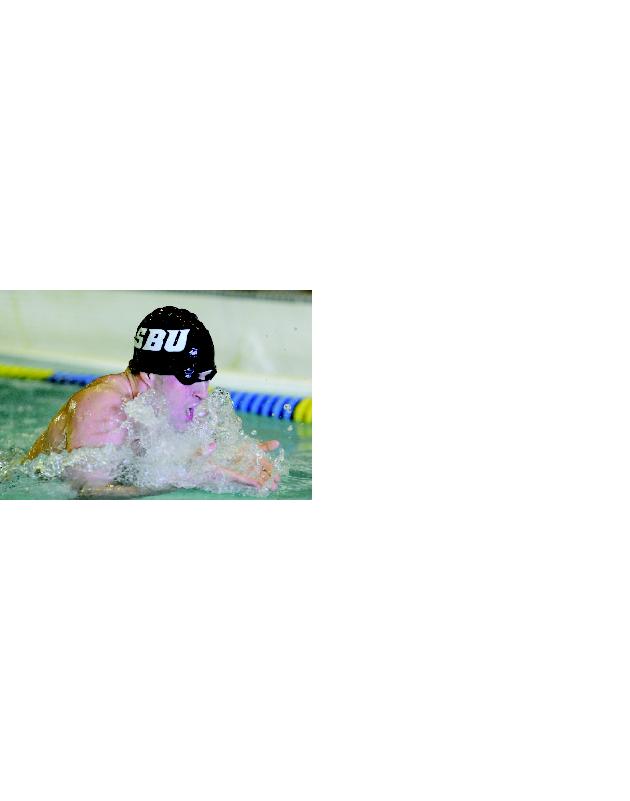 sports effectively. Frustrated, Kevin stepped down as coach in 1992
to become SBU's associate director of athletics.
"I went to Tom O'Connor and said I'd like to make a recommen-
dation," Kevin said, recalling a conversation with his boss of the last
22 years, the last 20 at George Mason. "I told him, `I'd like to hire
my brother.'"
O'Connor scoffed: "We can't do that."
Free of the Bona bubble and the shadows cast by his father and
brother, the thought of returning home was the furthest thing from
Sean McNamee's mind.
Sean, '86, had a solid career swimming for the Bonnies, but being
coached by his brother wasn't always easy.
"It was a little rough at times," Sean said, laughing. "I had my fair
amount of hiccups here, so I just tried to do my work and keep my
nose clean."
Kevin admits he "rode Sean a little too hard at times, but I felt I
needed to because I didn't want him to be viewed differently. I hit
him hard, but I had a purpose."
Sean's senior year was bookended by tragedy. On Christmas Eve
1985, John Skehan died from injuries sustained when his van
flipped over Dec. 15 in Orchard Park; he was just 54. The October
after he graduated, Sean's mom, Helen, passed away.
"I was thinking about going to Naval flight school, and then this
very good job opened up at Franklinville, which had a very strong
swim program for a small school," Sean said.
He then spent two years as a grad assistant coaching at West Vir-
ginia while he was working on his master's in sports management
before heading to SUNY-Potsdam for two years, where he produced
a number of NCAA-caliber swimmers at the Division III school.
And then Sean's phone rang.
"To his credit," Kevin said, "Tom (O'Connor) said he'd think about
it. I just didn't want to leave that team, with a full cupboard, to
someone who didn't know what the program was all about. I am a
big believer in the legacy of our family, and I knew Sean was ready."
O'Connor had only one condition, assuming Sean survived the in-
terview process and was hired: Kevin would have to fire him if it did-
n't work out.
"And I said no problem; I can fire him," Kevin said. "But I knew it
wasn't ever going to get to that. It was a no-brainer for me, and it's
The decision wasn't as clear-cut for Sean. Father to a newborn,
husband to a Bona bride who loved her time at SBU but had been
here and done that, successful coach at a school grooming him to
be AD, Sean said he really had no interest in the opening at SBU.
"But Kevin said, `You knucklehead. You have to have interest.'"
The presence of faculty members like "Dick Bothner and Steve
Eaton, people who were family friends and still here, made the
move easier," Sean said.
"It took a little to convince my wife, but when you're moving
from Postdam" -- where he learned what an engine block heater
was after his Jeep's engine froze solid -- "it wasn't quite as hard.
Once we got here and realized what a great place this was to raise
a family, we had no problem."
Swimmers were stunned when Kevin decided to step down, but
were quickly relieved that the program was staying in the family.
"Whatever fears we might have had that the program might slip
disappeared," Paulsen said. "Sean was the perfect pick. There was
a great sense of relief that there would be that continuity."
In his first year, Sean led the Bonnies to the Atlantic 10 Champi-
onship title, beginning a run of remarkable success. "I inherited a
very nice team from Kevin so it was nice to come out of the gate
like that," Sean said.
O
NLY ONCE SINCE 1993 HAVE THE BONNIES
below third at the A-10 Championships, and in the last
16 years, they've finished second 12 times and won four
titles (1999, 2006, 2013, 2014).
Chris Ekimoff, '07, was part of the 2006 championship team,
but conceded that this past year's team was not just the greatest
in school history, but in A-10 history. In 18 swimming events at the
Spire Institute in February, the Bonnies broke 11 conference
records.
"You have a clock, an objective measure to make that claim, so I
think it's fair," said Ekimoff, the A-10's Student-Athlete of the Year
and the Ideal Bonaventure Man in 2007.
George Eversmann, '00, was the A-10 Rookie of the Year in
1997 and a member of the '99 title team. He was recruited, like
Paulsen, by much bigger schools, including Pitt and UMass, a long-
time power in the A-10.
"The facilities didn't scare me away, even though I'd love to see
them get a new pool," said Eversmann, now the aquatic and ath-
letic facilities coordinator at Raritan Valley Community College in
New Jersey. "I liked the fact that the program was very successful,
but that it also had high academic standards. I came up for a visit
and just fell in love with Sean and Gio (Matt Gianodis)."
Eversmann's love for Sean and the program has only intensified.
In March, Eversmann took the time to write SBU athletic director
Steve Watson a long letter, extolling Sean's virtues. He was among
a dozen swimming alums who traveled to Geneva, Ohio, to watch
this year's A-10 meet.
"The ability to affect each student on a personal level, to create
an atmosphere of positivity and encouragement where one can
challenge him or herself and be successful is what a true
leader/educator's role is all about, and Sean has that ability," Evers-
mann wrote.
Just four weeks before Eversmann's letter arrived, Watson and
Barb Questa, deputy director of athletics, received an email from a
father whose son graduated 12 years ago, praising Sean for his
leadership and compassion. The note was 2,269 words long.