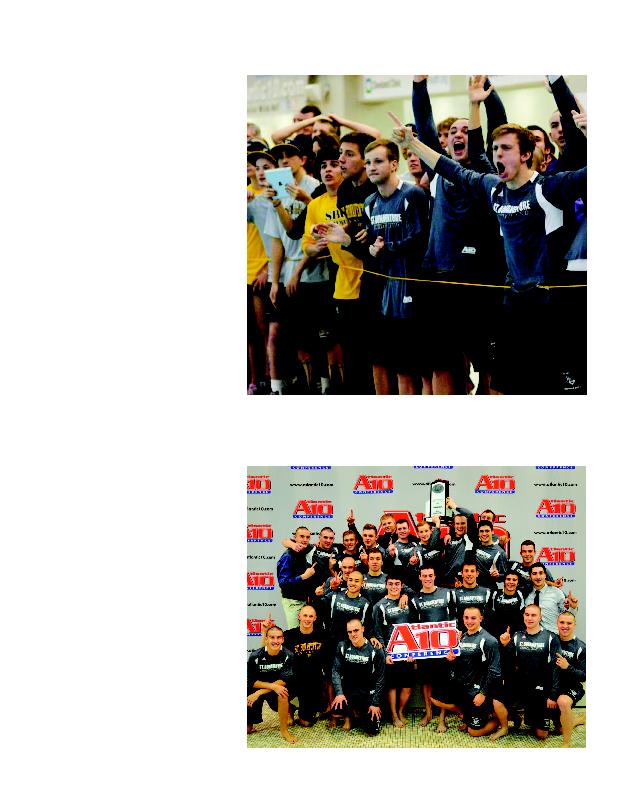 2
"I wanted to move the program forward,
and to challenge myself and the institution,"
Kevin said.
Kevin recruited the same way, issuing a chal-
lenge to elite scholastic swimmers to ignore
the lackluster facilities and be a part of the uni-
versity's great tradition of success in the pool.
"Kevin had the ability to tell kids that noth-
ing will stand in their way, that they'd be able
to compete at the highest level. Sean does the
same thing today," said Matt Gianodis, '92,
who swam on Kevin's last team and was a
grad assistant under Sean from 1995-97. Gian-
odis is now in his 11th year as head coach of
men's swimming at Michigan State.
"The one thing that's consistent about them
is that they don't compromise their principles,"
Gianodis said. "Even today, that really appeals
to kids. Coach Mac (Kevin) was the biggest in-
fluence for me professionally, and Sean is just
an extension of that influence."
A
NEW YORK STATE SCHOLASTIC
freestyle champion, Kevin Paulsen
stood on the 10-meter diving platform
at the University of Tennessee as a high school
senior, being wooed by the powerful Volun-
teers. He chose St. Bonaventure.
"It was impressive; definitely a natatorium
and not just a pool," said Paulsen, '92, one of
11 swimmers or swim coaches in the SBU Hall
of Fame. "But Kevin didn't focus on our facil-
ity. He said it wouldn't compromise our ability
to train as hard as anyone in the country. That
David vs. Goliath thought process really ap-
pealed to me."
Kevin always told his swimmers: "We don't
have any amenities, but we have each other.
You do the best with what you have and don't
whine about it because then you are just limit-
ing your horizons. We're going to define com-
mitment and that commitment might be
significantly greater than what you think you
are capable of doing."
His swimmers fully embraced the message.
They were a consistent power at the Eastern
Intercollegiate Championships, winning the title
in 1988 and finishing in the top four another
four times. Three of his swimmers qualified for
the NCAAs, and Kevin was named the Eastern
Coach of the Year three times (1986, 1988 and
1992).
"When I saw them win the 1988 Easterns,
that really confirmed my choice to come to
Bona's," Paulsen said. "This was really a pro-
gram on the rise."
But while basketball thrived under the new
conference structures, Olympic sports were
often given short shrift and conferences strug-
gled to run championship events for those
ABOVE: Members of the St. Bonaventure men's swim team cheer on their team-
mates during a race at the 2014 A-10 Championships, won by the Bonnies for the
second year in a row and fifth time overall. BELOW: The Bonnies celebrate with the
2014 Atlantic 10 Championship trophy at the Spire Institute in Geneva, Ohio.