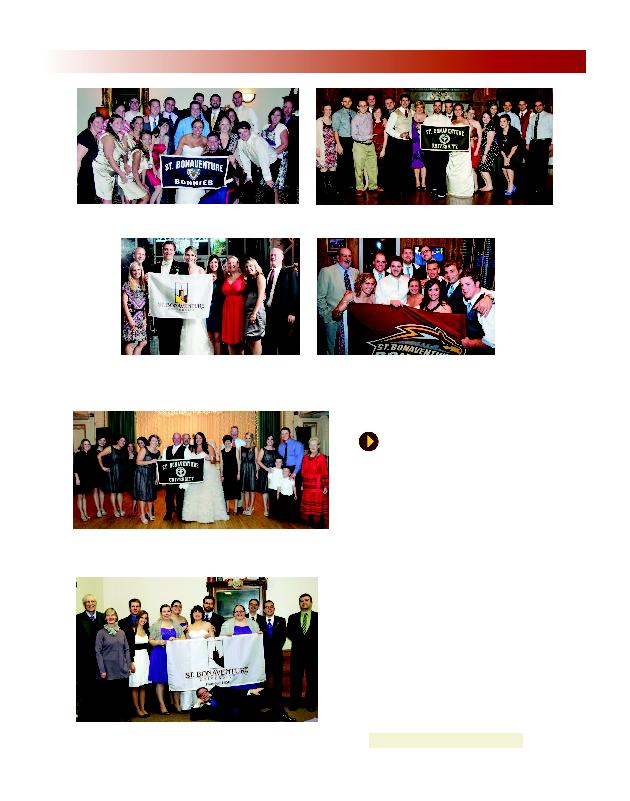 2
Marriages
To submit your marriage photo for an
upcoming edition:
· use the enclosed envelope
· email bonalumnus@sbu.edu
· mail to P.O. Box 2509
St. Bonaventure University
St. Bonaventure, NY 14778
All photos must be of good reproductive
quality. Pictures submitted electronically
must have a resolution of at least 300
dpi. The university is prohibited from pub-
lishing copyrighted photographs, unless ac-
companied by written permission from the
photographer. Photos are published at the
discretion of the editor.
The deadline for winter 2014-15
Bonaventure magazine submissions is
Sept. 19, 2014.
Don't forget to notify us of your new name
or address! Update your information at
Bona's Online at www.sbu.edu/bonason-
line.
Getting married?
Ashley Foulkrod, '10, '11, and Andrew Olson
Steve DeLucia, '09, '10
Lauren Meyers, '04, and Cole Sigmon
Aimee Koehler, '06, and Joseph Lepsch, '06
Kelly Drago, '03, and Nicholas Vincent Amatuzzo
Cherish Wicker, '10, and Mark Inman, '08
Additional marriage announcements >>>