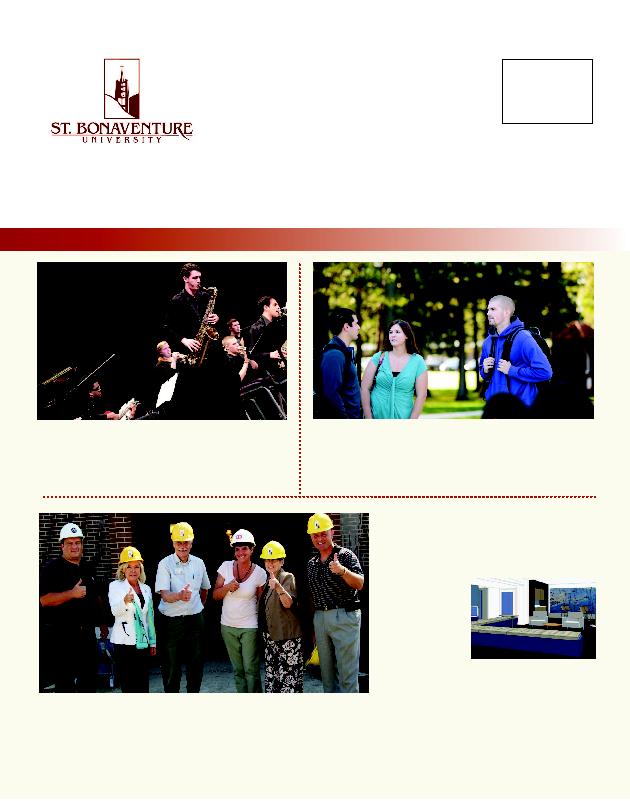 St. Bonaventure, NY 14778
If a picture is worth 1,000 words, what are 1,000 pic-
tures worth? Check out our photo essay depicting all
facets of life at Bona's:
www.sbu.edu/1000pictures
www.sbu.edu
Bring your future Bonnie for a campus visit. Explore the op-
tions -- from a personal visit or overnight to an open house
-- at
www.sbu.edu/visit
It was full steam ahead with residence hall reno-
vations as soon as students vacated Robinson
and Falconio halls in May. The university is in-
vesting $7.5 mil-
lion to completely
renovate Robin-
son and Falconio
freshman resi-
dence halls and
upgrade common
space in historic
Devereux Hall.
The Rob-Fal renovations will significantly en-
hance lounge and other common spaces; hall-
ways; student rooms; restrooms; and laundry
facilities. Devereux Hall upgrades, totaling ap-
proximately $250,000, are focusing on common
spaces, including the preservation of a fireplace.
The residence hall projects will be completed by
fall. Learn more at
www.sbu.edu/RobFal
YOU OUGHT TO BE IN PICTURES
NO LOUNGING (YET)
THE WELCOME MAT IS OUT!
ABOVE: From left, Assistant Director of Facilities for Construction and Compliance Jared
Smith gives a Rob-Fal tour to Senior Vice President for Finance and Administration Brenda
McGee, Associate Vice President for Facilities Philip Winger, Executive Director for Resi-
dential Living and Conduct Nichole Gonzalez, University President Sr. Margaret Carney,
O.S.F., and Vice President of Student Affairs Rick Trietley. AT RIGHT: A rendering of a
lounge area that is part of the Robinson and Falconio renovations underway this summer.