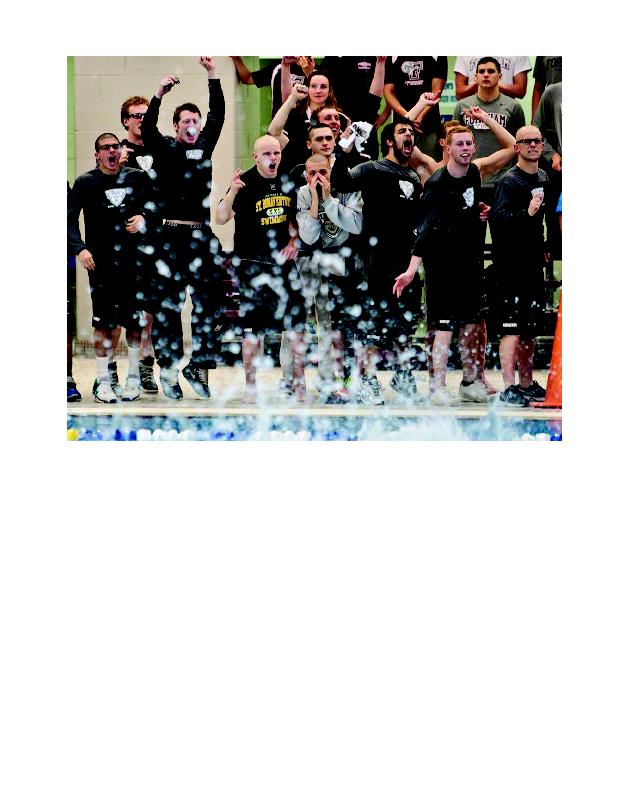 2
The most decorated coach in St. Bona-
venture's athletic history -- six times the
Atlantic 10 Coach of the Year -- took
over a strong program from his brother 22
years ago and has built a powerhouse
based on the principles and values of a
man he never knew.
W
ATER WAS ALWAYS
McNamee blood. John Mc-
Namee was a diver at Manhat-
tan College, even earning money diving
on the New York City piers in the 1930s
before duty called in World War II. A com-
mander of a paratroop company in Eu-
rope, he fought at the Battle of the Bulge,
was struck by gunfire in his pericardial sac
during a bridge defense, and earned the
Silver Star for gallantry and the Purple
Heart.
He returned from the war to get his
master's at Columbia, taught for two
years at Sampson College (a converted
Navy base on Seneca Lake), and came to
St. Bonaventure in 1948 to start the physi-
cal education department and elevate the
intramural swim program to intercolle-
giate status.
His heart problems forced him to trans-
fer to teacher education, but John Ske-
han, the man McNamee hired in 1959 to
take over the reins, would prove to be the
invaluable bridge to the family's swimming
legacy.
A national-caliber swimmer at Brock-
port, Skehan established a culture of disci-
pline and accountability that made St.
Bonaventure a respected program in the
Northeast -- even with no swimmers on
scholarship.
"He wanted no part of that," Kevin
said. "He truly believed in the pure stu-
dent-athlete model."
Al Horton, '66, was one of Skehan's best
swimmers, a high school star from
Louisville who wanted no part of swim-
ming when he came to Bonaventure.
"I could have gone to several schools on
scholarship, but I was just sick of swim-
ming. I had swam six days a weeks since I
was 9 years old," said Horton, now a Uni-
versity trustee. "I came to Bonaventure
because my dad told me I had to go to a
Catholic school, so I thought I'd fix him.
I'd go as far away as I could. I had visited
Bonaventure with a friend on a nice fall
day, they had a top 10 basketball team at
the time, and I thought it would be neat
to only be an hour away from New York
City. ...
"I wasn't too good at geography back
Skehan saw Horton swim in intramurals
as a freshman and tried to recruit him, but
he still wasn't interested. By the middle of
his sophomore year, Horton was in a mas-
sive funk, an attempt to transfer to Xavier
having failed.
"I was so depressed so I went over to
see Skehan to see if he was still interested
in me swimming," Horton recalled. "He
said, `I'll see you in the pool tomorrow.'"
Members of the St. Bonaventure men's swim team cheer on their teammates during a race at the 2013 A-10 Champi-
onships, won by the Bonnies.