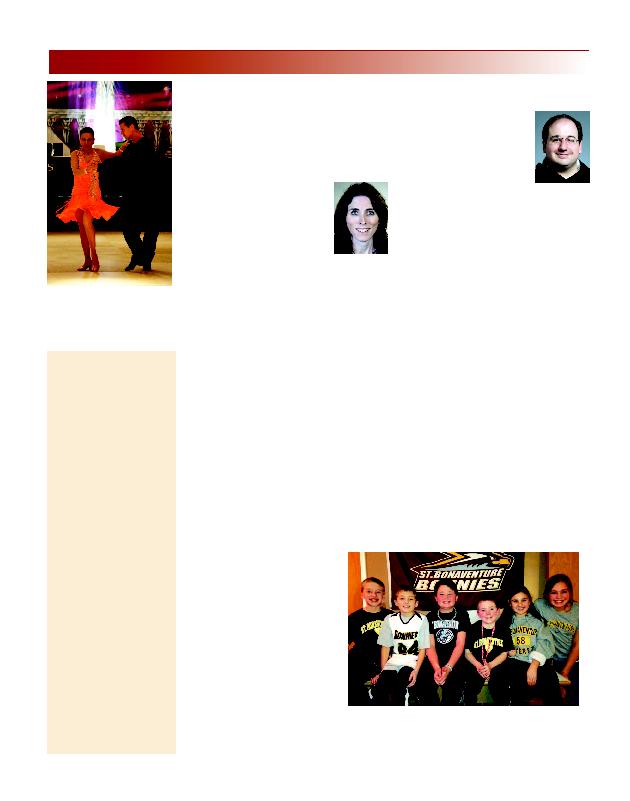 Updates
risky behaviors, such as hazardous and harmful al-
cohol use, unsafe sexual activity, and HIV; barriers
and facilitators of protective and risky health be-
haviors; and contextualizing health messages to
promote health behavior change. Scott-Sheldon's
ongoing research is funded by the National Insti-
tutes of Health and she is well published in leading
medical, public health, psychological and multi-dis-
ciplinary journals in behavioral and
preventive medicine. An assistant
professor (research) in the depart-
ment of psychiatry and human be-
havior at The Warren Alpert
Medical School of Brown Univer-
sity, Scott-Sheldon was elected to
the International Academy of Sex
Research in 2011 and the Research
Society on Alcoholism in 2013, and has also been
actively involved in the Society of Behavioral Medi-
cine since 2005. She holds a Ph.D. in social psy-
chology, specializing in health psychology and
quantitative methods, from the University of Con-
necticut.
2000 -- Kelly Filkins, in addition to her job as a
school counselor, is an independent wellness guide
with a new company called Radiantly You of Ran-
dolph, N.Y. Radiantly You was started by Melissa
Brown, a graduate of our program at Hilbert, who
makes natural, organic skin care, baby care, and
cleaning products. The company is growing rapidly,
Filkins said, and plans are in the works to build pro-
duction and shipping facilities in Western New
York.
2001 -- Mario Aquinas Calabrese, O.P., was or-
dained to the priesthood for the Dominican Order
on May 23. Fr. Calabrese entered the Dominican
Order at Saint Gertrude Priory in Cincinnati, Ohio, in
2007 and made his first profession of vows there in
2008. He was then assigned to the Dominican
House of Studies in Washington, D.C., to pursue
studies for the priesthood. He made lifelong profes-
sion of vows in 2011 and was or-
dained a deacon in 2013. During
his years of formation, Fr. Cal-
abrese has served in various min-
istries throughout the Archdiocese
of Washington, including Gift of
Peace House, the Northwest Preg-
nancy Center, and the campus
ministry at American University. For the last two
years, he has served as a deacon at St. Dominic's
Church in Washington. Ruth Mance attends Niag-
ara University, where she is working toward a mas-
ter's degree in elementary education (birth through
6th grade). She expects to graduate in December.
She is employed in the Niagara Falls City School
District. Peter van Paassen is head coach of the
national 3x3 basketball teams at the Dutch Basket-
ball Federation (NBB). He is responsible for the
women's and men's Under 18 teams, as well as the
women's and men's Senior teams. Charlie Riley
was named marketing and communications direc-
tor at Lawley Insurance, a privately owned, inde-
pendent regional insurance firm specializing in
property and casualty, employee benefits and risk
management consulting. Riley develops marketing,
public relations and sales strategies to meet corpo-
rate-wide communication objectives, and manages
the advertising and promotional activities of the or-
ganization. He previously served as chief marketing
officer for PLS 3rd Learning. Pam Say Witter is
vice president for Development and Community
Engagement at Trocaire College in Buffalo. Her
children's book, "Chuck and Spark Explore the
Park," was released in April.
2002 -- Peter A. Frawley is the operations tech-
nician for the Buffalo Region of Enbridge Energy
Pipeline, overseeing all crude oil delivery operations
for the region. As a transporter of energy, Enbridge
per writing awards from the
New York State Associated
Press Association in the
under-15,000 circulation cat-
egory. The contest, honoring
work from 2013, recognizes
excellent writing, presenta-
tion, photography and graph-
ics in AP member
newspapers.
Finger Lakes Times reporter
Jim Miller, '05, took first-
place honors in spot news
and business writing cate-
gories.
Kelly Voll, '06, and
Samantha House, '11, of
the Auburn Citizen took first
in the depth reporting cate-
gory, while House added a
third-place honor for beat re-
porting.
Chris Michel, '08, of the
Olean Times Herald took third
place for business writing.
sports editor Chuck Pollock,
an adjunct instructor in SBU's
School of Journalism and
Mass Communication, took
third place for sports
columns.
Four alums win
AP writing awards
Louise Ganley, '74, cuts a rug
at the North Eastern Ballroom
Dancing Championships.
Danielle (Lada) Carlsen, '08, who
teaches K-5 physical education at
State Road Elementary School in
Webster, N.Y., was joined by several
elementary students in SBU gear for
Bona Pride Day 2014. The students
-- and their alumni parents -- are:
Brenden (far left) and Ryan Beh
(fourth from left), sons of Sarah
(Sweeney), '99, and
Christopher Beh, '98;
Gunnar (third from left) and
Hailey Bolton (fifth from left),
children of Marianne and Rob
Bolton, '92;
Young Bonnies show
off their pride!
Jack Mordaci, (second from left) son of Stephanie
(Berglund), '96, and John Mordaci, '93; and
Ella Dossier (far right), daughter of Lisa and Michael
Dossier, '95.