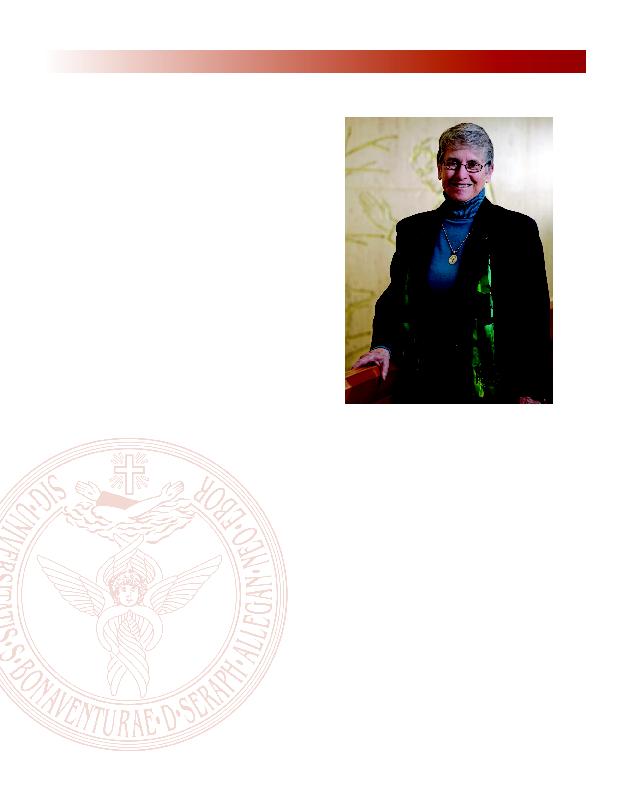 2
From the President
Board Chair
Board Vice Chair
Fr. Frank R. Sevola, O.F.M., '82
Board Secretary
Lana D. Benatovich
Janet I. Bodnar, '71
Laurie A. Branch, '04
St. Bonaventure University Board of Trustees
Thomas M. Garvey, '74
Michael Hill, '96
Albert C. Horton, '66
Robert P. Kane, '78
Bharat Kohli
Cindy Abbott Letro
James E. Meyer, '76
Very Rev. Kevin Mullen, O.F.M.
Eugene M. O'Connor, Esq., `79
Les Palm
Fr. Kenneth P. Paulli, O.F.M.
Very Rev. John Puodziunas, O.F.M.
Bill Purcell
Yvonne Minor Ragan
James E. Stitt
Marvin W. Stocker, '75
Lynda M. Wilhelm, '86
Trustees Emeriti
Robert R. Jones, LL.D., '58
Charles Osgood, LL.D.
James E. Canty, '84
Sr. Margaret Carney, O.S.F.
James J. Cattano, '65
Daniel F. Collins, '73
Kathleen A. Colucci, '77
Fr. Thomas E. Conway, O.F.M.
Joseph A. DeMaria, Esq., '79
Colette C. Dow, '88
Timothy J. Finan
T
he pages of this edition of Bonaventure Magazine tell
wonderful stories from a variety of our campus corners.
We hope they will conjure among our readers feelings of
great pride in their association with St. Bonaventure University.
Our men's swim team has us "dripping" with pride over their
Atlantic 10 Conference Championship. Our faculty members
are constantly improving their incorporation of technology as a
teaching tool and, in doing so, helping us to live up to our
promise of mentoring students in vitally engaging learning en-
vironments. Describing their innovative achievements give us
many a proud moment.
The other news and stories about faculty, student and alumni
success and fulfillment really shine a spotlight on the many
good things that are happening on campus and in the lives of
our alumni and friends because of St. Bonaventure.
But, I want to take a page from the book of alumnus Rob
Buckla, '84, who, during his keynote speech at the
Devereux/Seraphim Leadership Breakfast during Reunion Week-
end, challenged our alumni and friends to show their Bona
pride every day -- to share the stories of their contributions to
University fundraising endeavors and volunteer activities, and to
chronicle the St. Bonaventure experiences that made them who
they are today.
Rob's message was perfectly developed and impeccably
timed. There has never been a better time to share your pride
about your association with St. Bonaventure University.
Why? Because today, more than ever, your voice can be
heard and can make an impact on the institution.
A simple post on Facebook with a story about your Bonaven-
ture experience can find its way to the computer or cell phone
screen of a prospective student.
Following the University's Twitter, Instagram and Facebook
pages and sharing links as they are posted not only shows your
Bona pride, but also contributes to the University's search en-
gine optimization efforts.
Offering to volunteer for SHARE (Supporters Helping Admis-
sions Recruiting Efforts), through which you can meet prospec-
tive students and families or participate in communication
campaigns, is a natural outlet for your Bonaventure pride.
Telling your fellow Bonnies, as did Rob Buckla, about your
philanthropic commitments to the University is a wonderful
way to share your pride and, in doing so, encourage others to
support current students at the University.
Sharing your Bonaventure pride ­ all the time
One of our students who came to us from Arizona
recently told me why he chose St. Bonaventure. He
said that he went online and saw how many alumni
were making contributions to the University. "I fig-
ured if all of those people are writing checks to sup-
port the University, then there must be something
special happening there."
He's right! Something special happens here so often
that I lose track of the number of small miracles, but I
never lose sight of what they mean. Pride is due to
our dedication to learning and service and our com-
mitment to "Peace and Good/ Pax et Bonum." These
are the hallmarks of a Bonnie.
Sr. Margaret Carney, O.S.F., S.T.D.
Proud President of St. Bonaventure University