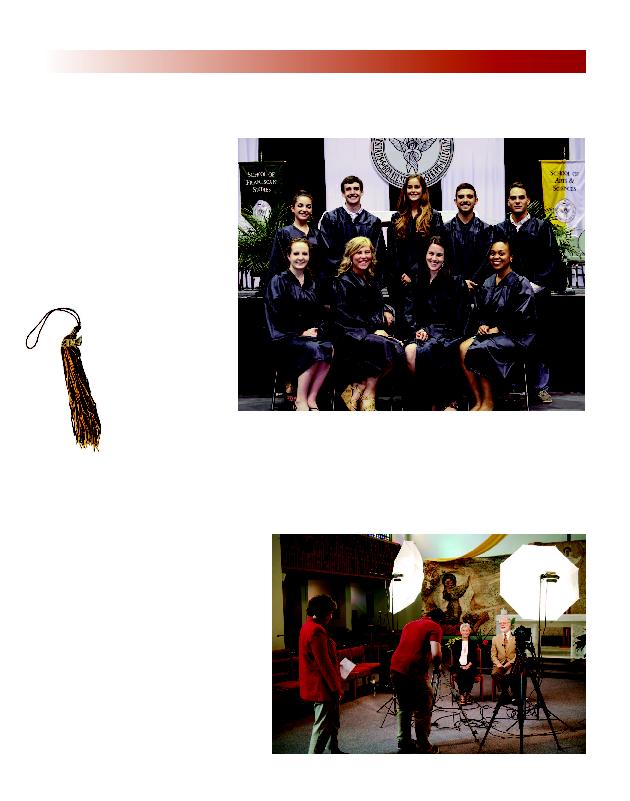 2
www.sbu.edu/Donate
Members of the 2014 Senior Class Gift Committee include (back row, from left)
Christina Zoppi, Andrew Wartella, Juli Stephani, Peter Dolliver and Tyler Pauly (front
row, from left) Shannon McGlew, Sarah Gaulin, Katherine Shaheen and Emmariah
Holcomb. Committee members not pictured: Alexandria Lewis and Gladys Ofori.
See! Tell! Share!
All Bonnies have unique stories that set their St.
Bonaventure experiences apart. But all of our stories
share a common thread: the people who make our
alma mater such a special place.
Our YouTube channel highlights just a few of these
stories -- stories of good times and great relation-
ships, stories that provide memories that last a life-
time. Discover these narratives and more at
www.sbu.edu/YourBonas.
To learn how you can tell your St. Bonaventure
story, please contact Angela Nelson of our annual
giving programs at anelson@sbu.edu or (716) 375-
2326.
AT RIGHT: Dr. Robert Worden, '67, and his wife,
Norma Chue Worden, '64, share their Bona story
with Danny Bush, multimedia producer, and Julie
Cunningham, director of annual giving programs.
THE POWER OF A BONNIE:
SENIOR CLASS
THE POWER OF A BONNIE:
ALUMNI
S
howing the power of a Bonnie, the
Class of 2014 is paving the path be-
side the Regina A. Quick Center for
the Arts, aiding the foot traffic of future
Bonnies.
The class' Senior Gift Committee met its
goal of $7,500 to pave the path with
brick, setting a new record for donor par-
ticipation in the process at 70 percent.
Juli Stephani, a marketing major and
member of the Senior Gift Committee,
thought of paving footpaths on campus
based on her own experience slipping on
ice and trudging through mud. With the
rest of the committee in agree-
$20.14
earned donors a brown-and-yel-
low tassel for graduation and a
lasting place on campus: their
names on bricks for the new
path. The committee also used
ticket revenue from the sen-
iors' 25 Days celebration.
With construction on the
path expected this summer,
next year's Bonnies should