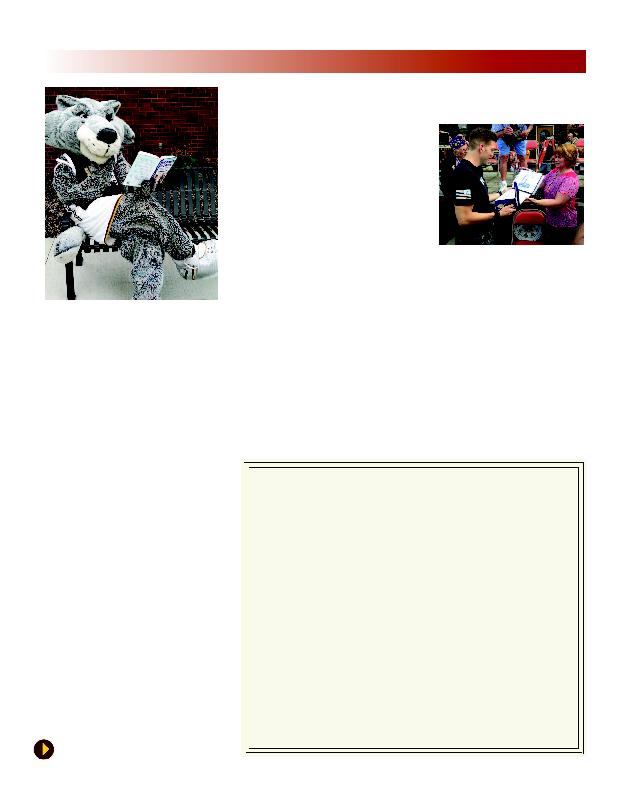 2
Campus News
ALL BONAVENTURE READS
The University has chosen the nonfiction
book "The Promise of a Pencil" by social en-
trepreneur Adam Braun as the 2014-15 All
Bonaventure Reads (ABR) selection and plans
to welcome the author to campus this fall.
Released in March, "The Promise of a Pen-
cil: How an Ordinary Person Can Create Ex-
traordinary Change," chronicles Braun's
journey to find his calling.
Each chapter describes "one clear step that
every person can take to turn your biggest
ambitions into reality."
Braun will spend Monday, Sept. 29, on
campus. He will speak with clusters of stu-
dents throughout the day and conclude his
visit with a public address at 7 p.m. in the
Reilly Center Arena.
To complement ABR activities, the Quick
Center for the Arts will have an interactive
exhibition that runs from August through
late October. This exhibition explores the
book and addresses cross-cultural connec-
tions and how a freshman at St. Bonaven-
ture can get involved.
Watch the SBU Facebook, Twitter and In-
stagram accounts for #ABRSELFIE14 as in-
coming students post selfies with the book.
From 1 pencil to 200
schools: Turning
ambition into reality
"The Promise of a Pencil" was definitely
on the Bona Wolf's summer reading list.
www.sbu.edu/AllBonaventureReads
Western New York welcomed Army Maj.
Patrick Miller, '03, home with open arms in
June. The Allegany native and SBU alumnus was
one of 16 soldiers wounded in the April mass
shooting at Fort Hood, Texas. Three soldiers
were killed in the rampage.
Allegany celebrated Miller's homecoming by
inviting him to serve as Grand Marshal of the
Engine Co.'s Old Home Week Parade and as the
guest of honor at a number of dinners and
events. During his visit, he was presented with a
Military Order of the Purple Heart Distinguished
Service Award plaque as well as a Presidential
Medal from his alma mater "in recognition of
extraordinary courage and service."
At the time of the shooting, Miller was the
comptroller for the First Medical Brigade. He
now is at Fort Leavenworth, Kan., where he was
accepted into the Command and General Staff
SBU recognizes alum injured in Texas shooting
PRESIDENTIAL MEDAL
To our more than 400 parent and alumni
Maj. Patrick Miller, '03, is presented
with a St. Bonaventure Presidential
Medal from Vice President for Ad-
vancement Mary Driscoll.
College for a 10-month graduate-
level course of study. Miller served
two tours in Iraq.
Longtime St. Bonaventure English professor Dr. Lauren Matz took first place in the Na-
tional Senior Spelling Bee in Knoxville, Tenn., July 12. Matz not only avenged last year's
second-place finish in the contest, but also her appearance in the 1972 Scripps Howard
National Spelling Bee in Washington, D.C., where she also placed second.
Some of the words the 1980 alumna of SBU spelled correctly for the win were harmat-
tan, sullage, bobeche and iridescence.
English professor wins national spelling bee
Photo courtesy of Chris Michel, '08
SUPPORTERS HELPING ADMISSIONS RECRUITING EFFORTS
SHARE
42
attended 96college fairs in
10
states -- NY, NJ, PA, CT,
OH, MA, IL, VA, DE, MI --
spring 2014 travel seasons.
127
wrote personal letters to
our admitted and confirmed
9
parents of current Bonnies
and 17young alumni
attended Bonaventure Comes
to You receptions in New Jer-
sey, New York City, Long Is-
speak with accepted students
Among the highlights
of the past year: